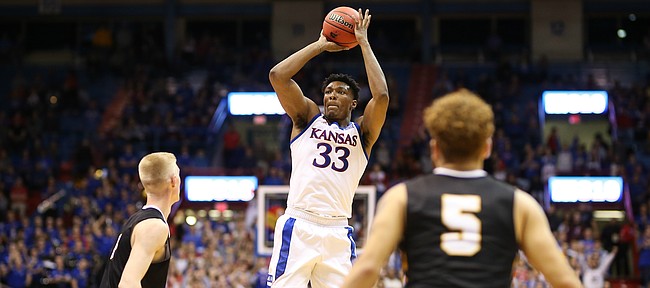 Unwilling to ditch the idea altogether but also well aware of the challenges that playing two big men presents, Kansas basketball coach Bill Self is changing things up for the Jayhawks' exhibition finale against Pittsburg State.
Instead of starting junior Silvio De Sousa at the 4 spot next to senior center Udoka Azubuike, Self plans to plug sophomore forward David McCormack into the starting lineup for Thursday's 7 p.m. matchup with Pitt State on Big 12 Now/ESPN+ that represents the Jayhawks' final tune-up before facing Duke next week in New York.
"David's done great," Self said of the 6-foot-10 sophomore who started the final 13 games of last season with Azubuike and De Sousa both sidelined. "That's two big guys, David and Dok, and one of them has to guard a guard. But let's give David a chance to get out there and see what he can do and maybe that'll fire Silvio up a little bit, as well."
If that alone doesn't do it, perhaps Self's comments after last week's exhibition opener, along with coming off the bench, will inspire the 6-9 De Sousa.
"I didn't think Silvio played to a really high energy level or high athletic ability," Self said after his team's 30-point win over Fort Hays State last Thursday. "He's got to improve on that."
With three skilled bigs making up what many believe is the best front court in college basketball, the Jayhawks were supposed to be able to plug and play two of the three at any time and overwhelm opponents on the glass and near the rim with their size, rotating the third player as needed.
It may still come to that, but after last week's exhibition opener against Fort Hays State, Self identified the potential problem of playing two big men together.
"They've got to be able to defend on the perimeter," Self said last week and a few times since. "And it's really not their fault because they've never really had to do it, but we've got to get good at that. If those guys can't defend a 4 then their effectiveness would be (with us) playing a big zone or let's just get ready to play two bigs in the games in which other teams play two bigs. And there will be a few, but not a lot I don't think."
Wednesday night, on his first "Hawk Talk" radio show of the new season, Self went a step further, calling the situation, "the biggest key to our team."
Offensively, playing two of the three together is a piece of cake. But it's on the defensive end where things get tricky.
Instead of falling comfortably in line with both of KU's big bodies guarding forwards and centers from the opposing team, Self projects and expects that the Jayhawks 4 man will be guarding a perimeter player more often than not.
In fact, Self said that, without studying it closely, he would estimate that 80% of the teams on KU's 2019-20 schedule will have a 4 man who plays on the perimeter.
"I think the vast majority will play with a big guy that can stretch it," Self said. "Ten percent will play with five guys that can stretch it and 10-20 percent will play with three guys that can stretch it."
That puts the onus on De Sousa and McCormack to figure out a way to guard those types of players.
In last week's exhibition opener against FHSU, the Tigers hit eight 3-pointers. Six of them came from the player being guarded by one of KU's big men.
Asked by "Hawk Talk" host Brian Hanni which of KU's top three post players was best suited to defend on the perimeter, Self uncovered more of the problem.
"Udoka," Self said. "And that's sad to say. He moves his feet better than the other two. But Dok, you've got to play him on the other big guy."
Make no mistake about it; the plan is still for KU to play two bigs this season. Even though Self has shown a willingness to play small in recent seasons, his main goal is always to put his best players on the floor as often as possible. And Azubuike, De Sousa and McCormack are among KU's top six or seven players.
Loaded with depth, talent and options or not, things rarely go according to plan in college basketball. Even still, Self and his coaching staff have scratched out a basic game plan for how to juggle playing big versus playing small heading into the 2019-20 season.
"A minimum of 30 minutes that we could play (two bigs) together and then maybe go 10 minutes small," Self said Wednesday night. "And then probably the least I think we'd try to play them both together would be half the game. So between 20 and 30 minutes I think we'll have two bigs in the game."
2019-20 Exhibition Finale
What: KU vs. Pittsburg State
When: 7 p.m. Thursday, Oct. 31, 2019
Where: Allen Fieldhouse
TV: Big 12 Now/ESPN+
Probable Starters for Kansas:
PG - Devon Dotson, 6-2, 185, Soph.
SG - Ochai Agbaji, 6-5, 210, Soph.
3G - Marcus Garrett, 6-5, 195, Jr.
PF - David McCormack, 6-10, 265, Soph.
C - Udoka Azubuike, 7-0, 265, Sr.