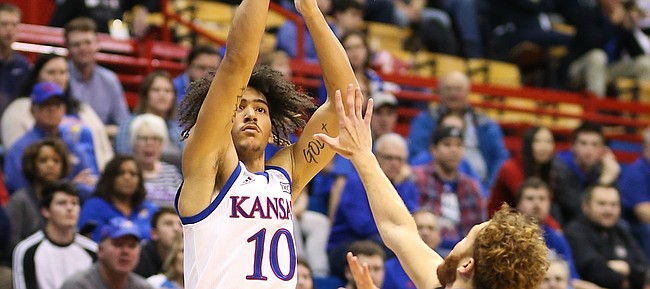 Coming in as the highest rated recruit in the class of 2019 for Kansas — No. 47 according to Rivals — freshman forward Jalen Wilson understands the pressure placed upon him.
"I'm used to high expectations in basketball," Wilson said. "I mean, I knew that coming here to Kansas, such a respected program. You've got to step up to the plate even more."
Wilson, who decommitted from Michigan on May 16 and committed to KU on June 12, knew Kansas might be the right fit for him even before he officially became a Jayhawk thanks to an early visit in the recruiting process.
"I always had a feeling that if anything ever happened, I could always come back here and make an impact," Wilson said. "I got a second (chance) at a new college; not many people have that opportunity. So me being able to be here and just representing Kansas basketball is amazing."
What also helped was the communication from the Kansas staff, specifically assistant coach Jerrance Howard and head coach Bill Self. Even if he'd have a bad game in AAU, Wilson felt the consistent support from the Jayhawk staff.
"All the coaches being there for me no matter what, saying they still love my game and everything," Wilson said. "They really showed me how important I was to them and what I could do here."
And now that he's officially practicing with the team, Wilson said Howard in particular has helped him adjust to college so far.
"He brings energy to practice every single day, and that's what we need," Wilson said of Howard. "Maybe if practice is going a little slow (one day), he'll bring it up with his talking, his energy, picking at little things. I believe that role is huge for the team."
As far as his individual role is concerned, though, Wilson said he's able to do more than people might realize. He describes himself as versatile and able to stretch the floor from the four-spot.
"People think I'm only a shooter," Wilson said. "I'm also good at the little things, keeping people's confidence up in tough situations, being a guy that can always talk to people."
And he feels comfortable with that role considering it's the position the 6-foot-8 forward played in high school back in Denton, Texas.
"Anything I can do to step up to the game and put forth my effort," Wilson said. "I'll do anything to win."
Wilson got a taste of victory — and also a starting nod — in his first unofficial game with the Jayhawks during last week's 86-56 exhibition win over Fort Hays State. In the 24 minutes he played after hearing his name called out during starting lineup introductions, Wilson finished with six points, three rebounds and two assists.
Despite the early success, there's still been a learning curve. Wilson emphasized Self "isn't a high school coach," something that's been reiterated by drills at practice, such as drills with no out of bounds.
"High school is not as intense as college basketball," Wilson said. "College is televised every single game. College basketball in the Big 12 is a tough game every single game."
Wilson said Self does "everything he can" to prepare the team for the upcoming season and the pressures that come with playing for Kansas. As for Self, he said KU has a good group this year, but time will determine how they handle the rigors of this season.
"I think there's such a big difference between trying hard and competing," Self said. "Everybody tries hard. But are you able to handle each situation in a way to look next play, focus under pressure, execute under pressure — that's competing."
That pressure is something that Wilson and other newcomers to this KU team are cognizant of and looking forward to experiencing.
"I want to win a national championship because I believe when you win, everybody gets all the individual goals, NBA draft stock, stuff like that," Wilson said. "So if we win as a team, everybody individually gets different things."
To accomplish that, Wilson said he just needs to "do what I'm supposed to do" and play within himself. Wilson knows that will be an immense challenge, but he said playing with and for KU this season will make him stronger in the long run.
"Going against top guys every single day in practice is just another thing I've got to go through," Wilson said. "I didn't choose this place as a cakewalk. I knew what was going to happen when I got in here."