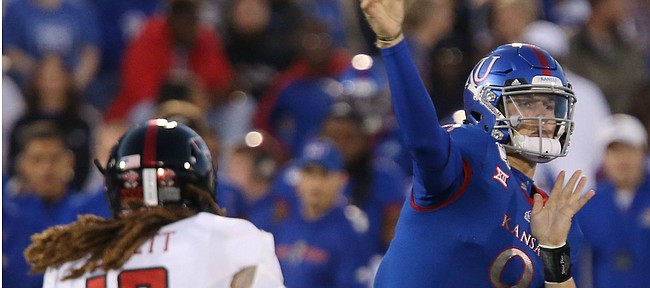 Although his head coach, Les Miles, described Carter Stanley being named the Big 12's Offensive Player of the Week as "wonderful," the Kansas football team's starting quarterback went out of his way to downplay the honor.
"It was a fun weekend," Stanley replied, when asked Monday about how it felt to win the award, following his role in a 37-34 Jayhawks victory over Texas Tech.
"We had some great play, offense, defense, special teams," Stanley went on. "It was cool to win that award. But it was just a credit to the offensive line, receivers, running backs and coaches. It was a good time this weekend."
Stanley completed 26 of his 37 passes against the Red Raiders, throwing for a season-high 415 yards, with three touchdown tosses and an interception. Stanley also rushed for another TD as KU put an end to its four-game losing streak.
It seemed his coaches and teammates were happier about the QB's accolades, or at least more willing to gush about his play.
"Oh, man. I'm so happy for him," said fellow senior Hakeem Adeniji, KU's starting left tackle. "Carter's been through a lot in his time here. And been doubted by a lot of people and heard a lot of bad things and negative things said about him. And I kind of know what type of guy he is and talent he is."
Adeniji called Stanley a "brother," and said it was "huge" to see the QB gain some recognition.
"I'm really happy and proud of him, and I know he can continue to do that as long as we do our jobs and support him," Adeniji added.
A Jayhawk hadn't won Big 12 Offensive Player of the Week since Steven Sims Jr. picked up the honor in 2017, following a nine-catch, 223-yard day against Kansas State in a loss. Stanley started in that game and threw for a career-high 418 yards.
The last KU quarterback to win the award before Stanley, you might have guessed, was Todd Reesing, in 2008.
Jones honored, too
The Big 12 had more than one Jayhawk to honor this week, as junior kicker Liam Jones became the conference's Special Teams Player of the Week.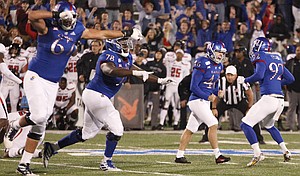 Jones, of course, sealed KU's victory with a 32-yard field goal as time expired, giving him the first game-winning kick of his college career.
Jones went 1-for-2 on field goal tries against Texas Tech, with the Red Raiders blocking his 40-yard try on the previous snap.
"It wasn't Liam that was missing," Miles said of Jones, who also had one of his extra point attempts blocked, "it was the guys that needed to protect the ball. And we're going to work on that and get that squared away. So when he stepped up, he stepped up to kick for his team and did a great job. The final one was the important one."
In 2018, former KU kicker Gabriel Rui won special teams player of the week following KU's win over TCU.
Big 12: Clock should have run at Texas
The Big 12's coordinator of football officials, Greg Burks, acknowledged publicly Monday that Texas benefited from some extra time on its final drive in a victory over KU on Oct. 19, in Austin, Texas.
Fielding questions as a special guest on the Big 12's weekly media teleconference, Burks explained what went wrong on a play that Miles called into question after the fact this past week.
Burks estimated UT gained an extra four seconds when the clock failed to run on time, after Sam Ehlinger rushed to gain the Longhorns a first down. Burks said the officials on the field should have noticed the mistake, reset the game clock to 32 seconds and had the clock operator wind it on the signal from the officiating crew on the field.
"We did acknowledge that to Coach Miles and Kansas," Burks added.
Miles was asked about the Big 12's explanation during his Monday afternoon press conference.
"I mean, I think they made a mistake that was fundamental, and I accept that, OK," Miles said. "Four seconds probably meant a play, and if you'd have backed it up, who knows."
Texas won on the final play of the game, with a 33-yard Cameron Dicker field goal.
KU-Mizzou football revival?
Although fans will see Kansas basketball renew its rivalry with Missouri during the 2020-21 season, it remains to be seen when or if the football version of the Border Showdown will return.
If first-year KU coach Miles has strong feelings about the series making a comeback in football, he kept those to himself.
"I'm sure that there's consideration about that, but I don't know to what extent," Miles said. "I'm currently busy preparing to play a very quality opponent."
Torneden's targeting penalty
A couple of days after KU starting safety Bryce Torneden got ejected from the Jayhawks' win over Texas Tech for targeting on a punt return, Miles said as a father and a head coach he would rather see officials make the mistake of calling targeting too often than not enough.
"I don't know that that was a call that would be made in every conference, every day," Miles said of a first quarter collision that, upon review, earned Torneden an ejection and kept the senior from playing the majority of the night.
"I think it was a shoulder blow, and I think the gentleman that was carrying the ball was short," Miles said. "So I think he carried the ball into really a pile of defenders, and he had contact. I don't think it was certainly intentional in any way, and again, we're fortunate that nobody gets hurt."
Because Torneden sat out the second half of the Texas Tech game, he won't have to miss any of KU's upcoming home matchup with rival Kansas State.