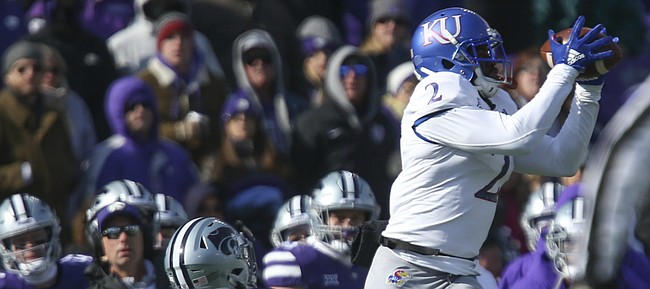 It's not often that a Kansas football game in November is greeted with anticipation in the days leading up to it.
With the Jayhawks winning three or fewer games each of the past nine years, a late-season malaise became the norm for many within the fan base.
Something about this season, and this week's Sunflower Showdown against Kansas State, feels distinctly different, though, to KU's veterans.
Ahead of his fourth career appearance as a starter in the rivalry game, senior left tackle Hakeem Adeniji said Monday he "for sure" discerns greater anticipation for this meeting than any he has experienced.
"K-State's coming off a huge win over Oklahoma and we're coming off a big Texas Tech win in which we came from behind," Adeniji said, "and our offense has been clicking. You add that into the fact that it's already a rivalry game and everybody's going to be pumped up to see what's going to happen."
The No. 22 Wildcats (5-2 overall, 2-2 Big 12) have been more successful in their first season under head coach Chris Klieman than the Jayhawks (3-5, 1-4) have so far in Year 1 of Les Miles.
But with both fan bases seemingly charged up about the trajectory of their teams at this juncture, KU's players sense the 2019 version of the annual matchup could mark a change.
"I think it's going to be special for the state," senior quarterback Carter Stanley said.
Several of the current Jayhawks lived through last year's showdown in Manhattan, a frigid and defense-heavy battle that K-State won with a go-ahead touchdown in the final minutes of the fourth quarter, 21-17. Adeniji said those KU players who endured the defeat, which came days after David Beaty was fired, are motivated for the rematch in Lawrence (2:30 p.m., FOX Sports 1).
"That K-State game last year hurt, and we feel like we should've pulled it out," Adeniji said. "This is the perfect storm, and guys are ready to go."
A 6-foot-5, 300-pound senior offensive lineman, Adeniji said he will "be in everybody's ear all week," because he thinks the Jayhawks have to win this one, especially considering he and his teammates are still chasing their bowl game dreams.
"This is something that everybody's been waiting for," Adeniji said, "and I think you're going to see the best version of us come out."
Although he's a native Californian and only in his second season with KU, Stephon Robinson Jr., one of the offense's breakout performers this year, said the rivalry game always is in the back of the Jayhawks' minds.
"It's probably the biggest game of the year for us," said Robinson, who finished with 186 receiving yards and two touchdowns on six receptions against Texas Tech this past weekend, "and we just want to go out and turn up for the community, university."
Robinson, a junior, is hoping for a "packed" stadium for the rivalry game, and anticipates it being an emotional day for KU's seniors in particular.
Kansas has lost 10 consecutive meetings with K-State. Robinson said a win this week would qualify as "amazing."
"I've never experienced anything like the Texas Tech victory," Robinson said, "and I know for sure this week if we come out with that win that would mean way more. I'm excited for it, and I just can't wait to get at it."
Miles said Monday he wouldn't do anything special or different in the days leading up to his first Sunflower Showdown.
However, one of his typically tightlipped veterans, Adeniji, hinted the first-year KU coach might have a secretive motivational ploy going on behind the scenes for the rivalry.
"I don't want to give any bulletin board material out," the senior tackle said. "I'll keep that to myself."
A grinning Bryce Torneden said he had nothing to share on that subject, either. But the senior safety from Lawrence didn't mind speaking about the significance of the series.
"We haven't beat them since I've been here. We've come close. But to finally get over the hump I think that would be a very apparent milestone for me and the seniors and some of the older guys on this team," Torneden said. "After this week we still have more games to play, and I think we're still building and on the right track."