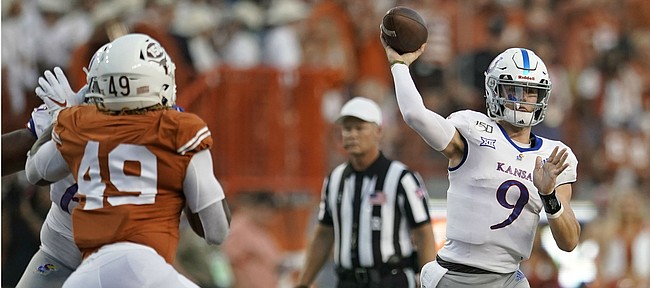 — Kansas (2-5 overall, 0-4 Big 12) vs. Texas Tech (3-4, 1-3) • 6 p.m. kickoff, David Booth Kansas Memorial Stadium • Game-time forecast: 54 degrees, mostly sunny, 2% chance of rain • TV: FOX Sports 1 • Radio: KLWN, FM 101.7 / AM 1320
— Log on to KUsports.com for our live coverage and follow our team on Twitter: @KUSports, @BentonASmith, @mctait and @SJacksonLJW
Keys for Kansas
1. Keep that new offense rolling
Head coach Les Miles handed the offensive keys over to Brent Dearmon during KU's midseason bye week, and the new coordinator didn't disappoint in his debut at Texas, where the Jayhawks nearly won a shootout.
Now Dearmon, senior quarterback Carter Stanley and company have a new challenge: proving that wasn't a one-week wonder.
Miles clearly was pleased with Dearmon and KU's offense this past week, in a 50-48 defeat.
"Yeah, he has kind of just a good view of the 100-yard field and kind of knows where he's at," Miles said of the recently promoted Dearmon, "and made some very significant calls on Saturday that put us in position to score."
Podcast episode
On this week's KU Sports Hour we discuss the Monday announcement that the Border War is back and also examine whether KU football, with its new-look offense, might be as well. Follow the KU Sports Hour on: iTunes/Apple Podcasts | Spotify | Google Play | TuneIn ...
Miles especially appreciated how KU's passing game kept Texas guessing, as Stanley completed throws to nine different teammates: receivers Stephon Robinson Jr., Kwamie Lassiter II, Andrew Parchment, Daylon Charlot and Takulve Williams, running backs Pooka Williams Jr. and Velton Gardner, tight end Jack Luavasa and fullback Ben Miles.
"I think we're doing the things that we need to do, and I think that (Dearmon) is facilitating that extremely well," Miles said. "When you get the ball to nine guys, those nine guys, it makes their game jump a little. I think you'll find that there will be another and another and another, what would be games with multiple receivers."
KU scored on each of its final four drives in the narrow road loss as Stanley and his teammates found a groove late in the game.
"It just felt like we were doing our job and executing," Stanley said. "That's the cool part about it. That's what this new offense brings to the table."
2. Prove you can get stops against rushers
The Jayhawks' defense has struggled to stymie opposing rushers all season long, and last week's loss to the Longhorns was no different.
As Texas racked up 638 total yards, KU surrendered 6 yards per carry and 239 yards on the ground. Ten UT runs went for at least 10 yards, with starting running back Keaontay Ingram, quarterback Sam Ehlinger and QB-turned-RB Roschon Johnson all popping KU for chunk rushing yardage at various points.
The Kansas defense has allowed an individual 100-yard rushing day in five of the team's seven games. Entering this week's matchup with Texas Tech, KU ranks 123rd nationally in rushing defense, giving up 223.4 yards per game. The Jayhawks are allowing 4.9 yards per rushing attempt (107th).
Podcast episode
"Over one billion" could be the title for this week's Over/Under podcast, where Matt Tait and Shane Jackson make their picks for another week of Kansas football. Follow the KU Sports Hour on: iTunes/Apple Podcasts | Spotify | Google Play | TuneIn | Stitcher | ...
And they won't get a respite with the Red Raiders. This Tech team isn't coached by Kliff Kingsbury anymore, and first-year head coach Matt Wells has proven the Tech running backs are more than an afterthought in the game plan.
The trio of SaRodorick Thompson, Ta'Zhawn Henry and Armand Shyne is averaging 150.7 rushing yards per game, with 11 rushing TDs. All three are averaging at least 5.3 yards per carry, with Thompson serving so far as the No. 1 rusher, with 12.3 carries per game and seven scores. Both Shyne and Thompson have a 100-yard rushing game this season.
3. Rediscover that takeaway magic
With Tech quarterback Jett Duffey being named the starter just a few weeks ago, what better time for the KU defense to get back to its 2018 ballhawking ways?
The Jayhawks, who went through a four-week takeaway drought earlier this season, showed at Texas they are actually still capable of delivering an interception or fumble recovery in a tight game.
KU wouldn't have had such a great opportunity to win in Austin without a pick by Najee Stevens-McKenzie and a forced fumble by Mike Lee (recovered by Bryce Torneden) in the final 10-plus minutes.
"Kind of wish we would have had them a little earlier," senior cornerback Hasan Defense said of the unit's fourth and fifth takeaways of the season, "but at the end of the day we got them. It put us into a situation to win, and that's all that matters."
KU trailed by 7 at the point of both takeaways. Each set up short fields and touchdown drives for the Jayhawks.
"That was just play-calling," Lee said, "and the players had to make the plays, and we did."
It's not a coincidence KU won the turnover margin in a game (plus-2) for the first time all season and nearly knocked off UT.
Tech, on the other hand, has fared better in that category than most teams, with a plus-5 margin on the season (tied for 20th among FBS teams). Perhaps KU's defensive backs can follow the lead of Tech safety Douglas Coleman III, who leads all FBS players with six interceptions.
Mega Matchup
KU blockers vs. Tech's run defense
One of the country's leading tacklers, 6-foot-1, 245-pound senior Jordyn Brooks, no doubt, will have his eyes on KU star running back Pooka Williams Jr. and senior QB Stanley much of the night.
Brooks, who leads the Big 12 in both total tackles (78) and tackles for loss (13.5), ranks sixth nationally in tackles per game (11.1). When Brooks isn't dropping into pass coverage or rushing Stanley, he's bound to clash with Williams, because there's no KU skill player more likely to end up with the ball in his hands.
It will be up to KU's offensive linemen, fullbacks and tight ends to make sure the 5-10, 170-pound Williams has as few of those encounters as possible, and that Stanley stays upright and unhurried behind the line of scrimmage.
As far as the rushing part of KU's offensive equation goes, it's unlikely that Brooks will get anything easy against Williams, the way linebackers did earlier this season, before Dearmon took over the play-calling for KU.
Ask the Longhorns, who saw Williams take off for 190 yards and two TDs on 25 carries last week if Dearmon is getting the ball to Williams in favorable scenarios.
"That's part of the game," Williams said of KU not force-feeding its running back when the defense is loading the box to try and stop him. "Like I said, he's a smart coach."
Despite Brooks' emergence at linebacker, Tech's rushing defense ranks 93rd in the nation (184.7 yards allowed per game), with the Red Raiders surrendering 4.57 yards per carry (tied for 89th).
"When it's open, I feel like he'll give it to me," Williams said of Dearmon's play-calling. "When it's not open, he'll back off of me."
Jayhawk Pulse
It's hard to imagine a team on a four-game losing streak entering a game with more confidence than these Jayhawks.
They feel as though they could have — and should have — won at Texas. The showing left them convinced the rest of the conference will start paying attention to them, too.
Said Lee: "Every Big 12 team thinks once they play Kansas, 'OK, it's an easy win.' People have to stop thinking that."
A senior safety, Lee and his teammates aim to build off their relatively promising start to the second half of the season.
"Whatever it takes from me for this team to get a dub," Lee said, "that's what it'll take."
Tale of the Tape
KU ….. TT
KU run D vs. TT run game √
KU pass D vs. TT pass game √
√ KU run game vs. TT run D
√ KU pass game vs. TT pass D
Special teams √
Prediction
Kansas 37, Texas Tech 31