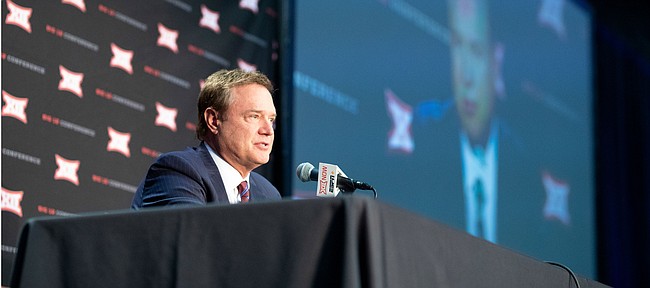 Kansas City, Mo. — Kansas basketball coach Bill Self on Wednesday defended his text message conversations with now-convicted former Adidas consultant T.J. Gassnola.
Without providing new details about the text exchanges that were entered as evidence during the recent federal trial on corruption in college basketball, Self, speaking at Big 12 media day at Sprint Center, explained that he believed the correspondence between him and Gassnola was nothing out of the ordinary.
"I don't want to give an answer that gives the appearance that I'm admitting to something that is taking place because I don't believe the conversations were inappropriate," said Self when asked where the line should be drawn on communication between a head coach and representatives of an apparel company.
"I don't think it's unusual to have conversations with people involving grassroots basketball at all," he added. "... That's something that would occur a lot at every place."
After testifying in 2018 that he never told Self about payments made to steer players to Kansas, Gassnola was sentenced in September to a year of probation after pleading guilty to charges of conspiracy to commit wire fraud in a pay-for-play scheme designed to send high school recruits to Adidas programs at the college level. Gassnola admitted to paying the family or guardian of two recruits that ended up at KU.
The texts between Gassnola and Self became an important part of the trial and are at the center of the notice of allegations KU received from the NCAA in late September. Many of the texts appear to involve conversations where Gassnola is passing along information about recruits to Self, which would be against NCAA rules, if Gassnola is determined to be a booster of KU. The NCAA contends Gassnola is a booster of the school, while KU disputes that characterization.
Photo Gallery
Bill Self, KU players during Big 12 media day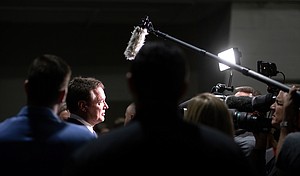 Bill Self, KU players during Big 12 media day
One of those text messages was a response to an inquiry from Self that asked Gassnola, "We good." Gassnola responded with, "Always. That's [sic] was light work. Ball is in his court now." Another text message indicated that Gassnola felt like he had let Self down by not convincing prized recruit DeAndre Ayton to attend KU. Gassnola admitted in court that he made a $15,000 payment to an Ayton family friend, although Gassnola said he never told Self about any payments he made to recruits.
Self on Wednesday spoke for more than an hour, covering as many questions about KU's battle with the NCAA as questions about the upcoming season.
Citing NCAA protocol, he was light on details, but did reinforce the fact that KU and its attorneys would "strongly fight and defend" the allegations.
Self, who is facing a head coach responsibility charge on a personal level and a lack of institutional control and three Level 1 violations on a program level, said he would not divulge KU's strategy because, "to be real candid with you, I really don't know everything."
"The information is in the hands of attorneys and they're the ones that will create the response," he said. "It won't be the basketball coach. At some point in time I may be involved, but I haven't been involved hardly at all up to this point."
Despite being flat-out told by at least one recruit that the NCAA issues kept him from coming to Kansas, Self said on Wednesday that he believed better days were ahead.
"There'll be a silver lining at some point in time," he said. "It's not now, but there will be at some point in time."
He also said he was "happy with how recruiting's gone so far" in the 2020 class, where KU has landed a pair of four-star commitments just this month.
"Everything that has been reported has been hand-delivered to the recruit and their family," Self said. "They've read more stuff about me or us than I have. So those things all have to be addressed. To experience a little bit of early success is very positive. But I'm believing we're not done. I still think there's a chance for us to do some more good before too long."
The reason for Self's confidence is simple.
"Kansas will always prevail," he said. "Always. And I like to think that I will as well. But the school is obviously much more important than an individual is. But there is 100% confidence that Kansas will prevail."
"Kansas is bigger than Bill Self," he continued. "Kansas is bigger than any player that's ever played here. Kansas is bigger than any team that's ever played here. When you talk about Kansas you're talking about a whole different realm. You could say, 'Will Bill Self prevail?' But don't throw in our school. This is 120 years of excellence that will not be judged by this moment in time regardless of how it comes out. And we're very confident that we do know how it will turn out."
Asked early in the day whether he was concerned about his future as the Kansas coach, Self said, "I'm really not concerned about that."
"I feel 100% confident that I'm going to be the coach here for a long time," he said. "And if I'm not the coach here it'll be because I choose to leave."
Later, he added: "I won't cut and run. I know what's transpired. And even better yet I know what has not transpired. I'm not running from this at all."