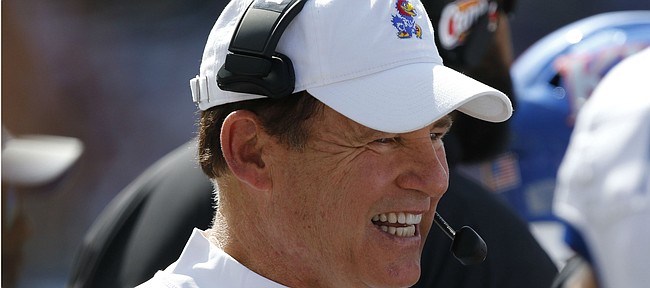 Kansas City, Mo. — While Bill Self spent the vast majority of his time Wednesday at Big 12 media day fielding questions about his basketball program, the subject briefly turned to the University of Kansas football program at one juncture.
With KU's head football coach, Les Miles, having a reputation for making memorable statements that fall somewhere in the neighborhood of odd to entertaining, one reporter asked Self for the best line the basketball coach has heard from Miles.
"I need to follow it more closely. I haven't talked to Les in a couple weeks," Self said. "I haven't been to a press conference, and I don't really watch that much TV these days. So I haven't seen very many Les-isms."
That doesn't mean Self has ignored the progress of the KU football team this season, though.
"I know one thing. We've gotten better," Self said. "Gosh dang. We've gotten better. It's proud to see as a fan, that you can see we're on an uptick."
While the Jayhawks (2-5 overall, 0-4 Big 12) enter their Saturday homecoming game against Texas Tech (3-4, 1-3) on a four-game losing streak, KU is coming off a 50-48 loss at Texas in which it led in the final seconds.
"I think it's pretty remarkable in the short amount of time," Self said of his perception of KU's on-field improvements.
Self, of course, spent some time during the KU basketball team's run to the 2018 Final Four around one of Miles' players, James Sosinski, now a senior tight end.
Frontcourt depth issues for Self's 2017-18 team led to him inviting Sosinski to join the basketball roster as a walk-on.
The 6-foot-7 tight end/big man played in only seven games during his one season on the basketball team. And Sosinski made only three field goals. But one of them happened to come in KU's national semifinal loss to Villanova.
"He's the only player in KU history, if I'm not mistaken, to score in the Final Four and score a touchdown," Self said, referencing Sosinski's first TD in a KU football uniform, earlier this season against Indiana State.
"He says he's having a blast," Self shared of a couple of conversations he had with Sosinski in recent months. "The kids are obviously having fun and totally respectful of what they're trying to do. There's some positive energy going on."
KU football hosts Texas Tech at 6 p.m. Saturday (FOX Sports 1).