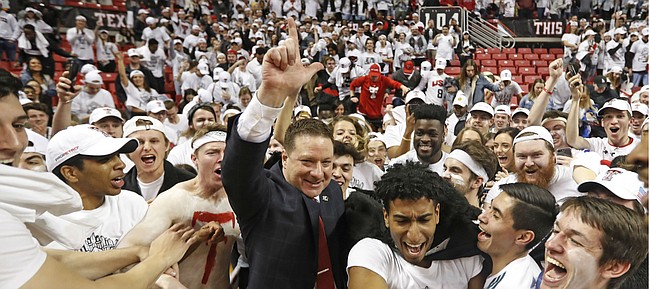 Kansas City, Mo. — Life has been different for Chris Beard since leading Texas Tech to the national championship game just six months ago.
The Red Raiders were voted No. 3 in the Big 12 men's basketball preseason poll, and even received a first-place vote by one league coach. It demonstrates the respect Texas Tech now has a program after last year's run, which included a Big 12 regular-season title.
But all of that pales in comparison to the fact that Beard no longer has to pay for his salsa, which was an anecdote he shared during Big 12 men's basketball media day Wednesday at the Sprint Center.
"Where I like to go, you have to ask for the salsa. They charge you for it, which is a little bit ridiculous," Beard said. "We played for the national championship, and now I'm pleased to say I get free salsa. If we would have beat Virginia, maybe I could have gotten a free burrito."
It is not just the free salsa, though, Texas Tech has made people into believers of this basketball program with Beard at the helm.
Entering this season, the Red Raiders are ranked No. 13 in the nation in the AP preseason poll even though they have to replace six of their top-eight scorers. Last season, Texas Tech also had to replace that level of production following a trip to the Elite Eight.
"I think we have all the ingredients that are needed to compete in the Big 12," Beard said. "Certainly we're a work in progress. We're going to be a team that gets better throughout the season."
Bruce Weber, Kansas State
In comparison, Kansas State didn't receive that level of respect after finishing as co-Big 12 champions with Texas Tech last season. The Wildcats helped snap KU's string of 14 consecutive conference titles last year.
Like TTU, K-State will have to replace a ton of production from last year's squad. As a result, the Wildcats were listed ninth out of 10 teams in the Big 12 preseason poll. Kansas State head coach Bruce Weber was asked about the ranking for the first time during media day.
"Obviously it's not great for your fans and selling tickets. At the same time,
for us, it doesn't matter," Weber said. "The other year we were picked eighth, (we) ended up in the Elite Eight. It doesn't matter."
Mike Boynton, Oklahoma State
The Cowboys will be adding several new pieces to a team that finished ninth in the league last year.
Oklahoma State will be adding six freshmen and one grad transfer on this year's roster, and the expectations are that it will make a difference. OSU was picked to finish sixth in this year's Big 12 preseason poll.
OSU coach Mike Boynton wasn't certain how big of a role his new players would have right away, however.
"I'm excited about the whole group," Boynton said. "How much they all will play as freshmen, I probably couldn't tell you today or a month from now. Once we get to Big 12 play, it's a different story. I'm excited about the whole group. Got a good group of hard-working young men.
Steve Prohm, Iowa State
Caleb Grill, a freshman from Maize, Kansas, earned some praise from his coach during Big 12 media day.
ISU coach Steve Prohm was asked about what has impressed him most about Grill, who averaged 18.4 points, 4.6 rebounds and 3.4 assists at Maize High School as a senior last year. He also starred in football, track and field and baseball.
"I think the best thing for him now is that he can just focus on basketball," Prohm said. "He's a guy that really competed. He's probably too hard on himself at times. But his character is off the charts. His work ethic is terrific."
Iowa State went 9-9 in Big 12 play last year, and was picked to place seventh in this year's preseason poll.
Jamie Dixon, TCU
The Horned Frogs don't have a lot coming back, which is why they were picked to finish last in this year's preseason poll.
Veterans Desmond Bane and Kevin Samuel will be asked to lead the way for TCU, which went 7-11 in league play last year. Bane was named All-Big 12 Second Team and to the Associated Press All-Big 12 Second Team as a junior last season.
"We're excited about the new guys. Nine new players, which is a lot even in today's game," TCU coach Jamie Dixon said. "But at the same time the league is wide open. So many teams are bringing in about the same amount of new players. It's just the way of college basketball."
Scott Drew, Baylor
Baylor head coach Scott Drew went to the podium on his birthday, praising a squad that appears to be KU's biggest contender in the Big 12.
The Bears received one first-place vote by a league coach, and were ultimately picked second in the preseason poll. Baylor won 10 games in conference play a year ago, finishing fourth in the league standings after being picked ninth in last year's preseason poll.
"Why we're picked high, we have a lot of players coming back," Drew said. "With our team, I know we have good chemistry, we really like the guys. Big thing will be, just like with all of us, is how we handle adversity."
Lon Kruger, Oklahoma
The Sooners could surprise some people with a nice blend of veterans and a promising group of newcomers.
Oklahoma has three starters — Kristian Doolittle, Brady Manek and Jamal Bienemy — coming back to go along with one of the more talented recruiting classes in recent history. Austin Reaves, a Wichita State transfer, is also expected to make an impact.
It allows OU coach Lon Kruger to have the depth to be creative this season.
"The versatility is going to be a strength," Kruger said. "I think the depth will be a strength. A lot of guys (are) interchangeable parts, chance to play bigger or smaller depending on maybe opponent or the play of our guys."
Bob Huggins, West Virginia
Coming off a 10th-place finish in the Big 12, West Virginia head coach Bob Huggins only had to field two questions during his turn at media day. One of those two questions was about recent rule suggestion to help clean up post play, something the WVU coach didn't necessarily agree with.
"How are you going to clean up post play when you have 6'10", 270-pound guys leaning on
each other? There's going to be contact," Huggins said. "I mean, obviously if it affects their shot, you shouldn't be allowed to do that. But there's going to be contact."
Shaka Smart, Texas
Andrea Hudy, who was the Kansas basketball strength and conditioning coach for the last 15 years, is now with Texas. Hudy started in August with the Longhorns, and has already made an impact with the program.
"She has a very, very different philosophy in terms of strength training and performance than our former strength coach," Texas coach Shaka Smart said. "I think there's a lot of different ways to skin a cat, but obviously she's had phenomenal success over the past 25 years as a strength coach. We're really excited to have her at Texas."
Texas, which is coming off a 8-10 record in Big 12 play, came in fourth place in the Big 12 preseason poll.