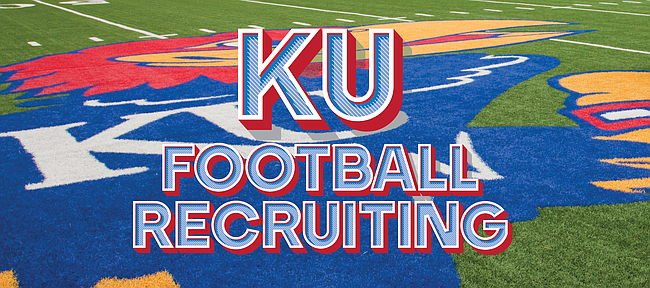 With the early December signing period now just a couple months away, the Kansas football team added another commitment to its already crowded 2020 recruiting class.
Steven McBride, a three-star receiver from Gonzales, La., announced Tuesday his plans to play for Les Miles and the Jayhawks.
Listed by Rivals as a 6-foot-1, 165-pound prospect, McBride plays at East Ascension High, and reportedly had scholarship offers from Louisiana Tech, Louisiana-Monroe, Northwestern State and Nicholls.
In a 2020 recruiting class that currently includes 26 high school prospects, McBride becomes the fifth potential future Jayhawk in the group from Louisiana, joining fellow three-star recruits defensive end Khari Coleman, defensive tackle Kenean Caldwell, linebacker Taiwan Berryhill and cornerback Tanner Hooker.
All verbal commitments, of course, are nonbinding. Football recruits in the 2020 class have the opportunity to sign at the earliest between Dec. 18 and Dec. 20, before National Signing Day comes on Feb. 5, 2020.
2020 KU football recruiting class
- Verbal commitments
• Brennon Scott - 4-star LB from Texas
• Duece Mayberry - 3-star CB from Oklahoma
• Jackson Stoefen - 3-star OL from Iowa
• Trevor Kardell - 3-star TE from Missouri
• Will Huggins - 3-star TE from Kansas
• Krishawn Brown - 3-star LB from Oklahoma
• Khari Coleman - 3-star DE from Louisiana
• Garrett Jones - 3-star OL from Michigan
• Ja'Cobee Bryant - 3-star CB from Alabama
• Malik Johnson - 3-star WR from Texas
• Caleb Taylor - 3-star DE from Missouri
• Kenean Caldwell - 3-star DT from Louisiana
• Jaylin Richardson - 3-star athlete from Kansas
• Taiwan Berryhill - 3-star LB from Louisiana
• Lawrence Arnold - 3-star WR from Texas
• Chris Jones - 3-star DE from Florida
• Tanner Hooker - 3-star CB from Louisiana
• Alonso Person - 3-star LB from California
• Steven McBride - 3-star WR from Louisiana
• DaVonshai Harden Jr. - 2-star QB from Kansas
• Luke Grimm - 2-star WR from Missouri
• Tommy Brandt - 2-star OL from Minnesota
• Juan Jarrett - 2-star LB from Ohio
• Nicholas Martinez - 2-star OL from California
• Kyler Pearson - 2-star WR from Oklahoma
• Daniel Hishaw Jr. - 2-star athlete from Oklahoma