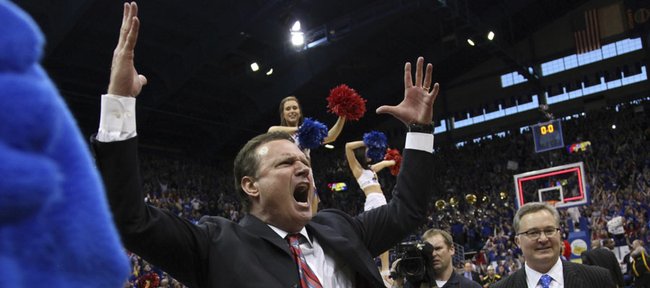 The Border War is back.
Officially called The Border Showdown these days, the annual clash between longtime and bitter rivals Kansas and Missouri will return to the men's basketball schedule beginning with the 2020-21 season.
KU officials on Monday night announced the creation of a six-game series between the Jayhawks and Tigers that will begin next season and feature two games at Sprint Center in Kansas City, Mo. (in 2020-21 and 2025-26), two games at Allen Fieldhouse (2021-22 and 2023-24) and two games in Columbia, Mo. (2022-23 and 2024-25).
"We all felt the timing is right to renew the rivalry," said KU coach Bill Self, noting that KU Athletic Director Jeff Long and other Kansas coaches were in agreement. "Even though we haven't played the last few years, I know it was something our players and fans missed, and so did I."
Although Kansas and Missouri have faced each other in both volleyball and softball on a couple of occasions since Missouri left the Big 12 Conference in 2012, those came in the postseason and were not scheduled by either school.
Technically, it was the Kansas baseball program, in the spring of 2012, that played the final scheduled game with the Tigers. But by far the most notable final meeting came earlier that year, when the KU basketball team came from 19 down in the second half to win an epic game at Allen Fieldhouse.
The lasting images of that battle include Self throwing his arms into the air and letting out a loud roar after the final horn sounded and Thomas Robinson blocking a shot by Phil Pressey in the final seconds of regulation to force overtime.
Many players, fans and coaches who were there on Feb. 25, 2012, said KU's 87-86 overtime win over the Tigers was the loudest Allen Fieldhouse has ever been.
After a five-year break, KU and Missouri dabbled with a reunion in October of 2017, playing an exhibition game against one another at Sprint Center to raise money for hurricane relief. KU won that one, dubbed the "Showdown for Relief," and Self said the response to the 93-87 Kansas victory, which was "far greater" than he expected, played a role in creating the new series.
"Having coached a lot of games versus Missouri in my time here at Kansas, I could not be more excited to start this series up again," said Self, who had maintained a strong stance against restarting the rivalry throughout the past seven years. "This is a great experience for all basketball fans and I look forward to the rivalry being reignited in Kansas City next season and then bringing it back home to Allen Fieldhouse the following year."
Once it happens, the KU men's basketball team will have played regular season games against all four schools that left the Big 12 — Missouri, Colorado, Nebraska and Texas A&M; — during the crazy days of conference realignment.
The Kansas-Missouri basketball series, which was known until 2012 as the longest continuous series west of the Mississippi River in college athletics, dates back to 1907, when the Jayhawks and Tigers met on back-to-back days in Lawrence on March 11-12, both Missouri wins. Those contests were the first of 269 meetings between the border rivals over the next 105 years, with the Jayhawks building a 174-95 edge in the all-time series.
Kansas is 89-33 at home against Missouri, including a 42-14 mark in Allen Fieldhouse, and owns a 65-53 edge in games played in Columbia.
"One of the best aspects of college athletics is rivalries," Long said in a news release. "And we are thrilled that our fans and student-athletes will get to experience this Border Showdown rivalry once-again. We have quietly sought input from fans and supporters on the renewal of this series and we believe the overriding sentiments are that this historic rivalry should resume. While this series does not include each of our sports teams competing in the Border Showdown at this stage, we feel this is the first step to expanding it in the future. We are excited for this rivalry to begin anew next year and believe it will be great for all fans of college basketball."