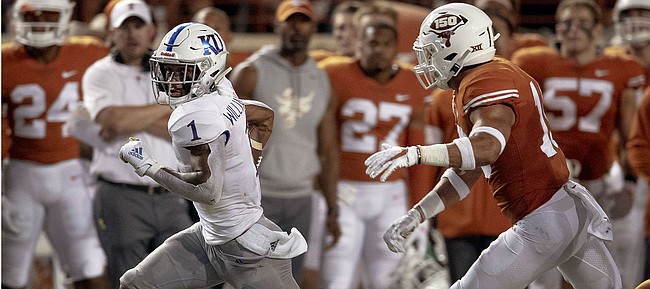 Moral victories suck.
By definition, they're a cold, empty reminder that the one reason all teams suit up did not happen.
But that doesn't mean they're totally worthless.
KU's 50-48 loss at Texas on Saturday night in Austin, Texas, was all the adjectives you could possibly imagine and then some.
Maddening and exciting. Heartbreaking and gut-wrenching. Wild and crazy. Tough to swallow. Encouraging.
The list goes on.
But for all the ways that this one will be remembered, not remembering it as a major step in the rebuilding of the Kansas football program under Les Miles would be a mistake.
These types of outings can help teams turn the corner. They do matter in the big picture.
And it's OK for those things to be true and for the outcome to hurt like hell at the same time.
No one in crimson and blue who walked away from the Jayhawks' latest loss was happy about the result in the moment. But there were so many good things that happened and so many reasons to be encouraged that you'd be doing yourself a disservice to overlook them.
To name a few: The offense was sensational under new offensive coordinator Brent Dearmon. The team refused to fold when down 10 with eight minutes to play. And then there was that 2-point conversion that put them ahead by a point with 71 seconds to play.
Forget the play, the call or the execution. The simple fact that the KU coaching staff chose to go for the win instead of settling for the tie was significant stuff. If there was a player or two left on this roster who had not yet bought in to Miles' approach before Saturday, they're all in now.
That kind of statement of trust from a coach is so huge for the psyche of a team. And this team, now that it has survived the scary three-game stretch of TCU, OU and Texas, should move forward with the confidence and belief that they can be in any game left on their schedule.
That's no small thing.
An effort like the one the Jayhawks put forth on Saturday night can catch the eyes of way more than those who were there or watched on television.
For at least a night, Kansas football was respected as a national brand. Recruits paid attention. Fans who had given up peeked out from behind their hands. KU alums stood tall and former players once again felt pride in the program.
In the moments that followed Saturday's loss, I came across the following tweet from former KU coach Mark Mangino. I'm going to assume he was referencing the KU-Texas game in it. And even if he wasn't, it still very much applies as the best way for the Jayhawks — and their fans — to move on from this latest setback.
"Never let a heartbreaking loss get you down," Mangino's tweet began. "Learn from it. Use it for motivation! Hence, better days ahead! #beentheredonethat."
I'm buying what he's selling. And I'm buying the Les Miles rebuild more tonight than at any point in the past 11 months.