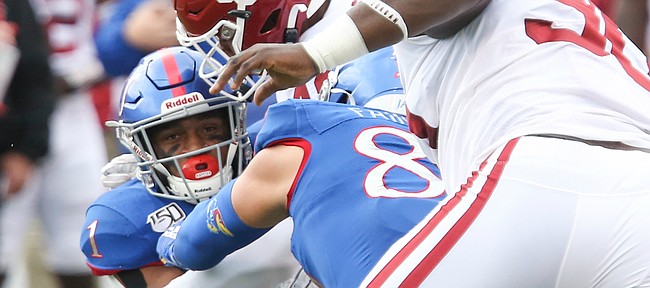 Les Miles would like for you to believe that the offense his Kansas football team will run after its midseason bye week won't be all that different from the one it used during the first six games of the season.
Miles even made that claim after firing offensive coordinator and quarterbacks coach Les Koenning and handing the offense over to Brent Dearmon.
Sure.
"I think there's some similarities and some dissimilarities," Miles said earlier this week when asked if the changes would be noticeable to fans when KU returns to action Saturday night at No. 15 Texas. "I don't know if they'll find it unusually different. Yeah, I don't think that they'll — I think it'll look hopefully more successful."
Translation: The offense needs to improve significantly, but KU's head coach isn't interested in broadcasting how Dearmon plans to make that happen.
Podcast episode
On this week's KU Sports Hour we discuss the return of Benton Smith, Brent Dearmon's debut as O.C. at Kansas and senior center Udoka Azubuike standing out above all Big 12 basketball players. Follow the KU Sports Hour on: iTune/Apple Podcasts | Spotify | Google Play | ...
A head coach doesn't fire an O.C. six games into his tenure if the offense is humming along. Examine the statistical output from KU's first six games and it's easy to spot warts.
For one, the Jayhawks (2-4 overall, 0-3 Big 12) didn't score nearly enough under Koenning. They enter this week's game at UT (4-2, 2-1) tied for 102nd out of 130 FBS teams in scoring (22.8 points per game).
And while their yards-per-play numbers land closer to average than awful — 4.86 yards per rush (44th), 7.4 yards per pass (tied for 63rd) and 6.01 yards per play (57th) — their per-game statistics look drastically worse, because too many drives went nowhere fast.
KU, which is 95th in offensive efficiency according to ESPN's analytics, averaged 158.7 rushing yards (74th), 195.8 passing yards (100th) and 354.5 total yards (103rd) per game with Koenning in control.
The offense's lack of successful drives is further illustrated in KU's third-down conversion numbers: 27 for 72 (37.5%, tied for 83rd).
Much like their counterparts on KU's defense, the offensive players hope the final six games of the season include more improvements than recurring issues.
The handful of offensive starters who spoke to media members this week followed marching orders and professed that KU's plays will be similar moving forward. But Jayhawks such as junior receiver Andrew Parchment didn't mind admitting to the unit's shortcomings in the first half of the season.
"At the end of the day, it's our job to execute, no matter which plays are being called," Parchment said. "The previous six games, we just didn't do a good job in all phases of the game, starting from quarter one to four. So we've just got to do a better job, hold everybody accountable. And I feel like everybody will do a great job."
Parchment, quarterback Carter Stanley, running back Pooka Williams Jr. and receiver Stephon Robinson Jr. all said the tempo has increased at practice since Dearmon took over. Some players noted there was less huddling in scrimmage situations.
If that approach is a part of the game plan this week against Texas, the Jayhawks could play with confidence on offense.
"I just felt like our strength," Parchment said of the first six games, "was whenever we were playing with tempo, and using our skill players and stuff like that in space."
On the other hand, Parchment and Williams both said the offense was plagued by miscommunications in the first half of the season.
Williams, KU's leading rusher, said sometimes one player would be carrying out run play responsibilities while everyone else was trying to execute a passing play.
He also thinks such cases can be fixed through practice.
"That's what RPO takes," Williams said of Dearmon's area of offensive expertise. "A lot of communication."
And Robinson couldn't bring up what he considered one of the virtues of the offense without also mentioning the inconsistency at the root of the Jayhawks' problems.
"Strengths, I'd say the big-play ability," Robinson said. "We'd have tremendous plays. And then we'll, like, go on a decline. We'll have a hot streak, and then we'll go cold. That's the biggest thing I've noticed so far this season."
KU-UT on Longhorn Network
The video broadcast of Saturday night's KU football game at Texas (6 p.m. kickoff) will air exclusively on The Longhorn Network, a UT-focused channel owned by ESPN.
KU spokesman Dan Beckler told the Journal-World the game would not be available through the ESPN+ subscription streaming service.
The Longhorn Network can only be viewed — streamed online or on television — with a subscription package to a TV provider that includes the channel.
KU football's midseason offensive stats
— FBS ranking in category listed in parentheses
• Scoring offense: 22.8 points per game (tied for 102nd)
• Rushing offense: 158.7 yards per game (74th); 4.86 yards per rush (44th)
• Passing offense: 195.8 yards per game (100th); 7.4 yards per pass (tied for 63rd); 147.03 passing efficiency rating (44th)
• Total offense: 354.5 yards per game (103rd); 6.01 yards per play (57th)
• Sacks allowed: 1.83 per game (53rd)
• Tackles for loss allowed: 6.67 per game (93rd)
• Turnovers lost: 8 total (tied for 43rd)
• Fumbles lost: 4 total (tied for 49th)
• Interceptions lost: 4 total (tied for 39th)
• Third downs: Converting on 37.5% of chances (tied for 83rd)
• Fourth downs: Converging on 0% (0 for 7) of chances (130th)
• Red zone offense: Scoring on 92.96% (13 of 14; 9 TDs, 4 FGs) of red zone trips (tied for 20th)
• Long scrimmage plays: 83 plays of 10-plus yards (tied for 84th); 32 plays of 20-plus yards (tied for 43rd); 12 plays of 30-plus yards (tied for 73rd)
• Long rushing plays: 31 plays of 10-plus yards (tied for 58th); 12 plays of 20-plus yards (tied for 27th); 6 plays of 3-plus yards (tied for 27th)
• Long passing plays: 52 plays of 10-plus yards (tied for 79th); 20 plays of 20-plus yards (tied for 68th); 6 plays of 30-plus yards (tied for 97th)
— Statistics from CFBstats.com