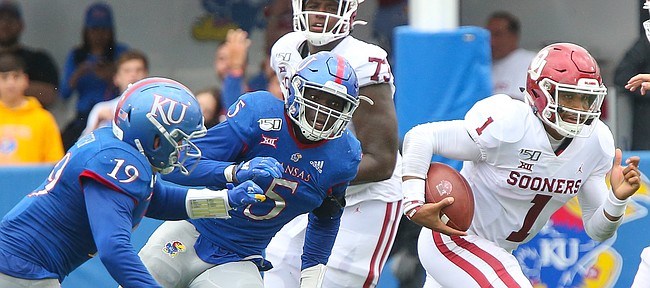 Both before and after his Kansas football team's midseason bye week, head coach Les Miles spoke of the importance of self scouting during the Jayhawks' relative downtime.
However, as often is the case with Miles, he didn't allow outsiders much of a peek behind the curtain in terms of how this past week's practices benefited KU's defense.
What did the coaching staff learn about the defensive unit during its early October self assessment? What needs to improve going forward?
Miles didn't exactly answer those questions during his first press conference since the bye week.
"Well, the good news is that they're a pretty talented team," Miles replied, when asked about the defense. "Yeah, I think they're the kind of team that will continue to play and play and play. I like the three-down up front, and I like the linebacking corps. I think a team gets better."
Six games into the 12-game schedule, the Jayhawks' defensive statistics are more concerning than encouraging. According to ESPN's analytics, KU currently ranks 103rd in defensive efficiency.
The Jayhawks (2-4 overall, 0-3 Big 12) rank 86th out of 130 FBS teams in scoring defense (29.7 points allowed per game), 122nd in rushing defense (22.0.8 yards per game) and 67th in passing defense (223.7 yards per game).
It's even difficult to single out a specific strength on that side of the ball, coached by defensive coordinator D.J. Eliot. If forced to pick the defense's strong suit, one would most likely look to the secondary. According to the Pro Football Focus grades provided to Jayhawk Slant, that's where you can find the only two KU starters who graded out as above average in the first half of the season. Safety Bryce Torneden received a 74.0 grade and safety Jeremiah McCullough was right with his fellow senior defensive back, at 73.6.
KU's leading tackler on the season, with 43 total stops, Torneden, following his head coach's lead while speaking with reporters on Monday, kept the self scouting analysis that went on with the defense vague.
"Really just keep our energy and our confidence," Torneden said, when asked what message the coaches had for KU's defense headed into the last half of the season. "Continue to improve — that's all we can do. Take it week by week. Focus on this week and be careful not to look ahead — that's the biggest thing."
Along with its struggles in stopping the run (4.75 yards allowed per rush, tied for 98th) and its below average pass defense (7.4 yards allowed per pass, tied for 77th, KU hasn't created much havoc defensively, either.
The Jayhawks' following per-game averages currently sit in the bottom half of the FBS: 2.0 sacks (tied for 77th), 5.5 tackles for loss (88th), 0.5 interceptions (tied for 92nd), 3.83 passes defended (tied for 72nd), 0.5 fumbles forced (tied for 95th) and 0.0 fumbles recovered (tied for 129th).
With six games left to improve upon all of those numbers, Torneden hopes this past bye week will prove worthwhile.
"It gives us a chance to regroup and kind of get the energy back," Torneden said. "It came at a good time."
KU football's midseason defensive stats
— FBS ranking in category listed in parentheses
• Scoring defense: 29.7 points allowed per game (86th)
• Rushing defense: 220.8 yards allowed per game (122nd); 4.75 yards allowed per rush (tied-98th)
• Passing defense: 223.7 yards allowed per game (67th); 7.4 yards allowed per pass (tied-77th); 63.2% opponent completion percentage (94th); 136.34 opponent passing efficiency rating (80th)
• Total defense: 444.5 yards allowed per game (tied-104th); 5.79 yards allowed per play (78th)
• Sacks: 2.0 per game (tied-77th)
• Tackles for loss: 5.5 per game (88th)
• Interceptions: 0.5 per game (tied-92nd)
• Passes defended (broken up or intercepted): 3.83 per game (tied-72nd)
• Fumbles forced: 0.5 per game (tied-95th)
• Fumbles recovered: 0.0 per game (tied-129th)
• 3rd down defense: Opponents converting on 51.14% of chances (125th)
• 4th down defense: Opponents converting on 37.5% (3 of 8) of chances (tied-37th)
• Red zone defense: Opponents scoring on 75.86% (22 of 29; 17 TDs and 5 FGs) of red zone trips (26th)
• Opponent long scrimmage plays: 90 plays of 10-plus yards allowed (tied-89th); 31 plays of 20-plus yards (tied-89th); 9 plays of 30-plus yards (tied-40th)
• Opponent long rushing plays: 38 runs of 10-plus yards (tied-107th); 13 runs of 20-plus yards (tied-113th); 4 runs of 30-plus yards (tied-74th)
• Opponent long passing plays: 52 passes of 10-plus yards (tied-61st); 18 passes of 20-plus yards (tied-57th); 5 passes of 30-plus yards (tied-18th)
— Statistics from CFBstats.com