There were cold and snowy days in January, before anyone knew for sure what type of player Andrew Parchment would be for the Jayhawks, when the receiver slogged across the University of Kansas campus in footwear more suitable for his hometown of Fort Lauderdale, Fla.
Parchment didn't have a car to drive at the time. To make matters worse, he described himself as "not really equipped for the cold weather": no Timberlands, snow boots, nor anything of the sort.
So Parchment, who at least owned some sweatpants and jackets, would put on a pair of slides — sandals, he'll clarify for those unfamiliar with the lingo — over some socks and trudge from the student apartments over to KU's football facility in order to sharpen his skills.
"My socks were soaked," Parchment recalled.
Miserable as the conditions felt, the 6-foot-2, 180-pound receiver ultimately didn't mind. Once he reached his destination, Parchment got to work on his game with KU quarterbacks, including Carter Stanley.
Comfortably the Jayhawks' leading receiver (32 receptions, 422 yards and four touchdowns) at the midway point of the season, Parchment thinks the time he invested in himself shortly after joining the program this past winter as a junior college transfer paid off, in part because it helped him develop chemistry with Stanley, who ultimately won the starting job.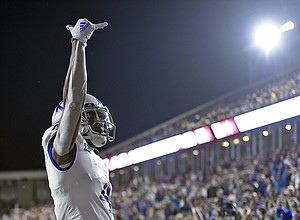 "Especially with us coming from Florida," Parchment said of Stanley, a Vero Beach native, "we both had a good connection."
Parchment, whose college career began at Northern Illinois, before he spent one season with Iowa Central Community College, might have ended up somewhere warmer for his next football stop had head coach Les Miles not won him over with a flattering assessment.
When Parchment visited KU in December of last year, Miles compared his skill set to those of some of the more famous offensive players Miles coached at LSU, receivers Jarvis Landry and Odell Beckham Jr.
After Parchment began his junior season with the Jayhawks with three 100-yard receiving games in the first four weeks, Miles shared that praise publicly, and explained it is Parchment's ability to snag a pass out of the air that puts him in that category.
"I think the Lord wires certain people that way," Miles said. "I don't think there is any way that you can improve — I think you can improve your catching and study the dynamics of how you hold your hands and what part of ball you attack and all those things — but I think there is a genetic, a piece of the wiring, mentally, that allows guys to really handle the ball and anticipate through the air what's happening."
While Parchment always tried to fashion his game after the "competitiveness and swag" of former NFL star Chad Johnson and the playmaking of current Houston Texans standout DeAndre Hopkins, he obviously appreciated Miles mentioning him in the same breath as Landry and Beckham.
"It's a lot of high praise, but a lot of things I've got to live up to now," Parchment said, adding he sees himself one day playing in the NFL, same as those former LSU receivers. "It's just something I have to work through every single day in practice and on the football field, and just become a leader for the team."
Though Parchment guessed Miles would have identified the junior receiver's deep threat ability as his best attribute, because of his speed down the field, Parchment said he works on his ball skills "every single day, even after practice."
When he was a kid, Parchment would gather balled up socks around his family's home, and throw them up and run under them to catch them — "That's how I picked up the game of football," he shared.
But now he snags footballs shot out of a Jugs machine, or has quarterbacks or assistants throw to him in his down time, so he can work on making catches on the sidelines, over his shoulder, near the ground, up high for an acrobatic finish or even something contested, with a defender trying to stop him.
Parchment entered this weekend, the first of KU's two bye weeks this season, tied for third in the Big 12 in touchdown catches (four), sixth in receptions per game (5.3), ninth in receiving yards per game (70.3) and 17th in yards per catch (13.2).
Pooka Williams Jr., the only truly proven KU skill player on the roster entering Miles' first season, has welcomed the support Parchment's abilities brought to the offense.
"He's a game-changer," Williams said. "And he's got a lot of yards after catch. That's what we really need. We don't need a possession receiver that's going to catch the ball and go down. We need people that's going to get (defenders) out of the box. And that's what he does."
Although KU (2-4 overall, 0-3 Big 12) found it more difficult to get Parchment as heavily involved in its two most recent losses to TCU and Oklahoma, in which the team's top receiver caught a combined eight balls for 55 yards, Parchment and Stanley have developed a rhythm together.
Stanley said they communicate throughout each game week, discussing how they think the routes Parchment runs will work against the next opponent. KU's senior QB said he has a lot of confidence in Parchment, too, with all the reps the duo have picked up since the start of preseason camp in particular.
"AP is a really talented receiver," Stanley said, "and I'm glad we've got him."
Over the past several months, the two have worked on all types of scenarios and specific routes that Parchment runs on game days, such as skinny routes, deep posts and go balls.
Because Parchment played some quarterback in his younger football days, he thinks he knows why the time he and Stanley have put in has seemed to work.
"If I don't have confidence in a receiver, I'm not going to look his way first," Parchment said. "So I hope that I've gained Carter's confidence, and I hope to do it some more later on in the season."
The journey may not have been enjoyable at first, when Parchment learned quickly it can get "extremely cold" in Lawrence. But KU's top receiver is glad he endured some bone-chilling walks in soggy socks, after trusting in Miles' namedropping recruiting pitch.
"It's all working out now," Parchment said. "Just got more work to do. More numbers to put up. So I'm looking forward to it."