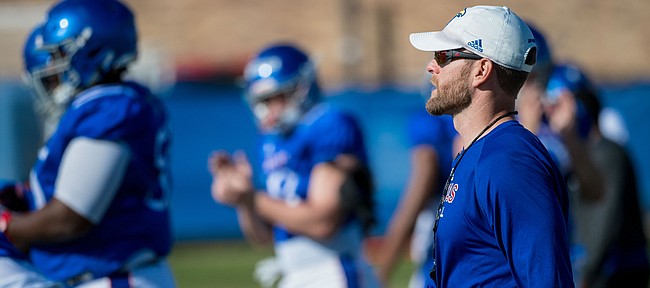 Those who have played for Brent Dearmon have become all too familiar with one particular Bible verse.
"No one can serve two masters."
Matthew 6:24 has practically become Dearmon's mantra. Dearmon, who was promoted to KU's offensive coordinator earlier this week, has a run-pass-option background that originated from his days as an analyst at Auburn. He's even written a book on the scheme.
And the Bible verse perfectly illustrates how tough it is to defend a Dearmon-led offense.
"That's why the RPO is so effective," said Sam Castronova, who played quarterback for Dearmon at Bethel University in 2018. "If you are trying to stop the run, you are going to get thrown on. If you try to stop the pass, we are going to run the ball on you."
Castronova first heard Dearmon say the Bible verse in their introduction meeting, and it didn't take long for him to fully understand the meaning.
During Dearmon's lone season as a collegiate head coach, Bethel went 10-0 in the regular season and was the highest scoring team at any level with an average of 55.0 points per game. The Wildcats even scored 92 points in a single game last season.
Castronova played in different offensive schemes during his previous three seasons at the collegiate level before having his best campaign under Dearmon as a senior. Castronova set the single-season school record with 28 touchdowns passes and 2,453 passing yards — records that were previously held by Dearmon himself.
"It opened up my eyes to wonder why I have never ran this offense before," Castronova said. "Once we were really clicking, it seemed like we were almost unstoppable. That was a pretty cool feeling to have."
Dearmon also ran that type of offense during his three seasons at Arkansas Tech as an offensive coordinator.
The Wonder Boys had a 360% increase in rushing yards in Dearmon's first season. Dearmon had a quarterback make the all-conference team in each of his three years, proving that both the run and pass element can have success in this type of offense.
No one can serve two masters.
"He was always saying that (Bible verse)," said Ty Reasnor, who played quarterback for Dearmon at Arkansas Tech in 2017. "The RPO game pretty much makes the quarterback a blocker. You don't ever block him, but with your eyes you have to block him. If he wants to get in the a-gap or b-gap, you have to throw."
While the scheme might take plenty of reps to fully pick it up, there is reason to believe that Kansas will comprehend it during the second half of the regular season. The plays have been in the playbook since the spring, and KU ran quite a bit of RPOs in a 48-24 win at Boston College.
Quarterback Carter Stanley has also admitted that he has experience with run-pass-option, which dates back to his days at the high school level. But it is clear that Dearmon believes establishing the ground game is the key for his offense to have success, as he prepares for his debut as a Power 5 offensive coordinator.
"In order to win football games, you are going to have to run the ball," Dearmon said. "When we got the best look, we are going to run the football."
That is what Dearmon did at Arkansas Tech, when he decided to go all in on the RPO concept. Once teams started loading up the box, Dearmon added new wrinkles to make opposing teams respect the pass attack as well.
Quarterbacks will often have a pre-snap and post-snap read in Dearmon's offense. A quarterback will read the defender to determine what to do with the ball. It is especially difficult for teams to stop when trying to blitz or play zone.
"His whole mindset of the RPO is that we can beat any coverage or any blitz," Reasnor said. "All you have to do is simplify the game down to who your defenders are. An offense that has a lot of thinking is something I wanted to play in."
It remains to be seen if Dearmon's scheme will invigorate a KU offense that ranks 101st in the nation with an average of 22.8 points per game and 102nd in the country with an average 354.5 yards per contest.
But the Jayhawks, who haven't averaged more than 23.8 points per game in a season since 2009, are at least trying something different.