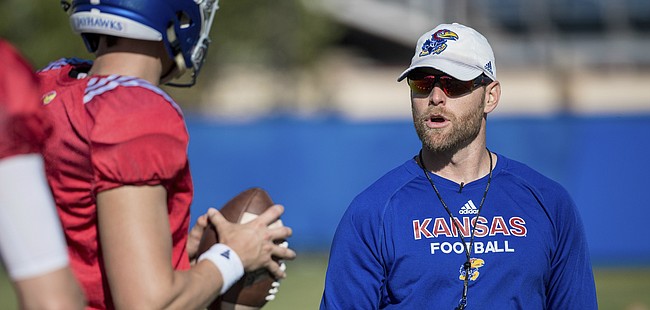 Facing yet another new opportunity and fresh start, Kansas quarterback Carter Stanley picked up a big win during the Jayhawks' bye week.
It came in the form of a vote of confidence from new KU offensive coordinator Brent Dearmon and was delivered in both private and very public ways.
Not long after Dearmon himself learned about his promotion, the 34-year-old OC picked up the phone and called Stanley to tell him the news.
That phone conversation was featured on Episode 10 of the ESPN+ series "Miles To Go" and left nothing to interpretation or mystery.
"You're my guy," Dearmon told Stanley. "And we're going to finish this year out, clean some things up and we're going to get after 'em, OK?"

Dearmon doubled down on the statement during his meeting with the media Thursday, gushing about Stanley's toughness and saying again, in no uncertain terms, that the fifth-year senior who has started KU's first six games of the 2019 season would be the starter the rest of the way.
"When I was a quarterback, I liked knowing when I was a coach's guy," Dearmon said Thursday. "And that's why you saw on the show me calling him and saying, 'Hey, you're our guy.' Because I didn't want him coming in any week thinking, 'Man, I'm looking behind my shoulder.' Carter Stanley's the guy."
While that's not exactly shocking news given the fact that Stanley has taken every meaningful snap of the season thus far, it is still significant.
Not only does it give Stanley the opportunity to move forward with confidence and comfort, but it also preserves continuity within the offense.
Five years ago, when KU assistant Clint Bowen took over as interim head coach five weeks into the 2014 season, he made the decision to change the starting quarterback in his second game. And while the move from Montell Cozart to Michael Cummings provided the Kansas offense with a shot of adrenaline, it also brought some growing pains and difficult adjustments.
Those won't be present with Dearmon sticking with Stanley at the game's most important position, and that should give this year's offense a chance to make big improvements much quicker.
"A lot of stuff that he's run in the past is stuff that I'm familiar with and comfortable with," Stanley said on "Miles To Go."
Stanley will have to play better for that to matter, and those around him, including the rest of the coaching staff, will have to elevate their games as well in order for KU to accomplish something worth remembering during the second half of the season.
But the most important pieces are now in place. In Les Miles, Stanley has a head coach who believes in him. In Dearmon, Stanley has a coordinator and quarterbacks coach who loves him.
Neither fact can be undervalued, especially at a place like Kansas that has had 12 different men hold the role of offensive coordinator during the past 10 seasons, seven since Stanley joined the program.
"What he's been through in his football career is amazing," Dearmon said. "And yet he shows up every day with a smile on his face."
Don't be surprised if that smile beams a little brighter the rest of the way.