Never one to have trouble firing up an Allen Fieldhouse crowd, Kansas basketball coach Bill Self took his hype machine to a whole new level on Friday night.
Speaking to a packed house just before 8 p.m. at the 35th annual Late Night in the Phog, Self talked briefly about last season's disappointing 26-10 finish before setting the bar for the 2019-20 season.
"We don't allow our expectations to change," Self explained to the crowd just moments before former KU great Sherron Collins drained a halfcourt shot to earn two KU fans $5,000 each. "Faces change, but expectations don't. "This year's team, we're pretty big, we're pretty long, we're athletic and I think your expectations should be off the charts this year."
Photo Gallery
Late Night in the Phog 2019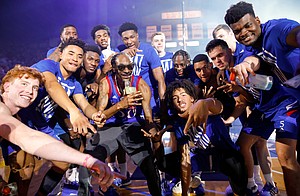 View a gallery of images from Kansas Basketball 2019 Late Night in the Phog
Before the roar-inducing talk of big things yet to come, Self also briefly addressed the cloud hanging over the program from the recent NCAA allegations
"I heard a long time ago that bad publicity is better than no publicity," said Self to wild approval from Kansas fans in every corner of the building. "I actually don't believe that for a minute, but it felt pretty good to say it. … We've been here now starting our 17th year. And in the prior 16 years I've never been more proud to be the coach of your Kansas Jayhawks than I am tonight."
The reasons for that were many and Self briefly explained each, from the support from the university and athletic department to the fans.
"I tell recruits all the time that we have the best fans in the world," Self continued. "And I've never felt more support from our fans."
After the event, Self was asked to elaborate on the fan support he's felt through the allegations thus far.
"I believe the fan support is there," Self said. "But I don't know that positively because I'm not involved in social media and all that stuff. So I'm saying what I believe to be there. But I also know our fans have rallied around other situations since I've been here that have certainly turned out to be positive. Usually when you get a group of people that care and are passionate and somebody challenges them, it usually brings out the best. And that's what I was trying to say because this will bring out the best in our fans."
The first two KU students in the doors, promptly at 4:30 p.m., were senior Lexei Mann and junior Carly Newcomb, who were lucky enough to draw lottery position No. 1 during the first year of student camping for Late Night.
When asked if it was the KU basketball team or musical headliner Snoop Dogg that inspired them to secure the first seats, the two whole-heartedly agreed.
"Oh, KU basketball for sure," Mann said. "They're going to win the national championship this year."
Added Newcomb: "Snoop was a nice add-on, though. Kind of the cherry on top."
The first screams for Snoop came just after 6:30, when the rapper appeared in a graphic on the video board. Not long after, photos surfaced on social media of Snoop in the KU locker room with Self and the 2019-20 team.
While Snoop closed the show with a 35-minute set, the featured entertainment for most KU fans came in the form of a 12-minute crimson versus blue scrimmage just before Snoop took over.
Led by 10 points from sophomore David McCormack, including two jumpers from the perimeter, and eight more points from sophomore Ochai Agbaji, Crimson topped Blue, 32-30 in an up-and-down energetic scrimmage.
Sophomore point guard Devon Dotson led the Blue squad with 12 points.
The Jayhawks combined to make five of 14 3-point shots while shooting 59 percent from the floor overall.
"I thought neither team guarded a lick tonight and I thought it was brother-in-law ball and I thought that big guys didn't rebound and guards didn't pass it very well and I really think that was a perfect example of how we're not supposed to play," Self said, noting that he usually has said similar things after every Late Night scrimmage.
For more on the scrimmage and Late Night in general, log on to KUsports.com throughout the weekend.
Crimson 32
David McCormack 10, Ochai Agbaji 8, Silvio De Sousa 6, Marcus Garrett 4, Jalen Wilson 2, Elijah Elliott 2.
Blue 30
Devon Dotson 12, Udoka Azubuike 8, Christian Braun 4, Tristan Enaruna 2, Chris Teahan 2, Mitch Lightfoot 2.

Ladies first
The KU women's basketball team officially kicked off the Late Night fun with a dance skit that started on the video board and spilled onto the court.
From there, the KU women's team, which returns just six players from last year's 13-18 squad and feature seven newcomers, broke into separate dances by class to get the Allen Fieldhouse crowd properly warmed up for the entertainment ahead.
Women's coach Brandon Schneider then took the floor after a long, fanfare-packed walk from the locker room to the court. Schneider, now in his sixth year at KU, walked out wearing a shiny crimson and blue cape over a glittery gold and silver Adidas jacket.
"Man, it's great to be a Jayhawk," he said, touting KU's academic reputation, administrative support and first-class fan base. "Let's not kid ourselves. We've got the greatest basketball fans on the planet."
Before leaving, Schneider made a plea to the packed house to come out to some women's games this season.
"We've got a group that's extremely fun to coach, they're working really hard and I think you'll enjoy watching them compete," he added.
The women closed out their portion of Late Night with a 3-point shootout that was won by senior forward Mariane De Carvalho.
This and that...
Several former KU greats were in the crowd on Friday night, including Scot Pollard, Sherron Collins, Jeff Hawkins, Bud Stallworth, Patrick Richey and staff members Perry Ellis, Jeremy Case and Brenan Bechard... Nearly two dozen top-tier recruits from the 2020, 2021 and 2022 classes were seated behind the KU bench for this one, led by elite prospects Isaiah Todd, KK Robinson, Kennedy Chandler and … The Late Night tradition of collecting food for families in need continued on Friday night, with KU fans donating 2,260 pounds to Just Food of Douglas County... Newcomer Isaiah Moss, a senior grad transfer from Iowa, did not play in Friday's scrimmage because of a tweaked hamstring... Freshman point guard Dajuan Harris, who will be an academic redshirt this season, also did not play.
https://www.youtube.com/watch?v=8aH2FnG3dcM
https://www.youtube.com/watch?v=uefXk9vPKGo&t=9s