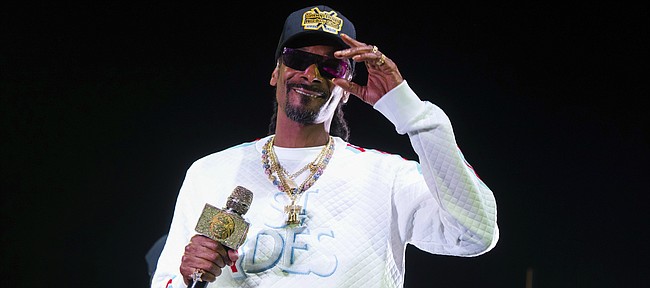 Despite what you might have seen in a promotional video earlier this year involving KU's Les Miles and rapper Rick Ross, scheduling a world-famous musician for an event at KU is not as easy as a head coach simply picking up the phone.
And when you consider that Snoop Dogg, the headliner for Friday's 35th annual Late Night in the Phog at Allen Fieldhouse — 6:30 p.m. on ESPN+ — has sold more than 35 million records worldwide, been on the scene for three decades and has nearly five times as many social media followers as Ross, it's easy to envision that landing Snoop for Late Night took a monster effort.
Credit KU's apparel partner, Adidas, for doing a lot of the heavy lifting. Snoop Dogg is a part of the Adidas entertainment family, and those ties certainly helped KU bring him to Lawrence for Late Night.
But there were dozens of people with Kansas Athletics Inc. who put in their time and effort to make the show happen, as well.
Associate Athletic Director for Marketing and Video Services J.T. Geren spearheaded much of the effort, which he said began in June. Geren, who formerly worked at Arkansas, is a relatively new arrival at KU, having started in the position just as plans were being finalized to bring Ross to the KU football program's spring game.
Geren said the goal for 2019's Late Night in the Phog was to bring in an artist who would appeal to a broader cross-section of fans.
"We talked a lot this year about an artist that was multi-generational or an artist that was more universal than some of the more niche hip-hop artists we've had the last few years," Geren told the Journal-World. "And with Snoop Dogg, we really achieved that. We found a multi-generational artist who's a hip-hop legend and a pop culture icon."
Over the past three years, KU has brought Tech N9ne, Lil Yachty and 2 Chainz to the fieldhouse for Late Night.
Snoop's connection to Adidas made the partnership possible, but Geren said KU did not limit its talent pool to just Adidas artists. In fact, Geren said Self was one of the first people to suggest an artist when the conversations began.
Self's idea? Darius Rucker of Hootie and the Blowfish.
But Geren said he checked Rucker's availability online during that meeting and found out that Rucker would be in London on Oct. 4. That fact and the dismissal of a few other candidates allowed KU officials to zero in on Snoop Dogg, and the next few months were spent ironing out the logistics.
Some things, such as security and setting up Snoop Dogg's dressing room, were KU's responsibility. Other elements, such as travel arrangements, lodging and hospitality were left to Adidas.
Although KU officials were confident they could land Snoop Dogg for the past several weeks, Geren added that the contract was not final until last week.
"The amount of layers in a process like this is fascinating," Geren said. "As soon as we got final confirmation, it was announced immediately thereafter."
That announcement, of course, came through KU's social media channels last Friday and in a video that featured Self in a record store wearing Adidas gear and searching for Snoop Dogg CDs.
"I must admit, I did not grow up on Snoop," Self said on 610 Sports Radio earlier this week. "But I'm excited to see what he's got when he comes over here on Friday. I think there were probably some dollar figures thrown at him to get him to show up. I don't think he's coming for free. But we're excited about it. It should be fun."
Geren said the money to pay for Snoop's appearance comes from a clause in the contract between Kansas Athletics Inc. and Adidas that sets aside $1,100,000 annually for a "Marketing Fund" that covers "mutually agreed upon activations, including, but not limited to, the University/Adidas internship program, events, adidas signage and adidas strategic brand initiatives."
Geren said Snoop's asking price, which he did not know, was negotiated between Adidas and the rapper's representatives. According to bookingentertainment.com, a booking and event coordination service that also provides estimates of how much it costs to book many popular entertainers, Snoop Dogg typically requests a fee of $150,000 or less for performances like Late Night.
The one major change to this year's Late Night is the timing of Snoop Dogg's performance. Instead of going on before the men's scrimmage, he'll close the show and is expected to start between 8:45 and 9 p.m.
So when 2020's Late Night rolls around, how does Geren think KU will top Snoop Dogg's appearance?
"I think the answer today and the answer three days from now will look very different," he said. "Right now I'm all about Friday night. But 4 o'clock on Saturday, when I'm driving home from (KU-OU) football, we'll start brainstorming about what Late Night in the Phog 2020 is going to look like."
As for the rest of Late Night 2019, Self said the event would look similar to what KU fans have seen in the past.
"It's basically the same routine," he said. "The women are going to perform, there'll be some skits and the players will get to show their personality a little bit and then we'll throw it up and play for probably 20 minutes. The biggest thing, though, with this night is celebrating the tipoff of a new season — and, of course, having Snoop in the house to help do that will be a fun time for everybody."
The festivities begin at 11 a.m. with the Phog Fest on the fieldhouse's front lawn. For five hours, food trucks and other entertainment for fans and families will be available outside the venue.
Late Night is a free event, but fans are encouraged to bring nonperishable food donations to benefit Douglas County food bank Just Food.
Doors open at 4:30 p.m. for KU students and 5 p.m. for the general public.