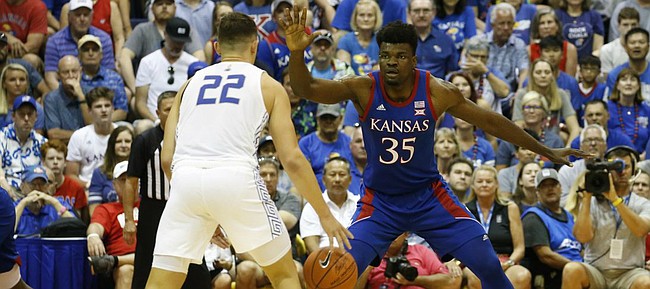 No. 4 Kansas Jayhawks (4-1) vs. BYU (4-2)
Time: 9:30 p.m. | Location: Lahaina Civic Center, Maui, Hawaii
TV: ESPN | Radio: IMG Jayhawk Radio Network
Sign up for ESPN+ and watch your Hawks on the go.
Log on to KUsports.com for our live game blog coverage and follow the KUsports.com staff on Twitter: @KUSports @mctait @bentonasmith @SJacksonLJW & @ByBradenShaw
Keys for Kansas
1. Offensive efficiency
There were moments during Monday's 93-63 win over Chaminade when Kansas was a little careless with the basketball.
Those moments did not always lead to turnovers — KU had 14 of those — but their lazy passes, passes that were off the mark and an overall casual attitude at times might not bode well against BYU.
"Against them, you've got to be real efficient on offense, against any team that runs this spread Princeton stuff," UCLA coach Mick Cronin said after his team's 78-63 loss to BYU on Monday night. "Because if you run, you throw one pass and you turn it over, they're going to go down and throw 17 passes and make you chase them around."
The good news for Kansas here is that the bigger opponent and the higher stakes should have them more plugged in from the start.
2. Defensive discipline
As Cronin mentioned, BYU can be a bear to guard because of the Cougars' willingness to move the ball around until they get the shot they want.
That mentality led to 62% shooting for the Cougars on Monday night, and because they're such a mature and veteran team, they typically do not settle for less.
"I think we were trying to take great shots," JT Haws said after the victory. "And I thought tonight we moved the ball really well, we made them guard us, we moved the ball from side to side, and we kept our dribble alive a little bit, which helped space out the floor and guys stepped up and made big shots tonight. It was great."
BYU senior Jake Toolson said there was more to their hot shooting night against UCLA than just good ball movement.
"This is a fun gym to play in," Toolson said. "These rims are soft and it feels like a high school gym, so we feel like we can get great shots and the best shot's the open shot. So we wanted to just step up and take those shots tonight and they were going to fall for us."
Kansas has the length and athleticism to guard the Cougars anywhere on the court. And the Jayhawks' size down low should be more effective at stopping points at the rim than UCLA's was.
But if the Jayhawks get sped up or impatient and aren't willing to sit down and defend the entire shot clock on each possession, the Cougars could get just enough space to get off those shots Haws and Toolson talked about.
3. Make free throws
Eleven trips certainly isn't very many, but no matter how many times you get to the free throw line in a given game, you've got to make more than 50% of them.
Kansas hit just 5-of-11 from the free throw line against Chaminade — Udoka Azubuike was just 1-for-2, too, so you can't blame the big guy — and is now shooting just 66% from the line for the season.
Marcus Garrett missed a pair and Silvio De Sousa, Christian Braun and Tristan Enaruna all missed front ends of one-and-ones.
They got away with it against Chaminade but might not be as fortunate if they don't clean up their trips to the line against BYU.
Marquee Matchup
The Last 10 minutes
By the time the Jayhawks reached the final 10 minutes of their game with Chaminade, it was time to relax and hit the cruise control button en route to the easy win.
By the time the Cougars reached the final 10 minutes against UCLA, they were in a dog fight and found the strength, fight and execution to bury the Bruins and run away with the victory.
BYU coach Mark Pope believes that bodes well for the Cougars heading into the game with Kansas.
"We are chasing the toughest challenges we can get and we're going to get nicked up along the way," Pope said. "We already have gotten nicked up a little bit in terms of being exposed and learning. But you know what's really amazing? You talk about the last 10 minutes of this game. OK, we had last 10 minutes against San Diego State, against Houston and against Boise State. They were pretty similar in situations in terms of it being a close game. And in those three games we won one and lost two and we didn't have the trust in each other that we had tonight down the stretch. Tonight, these guys had trust in each other down the stretch, knowing that they could continue to extend the play to their next teammate and it was beautiful. It was the best close we have had to a game. So this difficult schedule is beautiful for us to learn who we are. We're a better team now than we were a week ago and hopefully after we play Kansas we'll be a better team tomorrow than we are tonight."
Kansas has closed well in wins over UNC Greensboro and East Tennessee State and had a don't-sweat-it outing against Monmouth. But the Jayhawks' finish in the loss to Duke left a little to be desired.
Even though it's only been three weeks, this team appears to have grown quite a bit since then and tonight's challenge, which very well could go into the final quarter of the game, could provide Kansas with an opportunity to show that's the case.
Jayhawk Pulse
With one Maui Invitational title to their name in three previous tries under Self, the Jayhawks are well positioned to reach this year's title game, where they would have to face the winner of the other semifinal between Dayton and Virginia Tech, thanks to the Hokies' upset of Michigan State on Monday.
But getting to Wednesday's championship game won't be a cake walk.
In BYU, the Jayhawks are facing a disciplined and mature group that plays team basketball on both ends of the floor and does not easily get rattled by pressure.
More than half of the players on the BYU roster already have served their missions and many of them are married. Some even have children.
"(It's tough), this early in the season, when you're playing against 25-year-old men who are married and possibly have a couple of kids at home," Self said. "This is an old team we're playing."
That wisdom is not only evident on their driver's licenses and experiences, but also shows up in the way they play and compete.
"My mindset is always to try and make a play and try and help this team win," said Toolson, the nephew of former BYU and Boston Celtics great Danny Ainge. "Whether that's grab a rebound or making the extra pass or at times getting shots up and I think the way we played tonight it was we set ourselves up to make plays for each other and then down the stretch especially TJ had the ball in his hands a lot and he was making plays for us and I feel like our mindset was to make a play for our teammate."
The Jayhawks lead the all-time series with BYU, 4-1, but the two programs have not met since 1993.
Kansas opened as an 11-point favorite in this one, according to Las Vegas odds makers.
Probable Starters
No. 4 Kansas
G – Devon Dotson, 6-2, 185, Soph.
G – Ochai Agbaji, 6-5, 210, Soph.
G – Marcus Garrett, 6-5, 195, Jr.
G – Isaiah Moss, 6-5, 210, Sr.
C – Udoka Azubuike, 7-0, 265, Sr.
BYU
G – TJ Haws, 6-4, 170, Sr.
G – Alex Barcello, 6-2, 180, Jr.
G – Jake Toolson, 6-5, 205, Sr.
F – Dalton Nixon, 6-7, 215, Sr.
C – Kolby Lee, 6-9, 240, Soph.