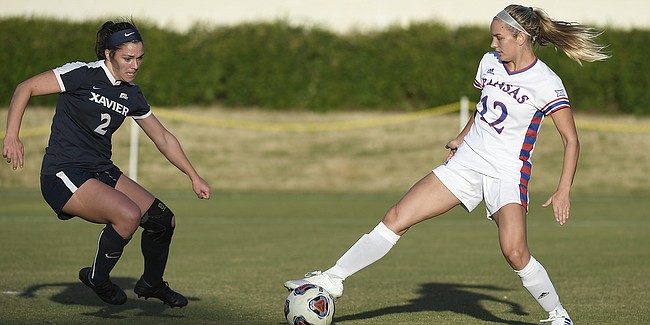 A couple of hours before today's 1 p.m. Sweet 16 matchup with fifth-ranked and second-seeded South Carolina in Columbia, S.C., the third-seeded Kansas soccer team will put its faith in the shuffling skills of junior defender Isabella Cavalcante.
Cavalcante, who hails from Glenbard West High in Glen Ellyn, Ill., has tallied one goal and three assists on 17 shots so far this season.
But almost as important as her steady play and physical presence on the back line for the KU defense, along with any assistance she provides the Kansas offense, is the role she plays in getting the Jayhawks ready before they take the field.
"Izzy's our DJ for sure," senior leading scorer Katie McClure said after her team's 3-0 win over Xavier in Round 2 on Friday. "It's random, but we let her play her music and we just vibe to it."
So far this postseason, Cavalcante's pregame playlists have helped inspire the Jayhawks to some pretty significant moments.
After winning three games a couple of weeks ago to capture the first Big 12 Tournament title in school history, Kansas (17-4-3) picked up a 1-0 win over Iowa at Rock Chalk Park in Lawrence in Round 1 of the NCAA Tournament and reached its second ever Sweet 16 with a 3-0 rout of Xavier on Friday.
Led by the valuable experience, drive and talent of McClure, a strong defense, the goaltending of Sarah Peters and the confidence of the rest of KU's upperclassmen, the Jayhawks have their sights set on continuing their run into new territory beginning today.
"I know we aren't looking too much into it," McClure said. "But I know it's in the back of all of our girls' minds that we can build a legacy here starting with the round of 16."
To do so, the Jayhawks will have to knock off a South Carolina squad that has lost just once all season. While KU is currently riding an 11-game unbeaten streak — a new program record for consecutive games without a loss — South Carolina has not lost since Sept. 15 (1-0 to Clemson) and has the advantage of playing in front of its home crowd.
The South Carolina defense has posted 16 shutouts this season, five more than the Kansas defense.
KU's 12 shutouts are the second most by a KU team in program history and have come in large part because of strong defensive play in the past 11 matches. KU has given up just five goals during that stretch and is currently riding a streak of 378 minutes without giving up a goal.
"It's amazing," Peters said after recording her 11th shutout of the season. "I'm only a sophomore so there's still a lot ahead of me, but I am so happy for these seniors and everyone else on the team. We have put in a lot work to be here, and we are really proud of everybody."
KU coach Mark Francis echoed Peters' comments and said that simply having another opportunity to game-plan, prepare and compete with this group was every bit as exciting as reaching the Sweet 16.
"I am just glad that we get to play another game because this group is such a fun group to coach," Francis said. "I just want to keep playing as long as we can. This has been a great group to work with, and this has been a phenomenal senior class. There are seven of them (and they have) really kind of changed our program, the culture. They have been a big part of that."
The seven seniors suiting up for Kansas today are McClure, defenders Madison Meador, Addisyn Merrick and Elise Reina, forwards Eva Elíasdóttir and Mandi Duggan and midfielder Sophie Maierhofer.