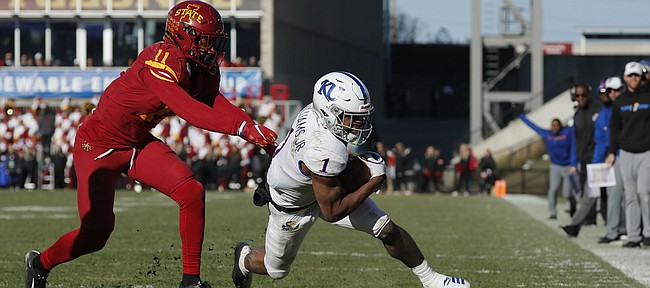 Ames, Iowa — As another defeat got tossed atop the season's growing pile for the Kansas football team Saturday at Iowa State, the Jayhawks left a 41-31 loss at Jack Trice Stadium engulfed with regrets.
Getting blown out is one thing. Relinquishing the grasp on a fourth-quarter lead can feel even worse.
"They were sick," KU head coach Les Miles said after KU lost for the seventh time in eight games. "They were absolutely sick. They wanted this one, and it was right there in position for them to take it. Fell short."
The Jayhawks' final lead in a back-and-forth second half that played out in front of 58,120 fans didn't disappear until the 5:10 mark of the fourth quarter. Following a rushing touchdown by Cyclones quarterback Brock Purdy (29-for-42 passing, 372 yards, four touchdowns, one interception) that put KU in a 34-31 hole, the visitors' response was short-lived.
Three consecutive incompletions from KU senior quarterback Carter Stanley (23-for-44 passing, 328 yards, three touchdowns, no interceptions) led to a turnover on downs from the team's own 37-yard line.
"In the back half of the game I would have rather had the ball in our hands than their hands, and the opportunity to go for it on fourth down when your quarterback is hot," Miles said. "It didn't turn out."
Stanley said he would be thinking about that sequence in particular on the way back to Lawrence.
"I know I can do better on that," Stanley said, "whether it's a read or just execution, accuracy of the throw."
A fourth-and-5 incompletion on a throw to Daylon Charlot might have been KU's last best chance at pulling off a road upset, and giving the program its first Big 12 road victory since 2008.
"I knew they were bringing pressure," Stanley said of the ISU defense on the crucial snap. "Pooka (Williams Jr.) was going out of the backfield, so I knew we only had five guys blocking. And, you know, Daylon was one-on-one and I believe Pooka was one-on-one but I should have got off of Daylon really, and looked at Pooka. But I just didn't want to be late, so it was tough. It was just a tough situation."
Williams (154 rushing yards, 52 receiving yards, one TD reception) called the moment "intense," but emphasized the Jayhawks (3-8 overall, 1-7 Big 12) failed to execute and make the most of it.
Junior receiver Andrew Parchment (eight catches, 86 yards) said that failed fourth down made him feel like the air left his lungs.
"Just like, damn," Parchment said. "It's football, so crazy things happen and you still have to keep your head in the game and stuff like that. It just sucks that we couldn't come away with the 'W.' I felt like we played really well in all phases of the game. Defense gave us key stops — it's the Big 12, you're not going to stop everybody every drive. So defense gave us key stops and a turnover."
ISU (7-4, 5-3) turned its defensive stop into a game-sealing TD drive, even electing to go for it on fourth-and-goal at the KU 4-yard line instead of setting for a field goal.
After an ISU timeout with 1:16 to play, Purdy passed to Sean Shaw Jr. for the backbreaker.
"We thought they were about to kick a field goal," KU senior safety Mike Lee (13 total tackles and an interception) shared after the loss. "That's when their offense came out. It was just about making a play right there. It caught us off guard. Their quarterback did a good job of keeping his eyes in the end zone just to see if someone was going to come open. That's what happened. Somebody came open, he threw it and they got the 10-point lead."
Said Williams of that final blow: "That was heartbreak, basically."
KU led entering the fourth quarter and even regained the lead after giving it up once. A 40-yard strike from Stanley to Stephon Robinson Jr. (five catches, 75 yards, one TD) with 10:42 to play made KU's third lead of the day 31-27.
They got to that point thanks to some offensive resiliency and a crucial Lee interception that salvaged KU's chances for an upset late in the third quarter.
The Kansas defense spent much of the first half forcing ISU to punt. But Lee said he and his teammates kept taking the field wanting more.
That chance finally came on the opening snap of ISU's third possession of the third quarter. Inside linebacker Jay Dineen deflected a Purdy throw, making the takeaway possible.
"That drive Jay made a hell of a play putting his hands up," Lee said, adding he saw it in the air and ran to secure the pick. "We practice tips and overthrows every single day in practice. That was one of those opportunities."
The play came on the heels of a 37-yard TD pass from Stanley to Williams and then put KU's offense back on the field just 38 yards from the goal line. In four plays the Jayhawks were in the end zone, with Stanley finding fullback Spencer Roe, a Lawrence native and Free State High graduate, wide open. KU built a 24-21 lead after Stanley hit Parchment for a 2-point conversion.
A penalty on what could have been a third-down stop marred the KU defense's first trip onto the field after halftime. Defensive lineman Caleb Sampson applied pressure on Purdy on third-and-6, forcing ISU's standout QB to throw the ball away, out of bounds. But Sampson hit Purdy in the back as the QB followed through, pushing Purdy to the grass and drawing a roughing the passer penalty. ISU moved to KU's 27-yard line and extended its drive instead of punting.
It took the Cyclones and Purdy four plays to get into the end zone, as the QB found La'Michael Pettway for his second TD catch of the day and a 21-9 ISU lead.
A dominant first half for Williams (121 rushing yards) came to a concerning close after an incredible run out of KU's end zone late in the second quarter.
Although the Jayhawks opened the drive with 1:36 on the clock and snapping from their own 2-yard line, Williams raced for 33 yards before having to be helped off the field.
He sat the rest of the drive, but KU at least got 3 points out of the series, with Liam Jones connecting on a field goal from 30 yards after Stanley spent most of the drive hitting Parchment and Robinson to get into the red zone. ISU led, 14-9, at the half.
With KU looking to regain the lead early in the second quarter, a couple of incompletions within striking distance of the end zone kept the Jayhawks from crossing the goal line for the first time.
A highlight sprint from Williams on third-and-2, which picked up 36 yards of field position, keyed what began as a promising drive. The Jayhawks looked to pounce immediately after the massive run, with Stanley floating a pass deep for Parchment, but he overthrew his target.
After a third-down conversion on which Stanley hit Kwamie Lassiter II, though, the Cyclones stymied KU in the red zone. A third-and-15 pass from Stanley for Parchment had potential for a TD, but the QB again was off the mark.
KU sent its field goal unit out for the third time in the first half, but Jones' 35-yard try bounced off the left upright, making it an empty possession after the offense traveled 63 yards.
The Jayhawks actually struck first at ISU, on their second possession of the day. With the KU defense getting off to a strong start in the first quarter, coming up with back-to-back three-and-outs — Kyle Mayberry and Gavin Potter forced the Cyclones off the field with key third-down tackles — the KU offense had a chance to ride that momentum.
Although KU opened its day offensively with a three-and-out of its own, when fullback Ben Miles was stuffed on third-and-inches, the offense began to open up for KU on the second series.
With Stanley passes to Charlot and Robinson getting the drive going, the Jayhawks got to the red zone quickly. They settled for a field goal after a Stanley incompletion (ruled a fumble initially, before a review overturned it) from the 18-yard line. Jones gave KU a 3-0 lead with a 36-yard field goal at the 6:25 mark of the first quarter.
It wouldn't last long. The ISU offense finally showed how explosive it could be on its third series, with Purdy completing passes of 30, 25, 19 and 16 on a five-play touchdown drive that gave the Cyclones their first lead with 3:44 left in the first quarter.
The Jayhawks' offense actually looked up to the task of matching ISU with productive drives after two poor showings in a row in lopsided losses to Kansas State and Oklahoma State. But KU's first-half drives in particular didn't pack the punch of ISU's.
"It was just tough," Stanley said, "that we couldn't get more points in the first half."
KU closed a series with another field goal on its third possession, even though it picked up three first downs and ventured into the red zone again.
Miles said while the team headed back to Lawrence he would have one prevailing thought on his mind.
"One that we let get away," he said.
KU closes Miles' first season as head coach on Saturday in Lawrence, versus Baylor, 2:30 p.m. on ESPN.