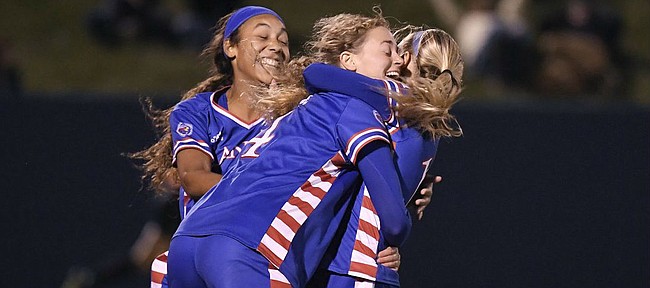 Kansas' women's soccer team has been on a roll in recent weeks.
The Jayhawks won their first Big 12 tournament title two weeks ago. They kicked off their NCAA Tournament appearance with a Round 1 victory over Iowa last weekend at Rock Chalk Park. Last Friday night, the team was greeted by a standing ovation at Allen Fieldhouse after trotting their Big 12 trophy onto the court.
Now, they're set to take on Xavier (17-3-2) at 2 p.m. Friday in Round 2 in South Carolina
"This is just a really fun group to work with," KU coach Mark Francis said Wednesday before leaving for South Carolina. "I mean, they get after it when they need to, but they also have a lot of fun with themselves, each other and also with the coaching staff. We have a pretty good kind of back-and-forth banter with them, and it's important to have those personalities."
As Kansas heads into the second round of the tourney, here's a look at some of the players who've led the team to success.
• • •
So far this season, senior Katie McClure leads KU in points (37), goals (14) and assists (9). Junior midfielder Ceri Holland ranks second in all three categories (22, 8, 6).
Two other Jayhawks are in double figures in points this season, as well: sophomore forward Kailey Lane (13) and junior forward Mandi Duggan (10). Those two are tied for third in goals scored, with five apiece, and freshman defender Ellie Prybylski ranks third in assists with five.
• • •
The postseason is a high-stakes affair, but Holland and Duggan said the Jayhawks can look to a couple of teammates in particular for inspiration before a big game.
Sophomore goalkeeper Sarah Peters and senior defender Addisyn Merrick, they said, are always focused when it's time to play.
"I think it's their love for soccer and how they're always just so serious about the game," Duggan said. "I'm not saying they can't have fun off the field, but they're just very serious about the game and what this team can do and they hold us to a good standard."
"(Peters) gets pretty hype before a game," Holland added.
The Jayhawks also look to McClure, their senior captain, for leadership.
"She leads by example, on and off the field, and she's the first person to step up if something does go wrong," Duggan said of McClure. "People definitely do look up to her and she's the type of person who would have your back right away."
It wasn't all kind words for KU's leading scorer, though. Francis, who meets with McClure on a daily basis, made sure to get a dig in.
"Katie McClure is a massive smart aleck," Francis joked. "That jumps out the most.
Sophomore midfielder Sam Barnett also earned a mention from Peters for taking care of the team.
"She's just kind of fun to be around and she makes sure everyone's taken care of," Peters said of Barnett. "She's just a real nice kid."
• • •
When the Jayhawks are confronting the stresses of postseason play, they can count on senior defender Madison Meador to lighten the mood, Duggan and Holland said.
"She's always making people laugh," Holland said of the native of Ballwin, Mo.
"(Meador is) just the type of person to really not care what other people think," Duggan added. "So, in public, she'll just make some random noises or do something that the rest of us wouldn't even consider doing. It's just nice to have that lightheartedness on the team, especially when things are getting so serious on the pitch."
• • •
A win on Friday would move Kansas into the Sweet 16 for just the second time in program history (the last one was in 2003), and they would line it up again on Sunday for an opportunity to reach their first Elite Eight.
So who's responsible for planning the party, if that happens?
It's all eyes on Duggan and McClure, Peters said.
"They're just our leaders," she said. "They're the heart of our team, and I think they would probably be the ones to handle that."