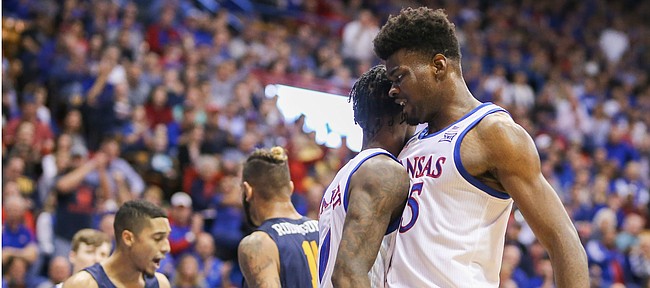 It might have made more sense if Tuesday's clash between No. 4 Kansas and East Tennessee State were played on nearby Campanile Hill instead of inside Allen Fieldhouse.
At least then the Buccaneers would have understood why the Jayhawks seemed to be running downhill so often during the opening minutes of Tuesday's 75-63 victory.
Led by 9 early points from Devon Dotson and a suffocating combination of a dozen fast-break points and a series of relentless run-outs after ETSU turnovers, the Jayhawks used an 18-2 first-half run to turn a 9-8 lead into a 27-10 advantage 12 minutes into the game.
That early surge proved to be massive for the home team, as East Tennessee State refused to go away the rest of the night despite shooting 9 of 30 from 3-point range and 38.3% overall.
"They're a good team," KU big man Udoka Azubuike said. "Right from the very jump they came out and proved that to us. This was really a good test for us."
Added ETSU guard Tray Boyd III: "They went on that big run, but if you were paying attention to the game, you saw we got a lot of good open looks, but we just couldn't cash them in."
After trailing by a dozen at the break, the Buccaneers got right back into it midway through the second half, when Tray Boyd buried 3-pointer to cut the Kansas lead to 53-47 with just under nine minutes to play.
Photo Gallery
Kansas basketball v. East Tennessee State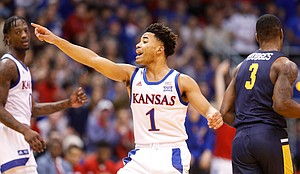 View a gallery of images from Tuesday night's game between the Jayhawks and the Buccaneers at Allen Fieldhouse.
After a KU airball on the ensuing possession, ETSU had a chance to trim the lead even smaller, but a missed shot at the rim by Lucas N'Guessan and an and-one run-out by Marcus Garrett on the other end went down as a 5-point swing. Instead of leading by just 4, KU pushed its lead back to 9.
That proved to be enough for Kansas to hold off an unrelenting charge from the Southern Conference's preseason favorite.
Senior center Udoka Azubuike, who finished with 21 points and seven rebounds on 10-of-13 shooting, had more than a little to say about that.
Twice during the next few minutes, Azubuike used his length, size and sheer determination to overpower the ETSU front line.
The first came in the post, when Azubuike caught an entry pass from Isaiah Moss (2 points and two turnovers in 16 minutes), took one dribble toward the paint, pinned his defender on his right hip and destroyed the rim as if N'Guessan were not even there.
A couple of trips later, Azubuike's and-one dunk and swished free throw — which came with Self yelling, "Shoot it" as an ETSU player fell into the lane before the shot was released — pushed KU's margin back to 9.
"We had an advantage down low with our size," Azubuike said after helping Kansas dominate points in the paint 54-24. "Coach pretty much told the team in practice, 'Throw the ball inside, throw the ball inside,' and that's what we did."
Said Self: "When you shoot 73% from 2, I think you need to throw the ball inside more."
Even the lead Kansas had after Azubuike's monster dunks was not safe.
Document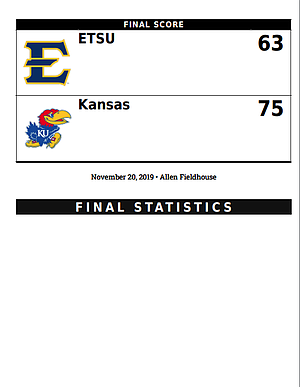 Less than a minute later, and even after another Azubuike dunk, a deep 3-pointer from ETSU's Patrick Good at the top of the key cut the Kansas lead to 61-56 with 5:46 remaining.
But like they did in the early stages of the first half, Kansas kept running and never let up.
De Sousa (8 points and three blocks in nine minutes) put the unofficial exclamation point on this one, finishing a horizontal, high-flying lob on the sixth assist of the night by Dotson that put the Jayhawks up 65-56 with 5:07 to play.
"As good as Dok was, Silvio had maybe more to do with us winning down the stretch," Self said. "I thought he was terrific."
The Jayhawks again started two big men at the outset — this time it was sophomore David McCormack (4 points and three rebounds in 12 minutes) at the 4 spot instead of De Sousa — but because of the active hands of their guards, both on the ball an in passing lanes, it might have appeared to the ETSU players like Kansas started five guards.
The Jayhawks certainly were ready to play. No one more so than Dotson, who scored 7 points in the first six minutes and again set the tone for the Kansas defense.
At this point, even though it's still early, it seems more or less inevitable that Dotson is going to get an early steal that energizes the Jayhawks and reminds the opponent of just how tough taking on the Jayhawks will be.
It wasn't just Dotson's scoring and defense that sparked things early. He also dished two assists in the game's opening minutes, the most memorable being a lob to Silvio De Sousa, who came darting down the right side of the paint and finished the pass with a one-handed jam to put Kansas up 13-8 early.
Kansas (3-1) forced 10 ETSU turnovers in the first half — 16 for the game — and recorded 20 of their 43 first-half points off of those giveaways.
Fourteen of those came in transition and KU outscored ETSU 32-16 in points in the paint during the first 20 minutes.
Dotson went to the halftime locker room with 13 points and five assists on 5-of-7 shooting and finished the night with 19 points and six assists in 35 minutes.
Although ETSU coach Steve Forbes intended to run more ball screens and see if he could create an advantage for his smaller, quicker, perimeter-oriented team, KU's defensive pressure — read: Dotson's — made it incredibly difficult for the Buccaneers to get into their sets or find any room to run their stuff.
That's where the Jayhawks won this one. When the teams matched up in the half court, things were much more even. But when the Kansas ball pressure forced early turnovers during ETSU's possessions, it left the visitors little chance.
Despite that fact, Self handed out some genuine smiles and high-fives to the ETSU players as the final horn sounded.
"He was just saying we're a good team," Boyd said. "We fight to the end and we play hard. We didn't back down from them and he was just telling us congratulations."
Kansas 75
David McCormack 4, Udoka Azubuike 21, Marcus Garrett 13, Devon Dotson 19, Ochai Agbaji 4, Isaiah Moss 2, Tristan Enaruna 4, Silvio De Sousa 8, Christian Braun 0. Totals: FG – 30-54. 3PT – 1-14. FT – 14-18.
ETSU 63
Jeromy Rodriguez 4, Lucas N'Guessan 11, Bo Hodges 22, Patrick Good 6, Isaiah Tisdale 1, Daivien Williamson 10, Tray Boyd III 9, Vonnie Patterson 0. Totals: FG – 23-60. 3PT – 9-30. FT – 8-15.