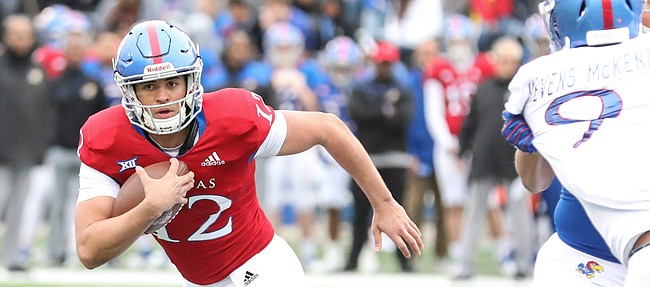 With only two games remaining on the schedule, it appears Kansas football coach Les Miles and his staff have plans to use this year as a redshirt season for a number of the youngest Jayhawks on the roster.
Although Miles declined during his Monday afternoon press conference to detail plans precisely, he indicated players who are still under the four-game maximum for appearances during a redshirt season won't exceed the limit between now and the end of the year.
Notably, a handful of freshmen could gain an extra year of eligibility by using 2019 as a redshirt season. Per KU's participation reports, the following first-year scholarship players in the program could potentially end up appearing on the 2020 roster as redshirt freshmen:
• Torry Locklin, QB (3 games played)
• Valerian Agbaw, CB (0 games)
• Steven Parker, OLB (3 games)
• Marcus Harris, DE (1 game)
• Jacob Borcila, K (4 games)
• Da'Jon Terry, DL (2 games)
"Certain guys have played in three games," Miles said, when asked specifically about KU's redshirt plan with freshmen such as Parker and Terry. "Certain guys have played in less than that. So those guys that can play, will play. And those guys that won't, that can't play in a game, we'll have to keep them out."
It would appear KU will utilize the four-game redshirt rule to save some older players a year of eligibility, as well.
A pair of KU upperclassmen have appeared in four or fewer games at this point, per KU's participation report, and have not previously used a redshirt:
• Earl Bostick Jr., junior OL (2 games)
• Dom Williams, junior RB (3 games)
Clark's status unknown
One of two KU offensive linemen who hasn't regularly rotated in and out of the lineup this season when he's healthy, starting left guard Malik Clark may be available for the Jayhawks in their road finale this week at Iowa State (11 a.m., FOX Sports Network).
A 6-foot-4, 315-pound junior from New Orleans, Clark has battled an unspecified injury the past several weeks. During KU's loss at Oklahoma State on Saturday it flared up on the opening series. Though Clark tried to play later in the first quarter, he was sidelined for the final three quarters.
"I think he'll be available for this game," Miles said, when asked for a prognosis on Clark. "I'm not certain, but he, it's not a terribly serious injury."
No second guessing
Miles applauded starting quarterback Carter Stanley for how he responded to an unexpected benching in the third quarter at Oklahoma State.
With Manny Miles in at QB for three possessions and Stanley on the bench, the KU offense averaged 2.4 yards per play, punted twice and the backup QB threw an interception.
When Stanley returned in the fourth quarter, KU scored two touchdowns, with Stanley hitting Stephon Robinson Jr. and Quan Hampton for the scores. The senior starter went 15-for-22 passing, with 157 yards in the second half, despite missing an entire quarter.
Les Miles was asked Monday whether in hindsight he wished he had returned to Stanley sooner.
"We think Carter's going to be certainly a guy in the next, to finish the season, that can do some very special things and we just want to see that happen," Miles replied. "And again, Manny coming in the game was something that he had earned. But also, we were looking to substitute that pitcher that gives us a lift, can maybe get a couple outs and then gets us out of the inning."
KU-Baylor kickoff TBD
The final game of Miles' first season at KU is just days away, but the Big 12 is holding off on announcing what time and on which network the Jayhawks will face Baylor on Nov. 30.
The conference announced Monday KU's Senior Day game against the Bears (currently 9-1 overall, 6-1 in the Big 12 and ranked No. 13 in the country) will kick off at either 2:30 p.m. or 6 p.m. the Saturday during Thanksgiving weekend.
The Big 12's television partners will pick between that game and Iowa State at Kansas State for the two time slots. KU's game versus Baylor will air on ESPN, ESPN2 or FOX Sports 1.
The kickoff time and TV designation will be finalized this weekend.