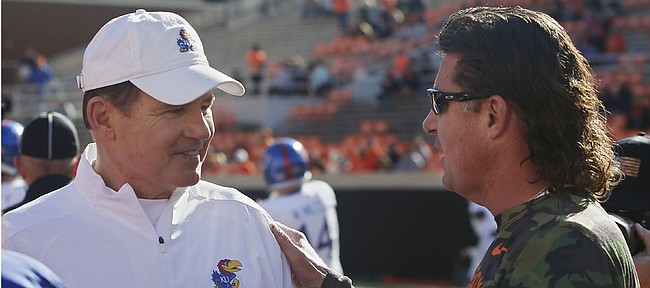 It was not a happy homecoming for Kansas head coach Les Miles.
Miles' return to the place where his head coaching career began 18 years ago didn't go as planned. Kansas started slow once again, and was never able to recover in a 31-13 loss to No. 25 Oklahoma State Saturday afternoon at Boone Pickens Stadium.
Oklahoma State scored 31 unanswered points to begin the game en route to its third win in a row. The Cowboys improved to 7-3 overall, including a 4-3 clip against Big 12 foes. OSU running back Chuba Hubbard scored two touchdowns on the first three drives of the game. Hubbard finished with 112 yards and two scores on 23 carries.
Kansas (3-7, 1-6 Big 12) has now dropped back-to-back games since earning a 37-34 win over Texas Tech. KU's offense has been stagnant in both defeats, scoring a total of 23 points over the last eight quarters.
The Jayhawks ended up using three different quarterbacks in their latest defeat, including senior Manny Miles for much of the third quarter.
Here's a quick look back at some of the action:
• The game turned when: Different week, same story. The Jayhawks were doomed by a slow start.
Despite having two weekst to prepare, and even switching up its practice routine, Kansas had another slow start in Stillwater. That has been a familiar theme during the 2019 season, though the Jayhawks have shown the ability to rally from double-digit deficits at times.
That wouldn't be the case this week, and perhaps a perfect illustration of what went wrong occurred on back-to-back drives in the first quarter. KU ran a pair of tosses on 3rd-and-short during consecutive possessions, which proved to be unsuccessful.
Oklahoma State loaded the box on both occasions, and stuffed both short run attempts to force KU's offense off the field. OSU, meanwhile, scored a touchdown on two of its first three drives to remove any doubt about the outcome.
• Offensive blunder: This quick recap doesn't deserve an offensive highlight, so let's look at a key blunder by the Jayhawks in their latest loss.
Kansas began its fourth drive on its own 49-yard line, but would give the ball right back just four plays later. On first down, Kansas opted to use some trickery against an Oklahoma State defense that had sniffed out everything else up to that point. It did not work.
Quarterback Thomas MacVittie ended up receiving the pitch on a reverse, and dropped back to throw his first pass as a Jayhawk. MacVittie underthrew Pooka Williams, who actually tossed MacVittie the ball in the first place, and Oklahoma State snagged the interception.
• Defensive highlight: At least early on, KU's defense didn't play that poorly.
The Cowboys scored two touchdowns on their first three drives, but the Jayhawks made enough stops to give their offense a chance to make it a game. One play in particular stood out, when senior safety Mike Lee blew up a screen pass.
• Key stat: Three different quarterbacks saw action against Oklahoma State.
A trio of quarterbacks — Carter Stanley, Manny Miles and Thomas MacVittie — threw at least one pass for Kansas in the lopsided loss. All three quarterbacks finished the game with at least one interception.
•Up next: Kansas will travel to Iowa State at 11 a.m. Saturday.
SCORING SUMMARY
FIRST QUARTER
11:57 — Chuba Hubbard 15 run. Matt Ammendola kick. Four-play drive for 65 yards, in 1:50. (OSU 7, KU 0.)
0:03 — Hubbard 4 run. Ammendola kick. Twelve-play drive for 75 yards, in 5:44. (OSU 14, KU 0.)
SECOND QUARTER
5:13 — Dillon Stoner 51 pass from Spencer Sanders. Ammendola kick. Two-play drive for 55 yards, in 0:33. (OSU 21, KU 0.)
0:53 — Ammendola 44 field goal. Seven-play drive for 20 yards, in 1:49. (OSU 24, KU 0.)
THIRD QUARTER
3:37 — Stoner 43 pass from Dru Brown. Ammendola kick. Six-play drive for 74 yards, in 3:10. (OSU 31, KU 0.)
FOURTH QUARTER
8:22 — Stephon Robinson 14 pass from Carter Stanley. Stanley pass to Jack Luavasa fails. Thirteen-play drive for 80 yards, in 5:47. (OSU 31, KU 6.)
1:09 — Quan Hampton 9 pass from Carter Stanley. Liam Jones kick. 11-play drive for 78 yards, in 2:15. (OSU 31, KU 13)