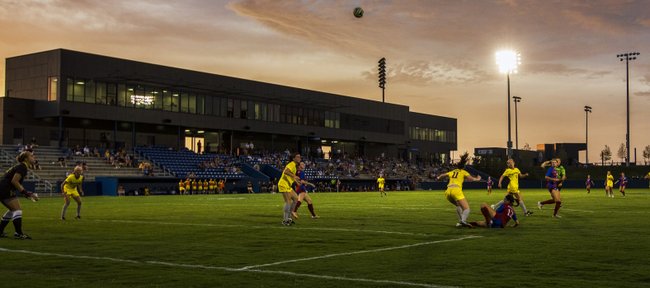 There's a theory floating around the Kansas athletic department that suggests that brand new, first-rate facilities for the KU football program will help the Jayhawks return to their winning ways.
The resurgence of the Kansas women's soccer program is proof positive that such a vision can come true.
Now in its sixth season at its new home field at Rock Chalk Park, Mark Francis' club is set to host an NCAA Tournament game at 5 p.m. Saturday against Iowa.
After reaching the NCAA Tournament in three of Francis' first six seasons at Kansas — including a trip to the Sweet 16 in 2003 — the Jayhawks reached the postseason just twice during the next nine seasons.
Then came Rock Chalk Park and four NCAA Tournament trips in the past six seasons soon followed.
"It's not a coincidence at all," Francis told the Journal-World on Wednesday. "We've obviously had quality players here for a long time, but the facility itself and the environment we've been able to create there has been a massive change. We've gotten some of those kids in the past, but now we're getting more of them."
The third-seeded Jayhawks (15-4-3) enter this year's tournament with their highest seeding since the 2004 season. More importantly than that, playing in this very game at this very field is a place the Jayhawks expected to be all along.
"I didn't feel that much pressure when I first got here," said Francis, now in his 21st season in charge of the program. "It was totally different in terms of the resources you were given back then. But now, especially since we've gotten Rock Chalk Park, if we're not in the tournament every year that's a bad year for us. We really should be."
More talent on the roster has led to more consistent success. And more consistent success has led to the expectation of winning seasons and postseason runs being the norm for the program that last weekend won its first ever Big 12 tournament title.
"This senior class is the first senior class that played every game of their home career in Rock Chalk Park," Francis said.
And even though this year's seniors did not have the luxury of seeing, smelling and feeling Rock Chalk Park on their recruiting visits the way the current Kansas recruiting targets do, Francis said the promise of its construction inspired and excited them from Day 1.
"We recruited these kids knowing that Rock Chalk Park was coming," he said. "They didn't see us play in the stadium, but they got to see it being built. And we would take them over there. Like get the hard hats and take them over there. It's one thing me telling them, but once you see the dirt is moving you're like, 'OK. This is actually going to happen.'"
From there, everything a program would want from its home field soon became a key part of Kansas soccer.
Not only did the Jayhawks break back into postseason play on a regular basis, but their 33-17-3 record at Rock Chalk Park during the past six seasons marks the second best six-year stretch of home success in program history.
KU has finished in the Top 25 of the RPI standings in each of the past three seasons, including two finishes inside the Top 20.
Beyond that, 36% of the 25-year-old program's all-time attendance also has come since Rock Chalk Park first opened its gates.
While their new home has played a big role in the Jayhawks' recent success, Francis pointed out other contributors, as well.
The rise of Big 12 Conference soccer, new academic and strength and conditioning facilities and growing opportunities for women to make a living as professional soccer players all have helped the Jayhawks maintain their recent run.
But just like when football built a brand new $26 million indoor facility earlier this year or men's basketball opened its luxurious, $11.2 million players dorm affectionately known as "The Mansion" in 2015, KU soccer now has something it can show off to future forwards and goalkeepers.
"Even at the level of an Olympic sport, it's still an arms race," Francis explained. "… Sixteen-year-old kids like shiny stuff. And if they come in and there's a lot of shiny stuff everywhere, they go, 'Oh, this is pretty cool.' It's a different world now. And I think the other thing is the expectations are totally different. To whom much is given, much is expected."
Francis' team does not have to win the Big 12 or play for a national title every season to justify all of its bells and whistles that former teams and players could never have imagined.
But the expectation is that they'll at least be in position to shoot for such things.
Reaching back-to-back NCAA Tournaments for the first time in a decade and a half is a sign that they're on the right track.
And all you have to do is look around the facilities to see why the Jayhawks are likely to stay there.