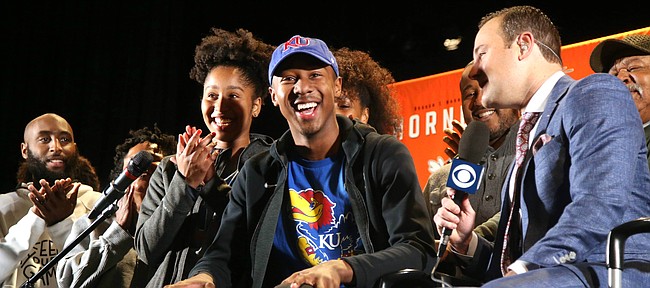 A year after signing a class devoid of five-star prospects, the Kansas Jayhawks have returned to the upper echelon of the recruiting world by landing a commitment from five-star guard Bryce Thompson.
Thompson, the No. 19-ranked player in the 2020 class by Rivals.com and in the 247 Sports Composite rankings, chose Kansas over finalists Oklahoma, Oklahoma State and North Carolina.
Thompson was long considered KU's top target in the 2020 class and he announced his decision Tuesday morning, just after 10 a.m., during a commitment ceremony in his high school gymnasium at Booker T. Washington High in Tulsa, Okla.
"Great fit for me," Thompson said on a CBS Sports live stream of the event shortly after making his announcement and unzipping a black hoodie to reveal a blue KU T-Shirt underneath. "(KU coach Bill Self) told me everything where I could fit in, showed me a lot of film and told me how I could go in and make an impact."
Considered by pretty much every recruiting analyst as an immediate impact player, the commitment — one day before the early signing period arrives — is significant news for Kansas for a lot of reasons.

The 6-foot-5, 175-pound combo guard is one of the fastest rising prospects in the 2020 class. After a stellar summer that saw his game explode and interest on the recruiting trail come from all corners of the country, Thompson began to trim his list from more than a dozen basketball powers.
He first trimmed the group of suitors to seven and more recently pared it down to four, with the two in-state programs and family ties to Kansas and Carolina making the final cut.
In the end, Thompson said his relationship and the connection to Self, who coached Thompson's father, Rod, at Tulsa, played a big role in his final decision.
"It factored in a lot," Thompson told 247 Sports recruiting director Evan Daniels, who hosted the announcement ceremony. "My dad's in my corner and he told me everything about the coaches and how they were good for him."
Asked what his father told him about playing for Self, Thompson smiled before answering.

"He said it's good," Thompson noted while also giving some love to KU assistant coach Norm Roberts. "He's going to push you, he's going to get every last drop out of you and in the end he's going to love you like family."
Fluent in French, Thompson capped the high-energy event with a special message for Jayhawk fans in his second language.
"Thank you for the love last Friday and I can't wait to get on campus," he said, translating his words. "Rock Chalk."
Later, in an interview with FOX23 in Tulsa, Thompson told KU fans, "I'm excited about coming, I'm 100% yours and I can't wait to get to work."

Thompson was in Lawrence last Friday to make one final unofficial visit before announcing his decision. It marked his first time seeing an official game inside Allen Fieldhouse.
"This is a tremendous talent," Daniels said about Thompson. "The thing about Bryce is he has just steadily gotten better over the last year."
Daniels calls him a "three-level scorer," noting that he can get to the rim, score in the mid-range and connect on shots from the outside. And Daniels said the work Thompson has put in during the past year has made him an obvious top-level prospect.
There was a time when Thompson was not expected to crack the Top 50 in the 2020 class. But now, with improved skills and physical maturity, Thompson is not only viewed as a five-star prospect but also as one of the more versatile guards in the class.
Daniels said he viewed him as a 2 guard when he first saw him. He now believes the newest Jayhawk is a legitimate combo guard who can play on the ball as well as he plays off of it.
Unable to comment on specific recruits because of NCAA rules, Oklahoma State coach Mike Boynton took to Twitter shortly after Thompson's decision to send a message that seemed to be about Thompson.
"Congrats to that young man and his family," Boynton wrote. "Loved having the opportunity to build a strong relationship with all of them. A special group of people and we wish them all the best... Except maybe twice a year."
With a pair of quality four-star Class of 2020 prospects already on board in big man Gethro Muscadin and juco wing Tyon Grant-Foster, Kansas is now in position to build a monster class around Thompson.
According to the 247 Sports Class Calculator, Thompson's addition, along with the two four-star prospects already committed, currently gives KU the No. 11 overall class in the 2020 rankings. That's up from the No. 50 spot in the rankings, where KU sat prior to Thompson's commitment on Tuesday.

All three can make their commitments official by signing national letters of intent as soon as Wednesday, when the NCAA Division I early signing period arrives. The early period runs through Nov. 20.
Beyond Thompson's skills — he calls himself a good leader who likes "to get others involved" — this commitment is a huge victory for the Jayhawks and means a lot more than just plugging in a future spot in the lineup with a quality prospect.
Adding Thompson, in the midst of all of the uncertainty surrounding the program with the FBI trial and recent notice of allegations sent from the NCAA, certainly will be viewed as a sign that the KU brand still resonates with top-tier recruits.
"Huge pickup for Bill Self and the Jayhawks, who have struggled to land big time guys lately in wake of FBI investigation," Tweeted college basketball analyst Jeff Goodman.
The Thompson addition may open the door for more elite players to follow in the near future and provides Kansas with strong evidence that the program is going to be OK.
Whether KU emerges from the NCAA allegations unscathed or receives severe penalties remains to be seen, but Self and his staff have said they have been open and transparent with all of their recruiting targets and their families about the current situation. And landing Thompson is the biggest indicator yet that those assurances are working.
Self has said that the allegations have impacted KU's recruiting efforts, adding that, at least for the time being, he and his coaching staff would have to "grind a little bit and maybe work a little smarter and target a little differently and things like that."
With Thompson now on board, that may not be necessary and Kansas can go in a number of different directions as it seeks to fill out the rest of the class.
It remains to be seen exactly how many scholarships KU will have to fill in the 2020 class.
With one already open from the departure of guard Issac McBride and two more coming available when seniors Isaiah Moss and Udoka Azubuike leave, KU will have at least three open spots to fill.
That number could grow to four or five if any of KU's underclassmen elect to leave school early. The most likely departure from that bunch is sophomore point guard Devon Dotson.
And Dotson's potential to leave early makes landing Thompson even more important.
Although KU has redshirt point guard Dajuan Harris waiting in the wings, adding a player like Thompson to the 2020-21 backcourt only strengthens KU's guard situation, lessening the blow of a potential early departure by Dotson.
"Kansas is getting a guard with the entire offensive package in Bryce Thompson," 247 Sports recruiting analyst Jerry Meyer said Tuesday. "Love the way he navigates the defense and makes plays."
2020 KU recruiting basketball class
• Gethro Muscadin – 6-10, 215, center, Aspire Academy, Louisville
• Tyon Grant-Foster – 6-7, 187, guard, Indian Hills C.C.
• Bryce Thompson – 6-5, 175, guard, Booker T. Washington High in Tulsa, Okla.