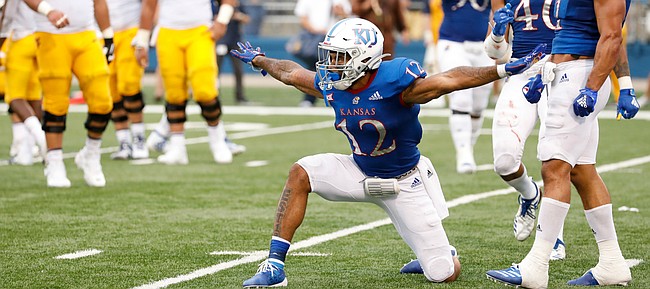 The Kansas football defense will finish out the season without one of its starting defensive backs. That much head coach Les Miles would admit Monday, even if he refused to publicly rule out a late season return for a starting linebacker.
Miles said during his weekly press conference senior safety Jeremiah McCullough will not be able to rejoin the lineup in the next three weeks.
Though he didn't share his reasoning, Miles said he was "not certain" about a possible return for junior inside linebacker Dru Prox.
"We would consider if we could make this a redshirt opportunity," Miles said of Prox possibly being granted a medical redshirt and another year of eligibility.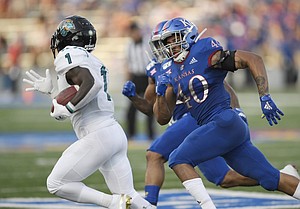 Prox appeared to injure a shoulder back in Week 4. He hasn't been able to play for the Jayhawks (3-6 overall, 1-5 Big 12) since. Prox redshirted in 2016, during his first year in the program. He would need to be given an extra year of eligibility through the NCAA, due to his injury, to take another redshirt.
"If that's the case," Miles said, "he will not come back."
Either way, Prox would be able to play for KU in 2020. All that's undetermined at this point is whether he would have one or two seasons left.
McCullough already has played in seven games for KU. A 6-foot, 190-pound senior from Baltimore, McCullough made 22 total tackles, intercepted a pass and broke up four other throws, while serving as a starter in six of KU's first seven games.
Even though Prox has played in only four games, he still ranks fifth on the team in total tackles, with 39.
Harris on mend
How soon cornerback Corione Harris returns for KU's defense isn't yet known.
But Miles said Monday the sophomore defensive back is "much improved" health wise since suffering an injury in KU's home loss to Kansas State before the bye week.
"I think he's day-to-day," Miles said of Harris, who got hurt while appearing on KU's punt coverage unit in the opening minutes of the Nov. 2 defeat.
Harris has started six games so far this season and appeared in all eight, though only briefly in the most recent one. He has been credited with two pass breakups and 15 total tackles.
Miles' first birthday as Jayhawk
As KU returned to typical game week routines on Sunday, a team meeting tradition got flipped on Miles when the head coach walked into the auditorium, where his players waited.
Unbeknownst to Miles, who turned 66, the Jayhawks remembered it was his birthday.
"As soon as he walked in," senior quarterback Carter Stanley said, "I think Najee (Stevens-McKenzie) or somebody started immediately singing to him. It was a cool moment."
Stanley said Miles often makes players sing happy birthday to a teammate in that setting so they can acknowledge a big day on the calendar for various members of the program.
"I think he turned 39. That's what he told us," a laughing Stanley reported.
Asked about his birthday during his press conference, Miles joked he "suffered another" one this year.
"That happens, so glad to be amongst you," Miles said.
KU-ISU kickoff set
The Jayhawks' final road game of the season will feature an early kickoff, in Ames, Iowa.
The Big 12 announced Monday the Jayhawks will face the Cyclones at 11 a.m. Nov. 23, in a game that will be carried by FOX Sports Network.