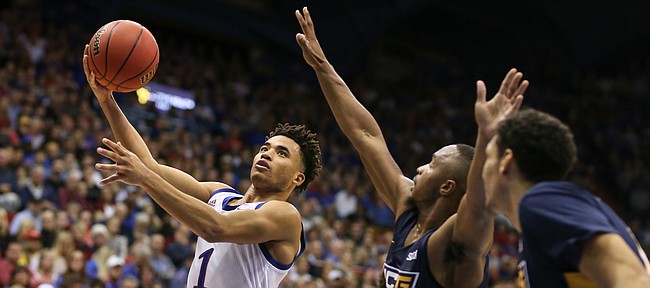 If Tuesday night was a blue blood battle, Friday was a dogfight in the streets.
Led by a dangerously determined Devon Dotson and a strong surge to open the second half, the third-ranked Jayhawks scrapped their way past UNC Greensboro, 74-62, on Friday night in the home opener at Allen Fieldhouse.
After opening the game with a two-big man lineup that included Udoka Azubuike and David McCormack for the second game in a row, KU coach Bill Self elected to go small to open the second half.
Making his official KU debut, senior guard Isaiah Moss started the second half in place of McCormack and that smaller, faster lineup of Moss, Dotson, Ochai Agbaji, Marcus Garrett and Udoka Azubuike quickly asserted itself against the Spartans.
"I didn't think we could guard them," said KU coach Bill Self of the reason for the move to a smaller lineup. "I thought we got lucky early, guarding them with four guards. And, once again, the offense was crowded and we didn't have much going so we thought we'd try to spread them and then we actually defended pretty good, too."
Running in transition after misses and finding open looks as a result, the Jayhawks (1-1) started the second half with a 12-2 run and never looked back. Moss hit two deep jumpers in front of the KU bench and Agbaji hit a 3-pointer from nearly the same spot to spark the run. And Azubuike, with more room to work thanks to the floor being spread, scored in tight to give Kansas some breathing room.
Photo Gallery
Kansas basketball v UNC Greensboro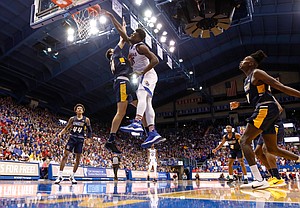 View a gallery of images from Friday night's game between the Jayhawks and Spartans at Allen Fieldhouse.
Moss finished the night with 8 points on 3-of-7 shooting (2-of-6 from 3-point range) in 27 minutes and appeared to only get more comfortable and aggressive as the night went on.
"I thought he did great considering," Self said of Moss. "I don't think he's 100%. He still looks a little slow to me compared to what he did before he got hurt. But he can stretch it. You know, he's a good shooter. He'll make us play much better offensively. And I thought he played with some good pace and demonstrated some poise. I didn't think he looked rushed at all when he had the ball."
Playing aggressive was hardly an issue for Dotson, who opened the game with a bit of a mean streak, perhaps looking to make up for a rough outing against Duke.
"You could say that," Dotson said after the game. "We know what we didn't do Tuesday night and we wanted to correct it. You know, bring the energy. It was a home opener. We wanted to feed off the
crowd and get going."
The sophomore point guard never let up all night, twice making buckets after the whistle that did not count and finishing with 22 points, eight rebounds and six assists in 36 minutes. More important, he had just one turnover. Kansas, as a team, finished with 10 turnovers, 18 fewer than it had against Duke, even against the pressing, up-tempo style employed by UNC Greensboro.
"I thought Devon played great," Self said. "That was a different Devon than we saw on Tuesday night."
Dotson's pit bull intensity showed up on the very first play of the game and seemed to quickly spread to his teammates, who challenged every pass, darted into passing lanes and used their size and strength to make the Spartans uncomfortable with every pass and dribble.
KU's first bucket came on a steal by Dotson in front of the Kansas bench that led to a transition bucket by Marcus Garrett.
On the very next possession, senior center Udoka Azubuike showed that he, too, was turned up at the start, attempting to dunk over two UNCG (1-1) defenders from outside of the paint. The dunk didn't fall, Azubuike was fouled and he missed the two free throws that followed.
That break in the action allowed the Spartans to catch their breath and the next 18 minutes were tightly contested from there. Kansas led 36-32 at the half, but neither team shot better than 41% in the first half and the rebounds were even at 23 apiece.
Things changed quickly in the second half, though, and UNCG never recaptured the fight and good fortune it had throughout the first half.
For all of the focus and emphasis on KU's smaller lineup — McCormack and Silvio De Sousa combined to play just 17 minutes — the exclamation point came midway through the second half from KU's biggest player.
With the Jayhawks leading by 19 and UNC Greensboro struggling to find any of the success they encountered in the game's first 20 minutes, Azubuike caught a quick pass from Tristan Enaruna on the left block and absolutely destroyed the rim, paying no mind to the body of UNCG big man Kyrin Galloway hanging in the air between Azubuike's body and the rim.
The dunk, which again came because Azubuike had more room to operate down low, brought the fans inside Allen Fieldhouse to their feet and set off a deafening roar with just over eight minutes to play.
While Azubuike picked up the highlight and points, the play was made possible by Enaruna, who followed up a strong debut against Duke with an even better showing in this one.
In addition to the dish to Azubuike, Enaruna (9 points on 3-of-5 shooting with five rebounds and two assists in 20 minutes) delivered three veteran plays in a row in the first half to help Kansas maintain control.
All three came off of the drive, with one leading to free throws, another leading to an Agbaji 3-pointer in the corner and the final one resulting in a smooth finish with his left hand in traffic.
After 4-of-9 shooting from 3-point range against Duke, Kansas found a lot more success from outside in this one, connecting on 10 of 26 3-point attempts, which came from five different players.
Freshman guard Jalen Wilson, who played just 27 seconds in the first half before exiting during the middle of a possession with a leg injury, sat out the rest of the game and was seen on the bench with an air cast on his left leg during the early portion of the second half.
Self said after the game that Wilson broke his left ankle and would have surgery next week. The time table for his recovery is around three months, putting the rest of Wilson's freshman season in jeopardy.
With their first victory now in hand and the Duke game a distant memory, the Jayhawks and their new lineup options will enjoy a week of practice before hitting the court again, next Friday at home against Monmouth.
"Oh, it's way too early," Self said of making a decision on whether to go with two bigs or four guards more often. "We're going to play two bigs some. We will. And there'll be teams we can do that against and that'll be the best way for us to play defensively. But tonight wasn't one of those nights."