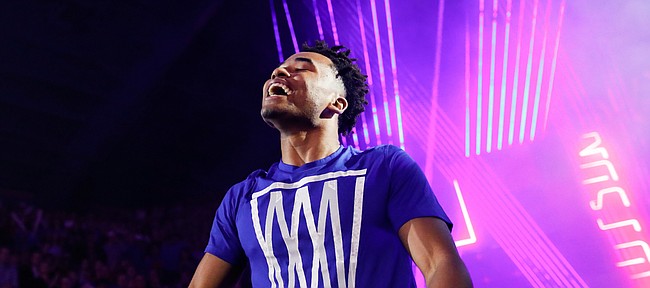 No. 3 Kansas Jayhawks (0-0) vs. No. 4 Duke Blue Devils (0-0)
Time: 6 p.m. | Location: Madison Square Garden, New York City
TV: ESPN | Radio: IMG Jayhawk Radio Network
Not going to be home for the game? Sign up for ESPN+ and watch your Hawks on the go.
Log on to KUsports.com for our live game blog coverage and follow the KUsports.com staff on Twitter: @KUSports @mctait @bentonasmith @SjacksonLJW & @BradenShaw4Real
Keys for Kansas
1. Big men defend
New York — For all of the flashy scorers, big names and highly rated prospects spread throughout both lineups, this one might very well come down to one factor — how well KU's big men guard Duke freshman Matt Hurt.
Plugged into the 4 spot in Duke's starting lineup, Hurt is a versatile, do-everything 6-foot-9 forward who picked the Blue Devils over Kansas last spring. Able to score in close and also play on the perimeter, with good ball handling and play making skills to boot, Hurt is exactly the kind of stretch 4 matchup that KU coach Bill Self has been emphasizing for KU power forwards Silvio De Sousa and David McCormack.
With a clear advantage on Hurt on the offensive end because of their size and strength, the key here will be how well — if at all — De Sousa and McCormack can stay with Hurt on the wing.
If they're able to close out on the shot and keep him in front of them on the drive, the size advantage plays to KU's favor and those two big men will be able to work in tandem with 7-foot senior center Udoka Azubuike to give Kansas a lot to handle down low.
If they're not able to stay with Hurt or any number of Duke's other wing shooters, Self may have to go with some combination of freshmen Christian Braun, Jalen Wilson or Tristan Enaruna to help contain Hurt.
And then there's always the option of putting defensive stopper, junior Marcus Garrett, on him, as well.
"I'm actually working on it," De Sousa said of becoming a better perimeter defender. "But, you know, I have to fight and make sure I'm doing the right thing. If that's what it's going to take for us to win, I have to do it. No other choice."
There's much more to Duke's attack than just one player on one end of the floor, but the big man-stretch 4 matchup will be as big as anything in this one.
"Their bigs are versatile," said KU point guard Devon Dotson. "They have a 4 man, Hurt, that can shoot it pretty well. Sometimes whoever's at the 5 can shoot it, too. So just the shooting and the spacing that they have."
2. Take (and make) open 3-point looks
No matter what Kansas gets from Azubuike inside and De Sousa and McCormack behind him, the Jayhawks still will need to hit from the outside to be in this one.
They don't have to hit 17 of 37 3-point attempts like they did against Pitt State in the exhibition finale (and they likely won't get those same kinds of looks) but they are going to have to score from behind the arc in order to allow their full offensive attack to work.
The one thing KU can take from that Pitt State win is how to get those shots. Kansas moved the ball quickly and decisively in the halfcourt, made extra passes to get open shots throughout the game and allowed their shooters to get good looks in rhythm, which significantly increased the odds of those shots going in.
While there are a number of different players who can knock down shots from the outside, KU's starting backcourt of Ochai Agbaji, Devon Dotson and Marcus Garrett will have to the lead here.
Asking the freshman trio of Jalen Wilson, Christian Braun and Tristan Enaruna to do too much in a game like this is asking for trouble, and, with senior grad transfer Isaiah Moss unlikely to go because of that hamstring injury, it will be up to KU's veterans to deliver from deep.
Agbaji appears ready. He hit 47% from 3-point range in KU's two exhibition wins and both Dotson and Garrett spent the offseason improving their shots.
3. Poise under pressure
Speaking of KU's veterans, it's up to the players who have been on this stage before to help the rest of the Jayhawks navigate their way through tonight's game.
Dotson — in his college debut — was sensational in last year's Champions Classic, outplaying Michigan State's Cassius Winston. Agbaji showed throughout the second half of the season that he has star potential and Garrett has always been a cool customer under pressure.
The Blue Devils, young and old, will look to extend their pressure and attack KU's guards all over the floor and that been-there-done-that poise from that trio will be key in surviving it.
"I've seen Duke the same way they've seen us," Self said. "(Wednesday) night the score was very impressive and they turned over the team they played not only by making them throw it out of bounds but they stole the ball. They pressure so much, but that's also what Devon's good at, is attacking pressure."
Poise in this one goes beyond what happens between the lines on the court, though.
"It's a lot of distractions out there," De Sousa said. "It's in New York, it's at Madison Square, there's going to be a lot of celebrities out there and we have a lot to fight for. It's not just about Duke. It's about everything else around us. And I just tell my teammates in practice, 'You've got to stay locked in, you've got to stay focused so we can get through it.'"
Marquee Matchup
Point Guard Play: KU sophomore Devon Dotson vs. Duke sophomore Tre Jones
It's a showdown of sensational sophomores who returned to college for a second season at the point guard position in this one.
Tre Jones, the younger brother of former Duke standout Tyus Jones (who KU recruited hard) and Dotson will lead their teams on both the offensive and defensive ends of the floor.
Both are jet-quick point guards who like to attack, are not afraid of the moment and play bigger than their size because of their toughness and competitive nature. And they know each other from their time as teammates as the McDonald's All-American game a couple of years ago.
"Top level," said Agbaji when describing the showdown. "Two of the top point guards in the nation going at it and I know that Devon, with his competitive attitude, he's ready for it."
Self agreed, but made note of one important thing.
"Tre is a great leader and a terrific point guard and he's fast and he's active and Devon has a lot of the same physical characteristics," he said. "So it'll be an interesting matchup. But it's not Devon vs. Jones. It's Kansas vs. Duke, and I'm sure both players will certainly be told that and know that going into Tuesday."
Jayhawk Pulse
With Self looking to break the tie in head-to-head meetings with Duke coach Mike Krzyzewski (3-3, dating back to 1999) and Kansas looking to move above .500 in the Champions Classic for the first time, there are a few things at stake tonight beyond just starting the season on a high note.
None of those matter a whole lot in the big picture of it all and, despite the buzz and excitement of opening a season full of high hopes and expectations against the No. 4-ranked team in the Big Apple, Self couldn't help but boil this one down to the reality of the basketball while looking ahead during the past week.
"I do believe that playing a game this big this early isn't the greatest thing," Self said recently. "Not from an excitement standpoint. Because, from an excitement standpoint, I think it's an unbelievable way to tip off the season, to have all four 1 through 4 teams play on the same night in the same venue. But you would like to have at least one game under your belt so you can kind of prepare to not look bad."
No. 1 Michigan State and No. 2 Kentucky will follow KU-Duke, and that's about the only thing that could take this blue blood matchup off of top billing.

There are McDonald's All-Americans on both sides. Players who received preseason honors fill both rosters. And the coaches are two of the best who have ever done it, both in the Hall of Fame and looking to add to their sterling resumes.
"I think it's the type of game that all players that play college basketball want to be a part of," Self said. "They're going to have a chance to win a national championship and be in the game. I certainly hope we are, too. I would anticipate all four teams playing on Tuesday night, by the end of the season, could be serious contenders."
But none of that matters in this one. All that matters is the same things that matter when KU plays a non-conference opponent at home or a Big 12 road game in mid-February. Taking care of the basketball, executing the game plan and playing tough on both ends of the floor.
The team that does that better, while also handling the heat of the spotlight in the shadows of Broadway, likely will come out on top and open their season with a win.
"They're really aggressive and active and they're going to be terrific," Self said of the Blue Devils. "I just hope they're not terrific at our expense."
Probable Starters
No. 3 Kansas
G – Devon Dotson, 6-2, 185, Soph.
G – Ochai Agbaji, 6-5, 210, Soph.
G – Marcus Garrett, 6-5, 195, Jr.
G – Silvio De Sousa, 6-9, 245, Jr.
C – Udoka Azubuike, 7-0, 265, Sr.
No. 4 Duke
G – Tre Jones, 6-3, 185, Soph.
G – Jordan Goldwire, 6-2, 185, Jr.
G – Cassius Stanley, 6-6, 193, Fr.
F – Matthew Hurt, 6-9, 214, Fr.
C – Vernon Carey Jr., 6-10, 270, Fr.