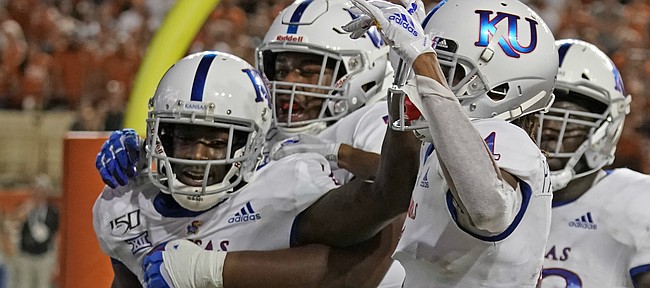 As the first Kansas football team coached by Les Miles heads into the final three games on its schedule, a pair of outspoken receivers remain vigilant in spreading the message that the season doesn't have to end in November.
Senior receiver Daylon Charlot said the Jayhawks as a whole felt like they let their fans down in a 38-10 loss to Kansas State this past weekend.
Despite their disappointment, Charlot voiced publicly the notion that he and other team leaders keep clutching to tightly.
"Our goal is still right in front of us, which I hope our fans understand," Charlot said of KU (3-6 overall, 1-5 Big 12) achieving six wins and securing bowl eligibility.

That incentive came up immediately after the Jayhawks fell flat in a rivalry game in front of a packed stadium, making a path to three more wins all the more difficult.
Yet it was Parchment, Charlot said, who drove the point home after the loss that the Jayhawks still have three more chances to add to their win total.
"He told the whole locker room," Charlot shared. "Like he mentioned, our goal is still in front of us. We're going to continue to work hard."
Two weeks earlier, it was Charlot who addressed the team with a fiery halftime speech that was captured by ESPN+ "Miles to Go" cameras in Austin, Texas.
With the Jayhawks down 21-17 at intermission, Charlot could be seen turning from teammate to teammate, often swinging a towel while delivering his emotional message.
The impromptu and expletive filled lecture included the following:
"We can't make no ----ing mistakes!"
"I'm trying to go to a ----ing bowl game!"
"I want y'all ----ing focused like I am!"
"I'm tired of this ----! Y'all need to get ----ing right! I'm trying to ----ing win! I'm tired of ----ing losing!"
After grabbing the attention of his teammates, Charlot would go on to contribute a crucial fourth down catch in the fourth quarter that made a KU rally possible, as well as a reception on a 2-point conversion that gave the underdog Jayhawks the lead, 48-47, with 1:11 to play.
Charlot told reporters after the episode was released that he was inspired to speak his mind.
"I just feel like the team had more to give and that we could compete with anybody in the Big 12," Charlot explained. "And also give other players confidence to have faith in themselves."
Similarly, Parchment proved to be blunt in his assessments of the Jayhawks' performance versus K-State.
"They out-physicaled us. They wanted it more," the junior receiver said following a one-sided loss that came on the heels of two promising weeks for the KU offense — a 50-48 loss at Texas and a 37-34 win over Texas Tech.
Parchment didn't mind holding himself and teammates accountable after KU failed to keep up with the Wildcats.
"A lot of things hurt us," Parchment said. "It wasn't just (the two) interceptions. It was the very first drive us not going down and scoring. That's what we said we wanted to do."
In the same "Miles to Go" episode that Charlot spoke out at halftime, Parchment asked Miles immediately after the head coach gave a postgame speech in the locker room if he could say a few words. Miles promptly gave Parchment the floor.
"I love y'all boys so much. Y'all boys lifted me up when I dropped the touchdown," Parchment said, referencing a Carter Stanley throw to him late in the fourth quarter, when KU trailed by 7. Four plays later — thanks in large part to Charlot's aforementioned fourth down catch — Stanley connected with Parchment for a TD. "And y'all boys are the reason I love this game so much. Without y'all I don't think I'd even be playing right now. Our goals are still in front of us."
That's been the mantra for so many of the Jayhawks, as they chase a postseason berth for a program that hasn't played in a bowl game since 2008.
"Seniors, we're going to get y'all to a ----ing bowl game," Parchment's postgame message at UT concluded. "Let's go."
As impassioned as Charlot was in outpouring his words of motivation that night in October, he said "AP," the nickname most everyone in the facility uses for Parchment, is also "that guy" for the Jayhawks.
"But we also need more guys to step up and call guys out and tell them how they feel," Charlot added. "Just to get things going. Just to create some energy in the locker room. We just need more guys like that in the locker room."
KU is off this week before traveling to Stillwater, Okla., for a Nov. 16 matchup with Oklahoma State (6-3, 3-3), the first step of a three-week stretch that will determine the team's postseason fate.