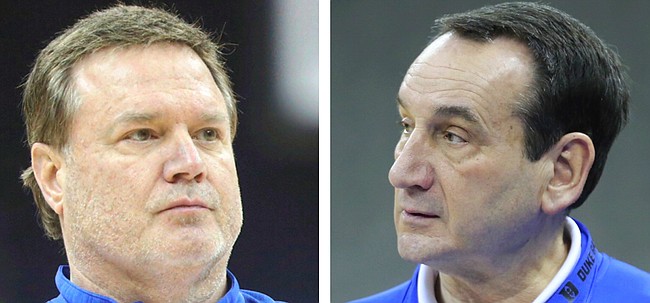 New York — They're tied 3-3 in head-to-head meetings, but there's a story that actually has Duke coach Mike Krzyzewski a small step ahead when it comes to facing Bill Self teams.
It goes back to 1999, two years before Krzyzewski was inducted into the Hall of Fame, when Self and Tulsa met the Blue Devils in the second round of the NCAA Tournament.
The clash was Self's first matchup with the coaching giant and, at age 36, Self was appearing in the Big Dance for the first time.
It showed.
"That particular game, that was when they always introduced the coaches and they shook hands before the game," recalled Self to the Journal-World while looking ahead to Tuesday's Champions Classic clash against Duke. "Well, I was a rook and he had to come all the way in our huddle to shake my hand. And I'm going, 'Gosh, Coach, I'm sorry.' They had the best team. Unbelievable. They were ranked No. 1 in the country hands down."

The Blue Devils rolled to a 41-point victory that night, and Coach K went on to win two more against Self before the Kansas coach picked up his first victory in the series in 2013.
Since then, Self has won three straight and will look to make it four in a row at 6 p.m. Tuesday at Madison Square Garden.
Officially, that game will be known as the No. 3 vs. No. 4 undercard on the Champions Classic fight schedule that features No. 1 Michigan State taking on No. 2 Kentucky in the late game.
But it also could be considered the tiebreaker — for now — with the two Hall of Famers each having topped the other three times in their first six meetings.
Between them, Self and Krzyzewski have won 1,418 college basketball games since Self first became a head coach during the 1993-94 season at Oral Roberts.
While all of Krzyzewski's clashes with Self have come at Duke, Self has led three different programs into battle against the Blue Devils during the past 27 years. And he's currently riding a three-game winning streak against his Hall of Fame counterpart, including a win in the 2017 Champions Classic in the Big Apple and a triumph in an all-time classic NCAA Tournament in the Elite Eight in Omaha, Neb., in 2018.
Although their head-to-head meetings have been sparse, they all have been memorable and Self said Krzyzewski has been gracious from the beginning.
"We've had some personal milestone moments," Self recalled. "But I never looked at that (Duke-Tulsa matchup) one as one. Maybe if we had been more successful or played better. He's always been very good to me, though, and supportive and has congratulated me on successes and things like that. So I've enjoyed our little bit of a connection."
Here's a quick look back at the six Self-Krzyzewski matchups from the past.
• March 25, 2018 — With a trip to the Final Four on the line, the Jayhawks and Blue Devils needed overtime to decide their most recent meeting. Svi Mykhailiuk's defense on future lottery pick Marvin Bagley III was a huge storyline, but Malik Newman's red-hot shooting led the Jayhawks down the stretch and in overtime and earned Kansas a trip to the Final Four in San Antonio via an 85-81 victory in college basketball's game of the year.
• Nov. 15, 2016 — The Frank Mason game. With his face plastered on the outside of Madison Square Garden, the KU point guard got his senior season off to a stellar start, knocking in a jumper in the final seconds to help KU knock off No. 1 Duke, 77-75, at the Champions Classic in New York City.
• Nov. 12, 2013 — Dubbed a Champions Classic battle between potential No. 1 overall picks Andrew Wiggins, of Kansas, and Jabari Parker, of Duke, the Jayhawks picked up their first victory in three tries at the early-season showcase with a 94-83 win at the United Center in Chicago. Wiggins delivered the knockout blow via a breakaway dunk late that set the party in motion.
• Nov. 23, 2011 — In a rocking atmosphere in the title game of the Maui Invitational, the Kansas team that ended the season in the national championship game took Duke to the wire behind the strength of 16 points and 15 rebounds from Thomas Robinson and a double-double of 14 points and 10 rebounds from Jeff Withey, as well. Duke hit three 3-pointers late to help erase a 7-point second-half deficit and KU fell 68-61.
• Nov. 28, 2000 — In his first year at Illinois, Self got his second crack at Krzyzewski and this time nearly pulled out the victory. Facing off in the Big Ten-ACC Challenge in Greensboro, N.C., the Illini held a 1-point halftime lead over Jason Williams, Carlos Boozer, Shane Battier, Mike Dunleavy Jr., and Chris Duhon before falling by 2 in a second half that featured 26 Illinois turnovers in the 78-77 loss.
• March 14, 1999 — Self's first ever meeting with Coach K was a mismatch from the start, as the top-ranked Blue Devils led by Elton Brand, Shane Battier, Corey Maggette, William Avery and more, shredded Tulsa, 97-56, in the second round of the NCAA Tournament in Greensboro, N.C. "There was one block/charge call that didn't go our way that turned a 1-point deficit into a 41-point deficit," Self recalled last week. "That's one of my jokes. I always say, 'Sure we could've beat Duke that year if we were just 42 points better.'" The very next year, Self guided a more experienced Tulsa squad all the way to the Elite Eight.