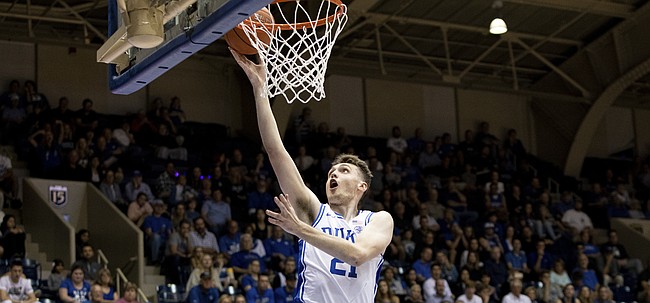 It seems as if Matt Hurt and Cassius Stanley were destined to play in Tuesday night's Champions Classic clash between Duke and Kansas in New York City.
Both freshmen picked Duke over Kansas at the final stages of their recruitments. But had either player gone the other way, both still would be playing in Madison Square Garden at 6 p.m. Tuesday night with the entire college basketball world watching.
As if there needed to be any added buzz to a battle of two of college basketball's blue bloods, pitting Hurt and Stanley against the program that recruited them as hard as any other certainly does the trick.
"Just knowing them a little and what they have, I think that does add some juice into it," sophomore guard Ochai Agbaji said of the two Duke freshmen after Thursday's exhibition over Pittsburg State. "And it's probably some motivation for the coaches, too."
Despite that fact, the third-ranked Jayhawks won't be overly focused on either player beyond what is required of them in the scouting report.
There is no bad blood there, and it does not appear as if the Jayhawks are interested in finding or creating any.
"Nah, we don't try to look it at like that," sophomore point guard Devon Dotson said Thursday. "They made the best decision for their family and them and we're not trying to hold anything against them. They picked the school that they went to and we're Kansas and we're trying to be the best team that we can be. So I don't think it adds too much. We know that the Champions Classic is a big deal and it's the first game of the season so everyone should be fired up. It's against a well-known school, and that's it right there."
Added Agbaji: "Going into this game we're just trying to focus on the little things, effort, all that stuff that goes into winning."
Hurt, a 6-foot-9 do-it-all forward from Minnesota, and Stanley, an ultra-athletic scoring guard from California, both started Duke's second exhibition game of the season on Wednesday night.
They combined for 35 points in 35 minutes and shot 17-of-23 from the floor in a 126-57 win over overmatched Fort Valley State.
Neither player got to the free throw line and they combined for eight rebounds and four turnovers to go along with three assists and three steals.
Hurt started both of the Blue Devils' preseason games and has been red hot. He shot 17-of-29 from the floor — 1-of-6 from 3-point range — and scored 36 total points in wins over Northwest Missouri State and FVSU.
Speaking of red hot, like Hurt, Agbaji has been outstanding for Kansas in the preseason. Particularly from behind the arc, where he connected on 47% of his 3-point attempts in a pair of KU victories.
After missing his first four 3-point attempts in the win over Fort Hays State last week, Agbaji made three of his last five. He followed that up with a 5-of-6 showing against Pitt State and has now hit eight of 12 3-point attempts in KU's last three halves.
"He's shot it extremely well," KU coach Bill Self said after the win over Pitt State. "That's so good to see. He's such a good athlete, and he'll be able to drive the ball better if people have to crowd him. … Tonight he looked pure. I hope we can bottle that."
It's not just Agbaji's hot hand that has stood out. Defensively, he has played the passing lanes with intensity and been aggressive on the ball in the half court. And that effort has led to a handful of breakaway dunks that have ignited the Allen Fieldhouse crowd.
In addition to his 40 points, Agbaji has recorded 10 rebounds, seven assists and four steals while turning it over just twice in 49 minutes.