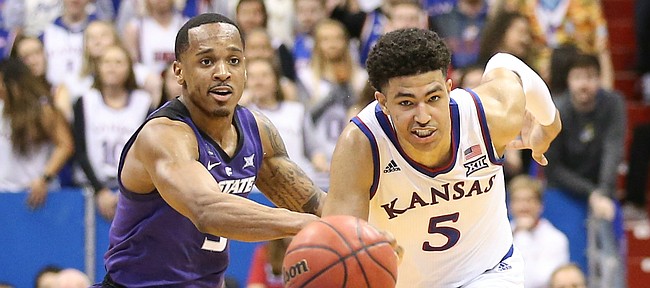 Kansas freshman Quentin Grimes is not staying in the NBA draft, but he is not returning to KU either.
Through a release from the Kansas basketball offices, Grimes on Wednesday evening announced his intention to transfer to another university for the 2019-20 season.
In accordance with NCAA transfer rules, Grimes, who did not immediately return the Journal-World's text message requests for comment on Wednesday night, will sit out what would have been his sophomore season and will then either be eligible to leave for the 2020 NBA Draft or play at his new school.
Grimes becomes the 20th Jayhawk to transfer out of the KU program since 2004, — vs. 14 transfers in — is the third player from the 2018-19 team to transfer (joining Charlie Moore, DePaul, and K.J. Lawson, Tulane) and is by far the biggest name and most highly ranked prep prospect on the list of players to leave Self's program via the transfer route.

The former 5-star prospect from The Woodlands, Texas, came to Kansas as a likely one-and-done prospect and a projected lottery pick in the 2019 NBA Draft.
Now, if his decision to transfer is an indication that he plans to play at least one more season of college ball before turning pro, Grimes, who just turned 19, will be in school at least three full seasons before making the jump to the NBA.
There's no word yet on where Grimes will end up. He chose Kansas over Kentucky, Marquette and Texas.
In 36 games with the Jayhawks last season, the 6-foot-5 combo guard who played for Self on the USA Basketball U18 men's national team at the FIBA Americas tournament last summer, averaged 8.4 points and 2.5 rebounds per game.
He shot 34 percent from 3-point range and 38.4 percent from the floor in 988 minutes while consistently searching for his breakthrough moment.
Many believed it came in his KU debut, when Grimes hit six 3-pointers in the Jayhawks' season-opening victory over Michigan State at the Champions Classic last November, but the big, athletic guard never seemed to find his complete rhythm as the season went on.
Asked after the season if his inability to find his flow caused him to scratch his head, Grimes admitted to being caught off guard by his struggles.
"Yeah, I definitely was surprised, just knowing what I can do and my skill set and everything," he told the Journal-World in March. "But it's just a learning experience. You grow from it and learn from it and it's definitely going to make me a better player. It's tough just kind of knowing what you can do and everything you have inside of you and what you've worked for. But you can't worry about that. You have to keep focusing on you and bettering yourself and just do what you can for the team."
Earlier Wednesday, Self confirmed to the Journal-World that All-American junior forward Dedric Lawson would keep his name in the 2019 draft pool, a move that most expected the day Lawson declared for the draft.
With the final pieces of the decision puzzle now in place, next season's team currently includes the following scholarship players: Seniors Udoka Azubuike and Mitch Lightfoot, juniors Marcus Garrett and Silvio De Sousa, sophomores Devon Dotson, Ochai Agbaji and David McCormack and freshmen Christian Braun, Issac McBride and Tristan Enaruna.
With former Michigan signee Jalen Wilson — 6-8, 210, 4 stars — slated to visit KU this weekend, the Jayhawks have three scholarships left to give out and the kind of depth and balance to be able to use those three scholarships on any number of players or positions.