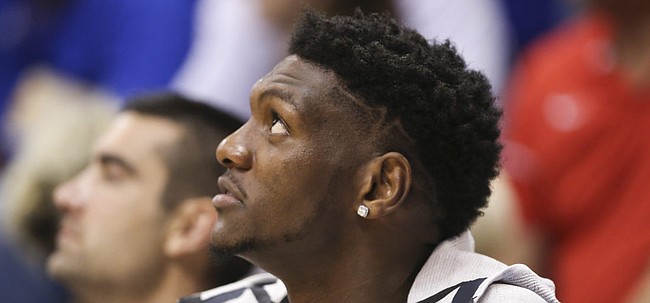 A month after the University of Kansas filed its formal appeal to the NCAA's two-year suspension of Silvio De Sousa, the status of the forward from the KU men's basketball team remains unresolved.
During an interview with the Journal-World, KU Athletic Director Jeff Long provided an update on the state of the appeal.
Long admitted he didn't think De Sousa, KU officials, the basketball team and Jayhawks fans would still be waiting at this point to find out the decision on a ruling.
"Candidly, no, I didn't think it would take this long. But there is a process," Long said. "We filed an appeal and then it was looked at by the NCAA and they felt like it needed some more information and things changed."
KU's athletic director told the Journal-World KU has now submitted "everything" to the NCAA.
"We are waiting for the next step of that appeal process," Long added. "Silvio, again, has been very patient and understanding."
On April 18, Kansas Athletics announced it had submitted an appeal "on behalf of men's basketball student-athlete Silvio De Sousa, challenging the two-season penalty De Sousa received from the NCAA for alleged violations that he was unaware of and from which he did not benefit."
De Sousa's lawyer thought a ruling could come as soon as the week after the appeal was submitted.
A little more than four weeks removed from that filing, Long said KU and De Sousa are now "in a little bit of a time crunch," what with De Sousa having declared for the NBA Draft as a backup plan in case the NCAA doesn't rule him eligible for the 2019-20 season — the deadline for players to withdraw from the draft is May 29.
"But he's been very clear that should he be deemed eligible this next season he wants to be at Kansas," Long said. "He wants to continue to pursue his degree, he wants to continue to play basketball and be coached by Bill Self. We're hopeful that the appeal process will play out favorably for Kansas and, again, we're still in a waiting game."
The NCAA ruled in February that De Sousa must sit out the entirety of both the 2018-19 and 2019-20 seasons, because his guardian received payment from a university booster and agent and agreed to receive additional funds from the same person.
"So it's been a process. I know that's an overused term today, but we worked through the process and cooperated with the NCAA and they've tried to move this along as quickly as they can but it is a complicated process," Long said. "But I do think we're getting close to a resolution one way or another."
No update on Pooka
Meanwhile, while speaking with the Journal-World Long had no real update to provide on the status of one of the football program's marquee players.
KU football coach Les Miles suspended running back Pooka Williams from all team-related activities this past December, after KU police arrested Williams and the running back from Louisiana was charged with domestic battery.
Williams agreed to a domestic violence diversion in late March. Per his diversion agreement, Williams is required to complete 40 hours of community service by Nov. 30. He must also had to undergo a domestic violence offender assessment, and barring additional recommendations from the evaluator, he would have to complete an anger management course by Nov. 30.
"I'm going to sound like a broken record," Long began, when asked by the Journal-World if KU was any closer to deciding on Williams' status for this coming season.
"There's a process there," Long said. "There was the police process, the legal process, now there's the campus process. So, again, Pooka is working his way through that. And we hope to have a decision on that in the relatively near future, as well."
While Williams didn't practice with KU football during the spring, he was in attendance at David Booth Kansas Memorial Stadium for the spring game, watching from the bleachers.