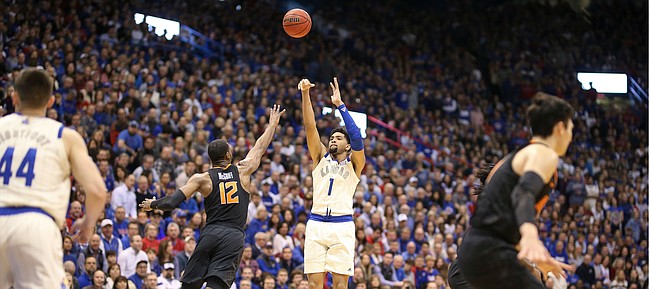 It's officially draft combine time for a handful of Kansas Jayhawks who are hoping to make a name for themselves this week in Chicago in front of NBA eyes.
Starters from the 2018-19 team, Dedric Lawson, Quentin Grimes and Devon Dotson are three of the 66 players invited to the annual skills showcase that will feature testing, interviews, scrimmages and drill work today through Sunday.
According to an Eastern Conference scout who recently talked to the Journal-World for a series of pre-draft breakdown stories, all three carry second-round projections into the combine and the goal for each is to do enough to inspire a team to pick them in Round 1, where the contracts come with guaranteed money.
All three have until May 29 to pull their names out of the draft pool and return to Kansas should they so desire. But sources close to the process have said that Dotson may be the only one seriously considering that.
Lawson is perhaps the most interesting story of the trio. After earning Big 12 Newcomer of the Year and All-American honors for averaging a double-double during his first season with the Jayhawks, Lawson spent the past six weeks in Los Angeles working on his game and body to position himself to show that he belongs in the first round.
"Overall, I'm feeling very confident going into the combine," Lawson told the Journal-World in a phone interview from Los Angeles over the weekend. "I'm feeling much stronger. (KU strength coach Andrea) Hudy does a great job with that, so I was just focused on coming out here and adding to what she already developed in me and that has just made me a better athlete overall."
Lawson, who stands 6-foot-9, 235 pounds, said he has improved his strength and quickness since heading to California. More than either of those things, though, Lawson believes his ability to consistently knock down the NBA 3-point shot will be one of the biggest keys for him this week in Chicago, as the combine begins on Wednesday.
"I've been working on the 3-ball essentially every single day," he said. "... I feel more confident with the outside shot. I knew I could shoot it at Kansas, but we played different lineups and I played in the post a lot and things like that. Towards the end of the year, though, I started shooting the ball more and that led to my confidence rising. But I've just been working on everything so I can go into the combine with the mindset that I'm ready to dominate."
While Lawson's ability to work on his game full-time — instead of while juggling practice, classes, tutoring and workouts — has given him more of an opportunity to fine tune his skills, the All-American said he did not have much free time during the past month and a half.
When he did, he tried to watch as much NBA playoff action as possible and said he just tried "to imagine myself in their position, seeing what they do."
Although he's on the brink of what amounts to the biggest, most important job interview of his life, Lawson said he had not yet encountered any sleepless nights or butterflies in his stomach.
"It's kind of like those excited nerves, like, 'Man, I'm just ready to get going and show guys what I can do,'" he said. "It definitely feels real and it's going to feel even realer when we're out there competing."