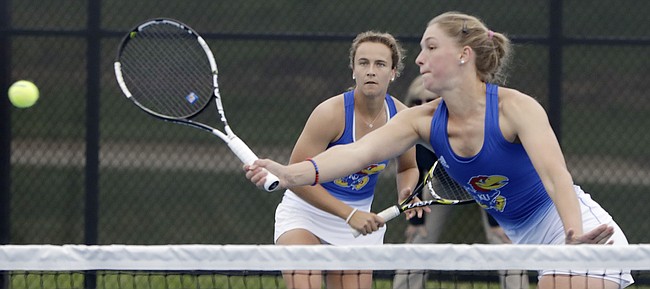 With the rest of the matchups already decided Friday in an NCAA Super Regional, a spot in the national quarterfinals for either powerhouse Stanford or Big 12 champion Kansas came down to the No. 5 singles match.
Although Jayhawks senior Nina Khmelnitckaia battled to the third set, Cardinal sophomore Janice Shin prevailed at Taube Family Tennis Stadium, assuring No. 3 Stanford, of a narrow 4-3 victory.
"In singles, it was a battle – an up and down, roller coaster-style match on both sides," KU tennis coach Todd Chapman said. "There were leads shifting up and down on both sides with players fighting back. We played ourselves into great positions against arguably the best team against the country, the reigning National Champions. We just came up a little short in the end."
He added: "That is the part that stings, and it is going to sting when you are this close."
As they so routinely did throughout one of the most successful seasons in program history, the No. 14 Jayhawks jumped out to a 1-0 lead in the dual by winning the doubles point — for the 25th time in 26 tries.
"Hopefully this is the new standard of Kansas tennis," head coach Todd Chapman said afterward. "That is what we have been fighting for, that is what our three seniors have been fighting for, is to set a new standard and new legacy of what Kansas tennis is going to be moving forward. Hopefully these young players realize that and know the expectations."
The match was tied 3-3 once KU's No. 1 singles player,  No. 13-ranked Anastasia Rychagova, edged No. 24 Michaela Gordon,  4-6, 6-4, 6-4 in a battle of top-25 players.
Defending NCAA champion Stanford, which has won 19 of the possible 37 NCAA championships, took a 2-1 lead versus Kansas, playing in its first Sweet 16 since 1998, when Cardinal seniors Caroline Lampl and Melissa Lord took straight-set victories in the final home matches of their college careers.
The Jayhawks tied it up at 2-2 with a 7-5, 6-4 victory from junior Maria Toran Ribes in No. 6 singles.
Stanford's Emily Abruthnott then put the home favorite a point away from advancing with a 5-7, 6-1, 6-4 victory at the No. 4 spot.
The Jayhawks finished the season 21-5.
"It has been a great season, a season of accomplishing many things that have not been done in a long time," Chapman said. "That is a credit to my staff and credit to these young ladies that gave everything they had. It is just one of those things that unless you win the National Championship, it is never easy because you are going to lose your last match. But I can tell you we went down fighting and we played hard, competed, and we were gritty and tough. We just came up a little short."
The Cardinal (25-1) next travels to the USTA National Campus in Orlando, Florida, where the final eight teams will compete for the NCAA title from May 17-19. Stanford will face Pepperdine next Friday in the quarterfinals.
NCAA Tennis Super Regionals
No. 3 Stanford 4, No. 14 Kansas 3
DOUBLES

1) No. 6 Nina Khmelnitckaia/Janet Koch (KAN) d. No. 19 Caroline Lampl/Kimberly Yee (STAN) 6-2
2) No. 29 Emily Arbuthnott/Michaela Gordon (STAN) d. No. 64 Anastasia Rychagova/Sonia Smagina (KAN) 6-2
3) Malkia Ngounoue/Maria Toran Ribes (KAN) d. No. 57 Melissa Lord/Niluka Madurawe 6-3
SINGLES
1) No. 13 Anastasia Rychagova (KAN) d. No. 24 Michaela Gordon (STAN) 4-6, 6-4, 6-4
2) No. 29 Melissa Lord (STAN) d. No. 112 Janet Koch (KAN) 6-2, 7-5
3) No. 66 Caroline Lampl (STAN) d. Plobrung Plipuech (KAN) 6-3, 6-3
4) No. 44 Emily Abruthnott (STAN) d. Sonia Smagina (KAN) 5-7, 6-1, 6-4
5) No. 108 Janice Shin (STAN) d. Nina Khmelnitckaia (KAN) 3-6, 6-4, 6-2
6) Maria Toran Ribes (KAN) d. Niluka Madurawe (STAN) 7-5, 6-4