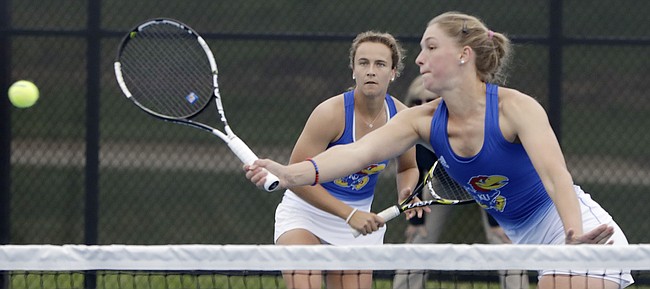 Not long after the Kansas women's tennis team notched its first Sweet 16 berth since 1998, the squad got back to work.
In fact, senior Janet Koch admitted that players were planning on working on some things later that day just after taking down Florida. That type of work ethic is why the Jayhawks, who have accomplished a number of monumental feats, believe they are capable of making a deeper run in the NCAA Tournament.
"No one worked harder than we did the last few weeks, I believe that for sure," Koch said after KU's 4-2 win in the second round.
That work ethic has fueled the Jayhawks to a remarkable run as of late. Kansas has won 10 matches in a row, dating back to March 29. Over that span, KU has wins over ranked foes such as Texas Tech, Oklahoma State, Texas, Denver and Florida.
It has led the Jayhawks to some significant accomplishments over the last few weeks. Kansas won three matches in as many days during the Big 12 tournament, taking down both Oklahoma State and Texas by a 4-2 margin. As a result, KU claimed its first Big 12 title in program history.
But Kansas wasn't done there either. KU hosted the first two rounds of the NCAA Tournament, which led to a 4-0 win over Denver and a 4-2 victory over Florida on back-to-back days last weekend. And KU coach Todd Chapman doesn't believe his team has peaked yet.
"You just have to keep working," Chapman said. "How we respond to misses and stuff like that. It's just belief in ourselves. That's the thing holding us back. It's not a shot we need to work on. I just think continuing to believe and continuing to gain confidence and learning court maturity."
Now 14th-seeded Kansas will face its toughest test yet when it travels to Stanford, the No. 3 overall seed, for the Sweet 16. The Cardinal, who are the defending national champions, claimed a 4-1 win over Syracuse in the second round and a 4-0 victory over New Mexico State in the opening round.
The Jayhawks certainly have the pieces to compete against the defending champs. Kansas has won the doubles point in 24 out of 25 dual matches this season, including the last 13 matches in a row.
Koch and senior Nina Khmelnitckaia, who are the sixth-best doubles tandem in the nation, can help ensure that the team's streak continues. As can senior Anastasia Rychagova and freshman Sonia Smagina, No. 64-ranked duo in the country, at No. 2 doubles. To put that in comparison, Stanford's lone ranked doubles team comes in at No. 19.
In addition, Kansas has a pair of prolific singles players in No. 13-ranked Rychagova and Koch, who is listed at No. 112. Stanford's highest-ranked singles player is at No. 24, though it has seven different players in the top-119.
"The last few weeks is starting to prove we can do it beyond our talent and the mental toughness is coming around," Chapman said. "Knowing we aren't still fully there match in and match out is what makes us know we still have stuff left in the tank."
Kansas will take on Stanford at 4 p.m. Friday.