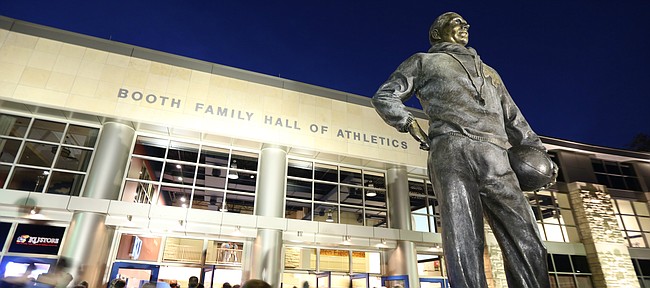 Seven University of Kansas teams achieved perfect 1,000 single-year Academic Progress Rate scores, and KU's women's cross country team picked up a Public Recognition Award for scoring in the top 10 percent of its sport over the course of multiple years the NCAA announced on Wednesday.
With women's cross country, men's basketball, women's basketball, tennis, men's golf, women's golf and swimming and diving registering perfect single-year APR scores for the 2017-18 academic year, the seven programs tied a KU athletic department record for most teams to hit the mark in the same year since the NCAA began publishing the statistic in 2004.
The women's cross country team earned NCAA recognition for having a perfect multi-year APR. Women's cross country has now recorded perfect single-year APRs five years in a row.
The APR is the NCAA's annual academic-achievement scorecard, measuring the eligibility and retention of scholarship student-athletes each semester or quarter.
The NCAA annually produces single-year and multiyear results for each team. Multiyear results are based on scores from the immediate past four academic years, in this case 2014-15 through 2017-18.
In order to remain in good standing, participate in 2019-20 postseason events and avoid penalties from the NCAA, teams must achieve a 930 multi-year APR. Every KU program exceeded that number.
KU team APR scores (2017-18)
• Women's cross country: 1,000
• Women's basketball: 1,000
• Women's golf: 1,000
• Swimming and diving: 1,000
• Tennis: 1,000
• Men's basketball: 1,000
• Men's golf: 1,000
• Soccer: 990
• Softball: 989
• Volleyball: 979
• Women's track and field: 974
• Rowing: 966
• Football: 961
• Men's track and field: 957
• Baseball: 949
• Men's cross country: 912
KU team multiyear rates (2014-15 through 2017-18)
• Women's cross country: 1,000
• Volleyball: 995
• Swimming and diving: 995
• Men's golf: 994
• Women's golf: 986
• Men's basketball: 984
• Women's basketball: 982
• Soccer: 978
• Softball: 977
• Baseball: 972
• Men's cross country: 966
• Women's track and field: 964
• Rowing: 962
• Football: 959
• Men's track and field: 958
• Tennis: 953