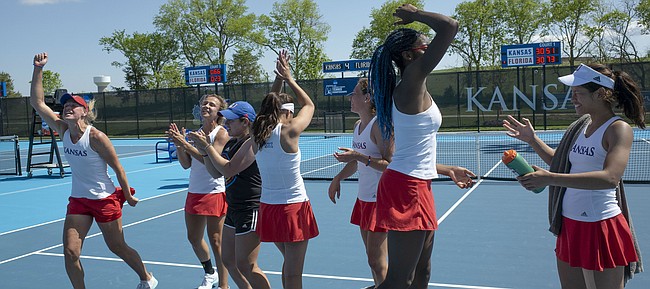 After the Kansas women's tennis team claimed its third point, many fans turned their attention to the fourth court at the Jayhawk Tennis Center Saturday afternoon.
It wasn't long before freshman Sonia Smagina capped things off by winning No. 4 singles, sending KU to its first Sweet 16 since 1998 with a 4-2 victory over Florida in the second round of the NCAA Tournament.
The scene was majestic. As Smagina began to celebrate, the Kansas fans behind her rose to their feet and threw their arms up in the air. The 477 fans in attendance roared in approval, celebrating almost as much as the eight Kansas players responsible for the monumental feat.
"Just having that behind your court the whole time was unbelievable," senior Janet Koch said. "They wanted it for us. The energy, it was unbelievable. It is our playground here. (Florida) felt it for sure today."
More fans came out for the first and second round, which took place two weeks after the Jayhawks secured their first-ever Big 12 title. But KU was dominant at home all year, regardless of how many fans were in attendance.
No. 14 Kansas will travel to Stanford, Calif. for Super Regionals, squaring off with No. 3 Stanford at 4 p.m. Friday. As a result, KU will not play another match at home and the team will finish with an unblemished record in Lawrence.
The Jayhawks won all 16 of their matches at home, including five postseason contests in the last two-plus weeks. Dating back to 2005, the only other year Kansas won double-digit matches at home was 2012, when the team went 10-5.
"I feel like after the Big 12, the crowd for sure picked up," Koch said. "We had a bunch of people out here. Just knowing there are a bunch of people pulling for us, even if you played a bad point or lost a bad set, they want you to win almost more than you want it."
KU defeated four ranked foes at home during the regular season, starting with a 5-2 win over then-No. 19 Northwestern on Jan. 20. Kansas also beat No. 41 Arkansas (7-0), No. 44 Air Force (7-0) and No. 25 Texas Tech (5-2) when those respective programs were ranked at the time.
In addition, Texas is ranked No. 9 and Oklahoma State comes in at No. 15 in the most recent poll. Florida was No. 24 entering this past weekend, while Denver was No. 44.
While KU's undefeated clip at home might be a rarity, the program has had success in its friendly confines as of late. Since Todd Chapman took over the program, the Jayhawks are 47-16 at home. After going 5-5 in the first year during the 2014-15 campaign, Kansas has posted a winning record at home in each of the last five seasons.
"The energy has been building all season," Chapman said. "I think our fans are really starting to get behind this team and see how exciting tennis can be. I think it is something our players definitely feed off. There is a reason we are undefeated at home this season."
KU adds to 2019-20 roster
Kansas tennis bolstered its 2019-20 roster Monday with the signing of Oleksandra (Sasha) Gorchanyuk.
Gorchanyuk, a native of Mississauga, Ontario, Canada, has been ranked as high as 360 by the Intercollegiate Tennis Federation (ITF) and has a Universal Tennis Rating (UTR) of 10.73. Gorchanyuk made the semifinals of singles and doubles at the ITF G3 in Burlington, Ontario. She won the singles title at the 2018 Veneto ITF Championship.
"We feel very fortunate to have found Sasha when we did in the recruiting process," Chapman said in a team release. "Sasha is a really good athlete, has very sound technique, really enjoys the process of development and loves to compete. She is a player on the rise and one we really feel has her best tennis in front of her. We cannot wait to start the process of development with her."