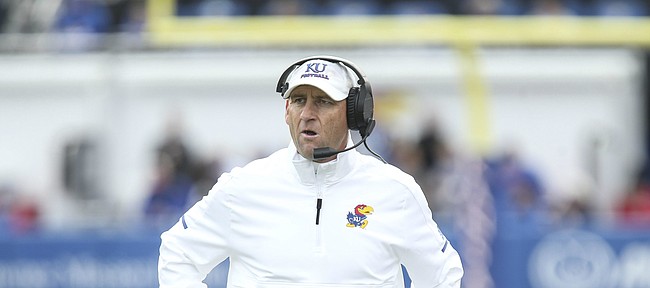 Former University of Kansas football coach David Beaty, who recently filed a lawsuit against KU, said Tuesday that the university's claim that he refused to cooperate with an investigation into possible NCAA violations is "verifiably false."
In a statement through his lawyers to SB Nation, Beaty, who alleges that KU is wrongfully withholding the $3 million buyout payment he would be owed for losing his job without cause, said he reached out to KU several times about the investigation, and that he also cooperated with the NCAA itself when it took over the review earlier this year.
According to Beaty's new statement to SB Nation, his attorney sent "multiple letters and emails to KU's attorney" to get an interview scheduled.
"Those attempts were accompanied by requests for copies of certain documents of mine that remained in KU's possession and would allow me to properly prepare and accurately address any concerns," Beaty stated.
"For weeks my offer to interview and my requests for my documents were ignored," his statement continued. "When it became clear that KU was unwilling to provide me the complete set of materials I requested, I went ahead and offered a specific date in early February on which I could interview even without all of the material requested. At that time, however, KU informed me that the NCAA had decided to pull the investigation from KU's internal team and take it over itself. Within twenty-four hours, me and my attorneys were in touch with the NCAA investigator and an interview date was immediately agreed to. I promptly interviewed with the NCAA and answered each and every question asked. With clearance from the enforcement staff, I even provided KU a draft of my interview transcript."
Beaty's statement said that the NCAA process prohibits him from discussing specifics of the investigation or his interview with the NCAA.
"I am able to communicate that I voluntarily interviewed with the enforcement staff regarding alleged NCAA violations, and I have fully cooperated with the investigation. I will continue to cooperate with the NCAA should they have any follow-up requests for information but otherwise look forward to the prompt resolution of their work," Beaty's statement concluded.
A KU spokesperson told the Journal-World Tuesday evening the athletic department would have no response to Beaty's statement.
Beaty, who went 6-42 as KU's head coach, was fired in November 2018, during the final stages of his fourth season as head football coach, by athletic director Jeff Long. On March 12 of this year, Beaty filed the lawsuit against KU.
According to attorneys at Dallas-based Deans & Lyons LLP, Kansas Athletics officials "immediately began discussing what it would take to avoid the $3 million payout," after firing Beaty, and allowing him to finish out the season.
In KU's response to the lawsuit earlier this month, spokesman Jim Marchiony stated, "Immediately following the end of the season, Kansas Athletics staff conducted standard exit interviews of all football coaches and staff, and through that process we learned of possible NCAA violations allegedly committed by Beaty. KU contacted the NCAA and the Big 12 Conference and began an investigation into the matter. Beaty refused to cooperate with the KU review and, ultimately, the NCAA took the lead in the still-ongoing investigation."