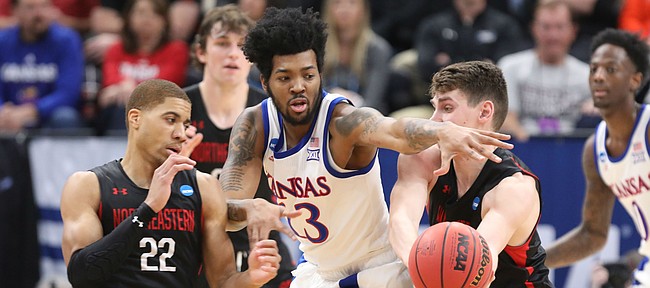 Salt Lake City — Defense, defense, defense. That was the focus all week for the 4th-seeded Kansas men's basketball team ahead of its first-round, NCAA Tournament matchup with hot-shooting Northeastern.
And then the ball went in the air, the game began and the Jayhawks needed all of one possession to know they'd be fine against the Huskies' vaunted offensive attack.
The Jayhawks' first defensive possession of Thursday's 87-53 victory could not have gone better.
The KU defenders stayed tight on ball handlers, closed out quick to shooters and forced a long 2-point attempt from Northeastern leading scorer Vasa Pusica that only drew backboard and missed the rim altogether.
"It was great to see," KU point guard Devon Dotson said of the opening stop. "That just shows if we're turned up, locked in and communicating, we can lock them up any possession. That was a great confidence builder and I think we learned from that possession for the rest of the game, what worked and what we needed to do."
Photo Gallery
Kansas basketball v. Northeastern (NCAA tournament)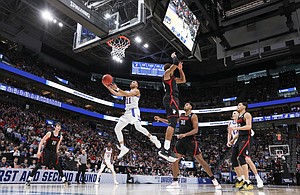 View a gallery of images from Thursday's opening-round game between the Kansas Jayhawks and Northeastern Huskies in Salt Lake City, Utah.
Pusica also learned a lot from that possession. Most notably, that it would be a long day.
Northeastern's leading scorer finished Thursday's loss with 7 points on 2-of-13 shooting in 31 minutes. He was 2-of-6 from 3-point range, turned it over at the 13:49 mark of the first half during part of a four-point spurt from KU sophomore Marcus Garrett that helped Kansas take control, and left the floor for the last time with 1:28 to play.
"Guys locked in and guarded today," said KU junior Dedric Lawson, who led all scorers with 25 points in recording his 21st double-double as a Jayhawk.
Pusica wholeheartedly agreed.
"Throughout the whole game, we really weren't getting any open looks," the senior from Serbia said after the loss. "You're going to make some tough ones, but it's really hard to make them throughout 40 minutes. The better team definitely won today. They are really talented, really athletic. We thought we had our chances coming into the game, but they deserved this one."
Added Northeastern coach Bill Coen of KU's defense on Thursday: "Their switching caused us some problems. And their scheme turned our team, which typically (plays with) an elite teamwork philosophy, into a one-one game and that certainly favored Kansas."
First taste
Thursday's victory marked the first NCAA Tournament game in the careers of seven different Jayhawks.
Four were freshmen and three transferred to Kansas from other programs that did not make the Big Dance.
While the experience meant and delivered different things for each guy, freshman forward David McCormack summed it up best for all of them when talking in the locker room about the emotions of Thursday's game.
"It's a good feeling being able to get my feet wet and understand how the games are going to be played and the energy and the crowd," McCormack after grabbing five rebounds and dishing two assists in 11 minutes as a KU starter. "I'm just going to enjoy it and keep playing hard."
As for whether Thursday felt different than the 34 games that came before it?
"Honestly, no," McCormack said. "I just try to drown out the extra noise. You definitely feel (the adrenaline) corsing through your body, and you just have to lock in and listen to your teammates and communicate and get the job done."
Grimes' big shot
Although his first crack at the NCAA Tournament yielded a 1-of-6 shooting performance, including 1-of-5 from 3-point range, KU freshman Quentin Grimes found a way to make a major impact despite his shooting struggles.
First, he led the team with three assists and also added two blocks in 31 minutes. But beyond that, the one shot he did make came at a crucial time.
After Northeastern opened the second half as the more aggressive team and trimmed a 12-point KU lead to 7 at the 17:06 mark, KU coach Bill Self called timeout and sparked what became a 32-6 run that buried the Huskies.
"Q, he made one basket, but he made the biggest basket of the game, getting it back to 10," Self said of Grimes' 3-point shot that followed the timeout. "And then Dedric made a 3 after that. We had been outplayed the first three minutes of the second half and we gained one point in the margin. So I thought those were probably the two biggest offensive possessions. After that, we got on a good roll."
Up next
After knocking off Northeastern, the Jayhawks are now one win away from returning to Kansas City, Mo., to play in the Sweet 16.
Getting there certainly won't be easy and standing in KU's way is No. 5 seed Auburn, which won a thriller over New Mexico State, 78-77, in Thursday's first game in Salt Lake City, despite nearly blowing a 8-point lead in the game's final 2:15.
Auburn is led by head coach Bruce Pearl and features a team of ultra-athletic guards that, like Northeastern, can shoot the daylights out of it. Auburn, which finished tied for fourth in the SEC at 11-7 (26-9 overall) and won the SEC tournament by beating Tennessee by 20 in the title game, ranked second in the SEC in 3-point shooting, at 37.6 percent, third in scoring offense (79.6 ppg) and fourth in scoring defense (68.1 ppg).
Said Pearl in a self-assessment of his team after Thursday's victory: "We play 10 guys and we fly around and we turn you over and we shoot a lot of 3s."
Auburn and Kansas have met just once, with the Tigers winning a 1985 NCAA Tournament game in South Bend, Ind., 66-64.
This and that...
Thursday's victory was KU's 13th consecutive first-round NCAA Tournament win dating back to 2007... The Jayhawks are now 108-46 all-time in the NCAA Tournament, including a 34-2 mark in NCAA tourney first-round games dating back to 1981... Kansas is now 38-14 all-time in the NCAA Tournament under Bill Self... KU's defense became just the third all season to hold Northeastern under 60 points... KU now leads the all-time series with Northeastern, 1-0.