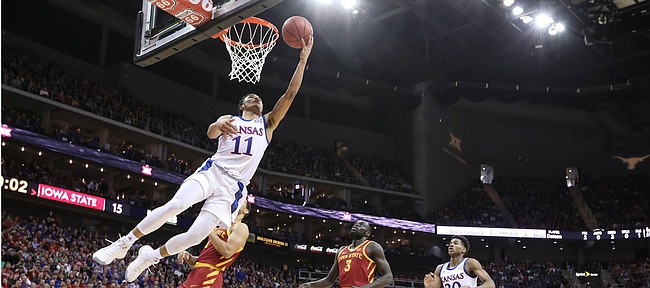 By now you have heard the narrative regarding KU's first-round matchup in the NCAA Tournament.
Many are wondering how Kansas is going to defend Northeastern's four-guard lineup when the two teams square off at approximately 3 p.m. Thursday in Salt Lake City. It is a reasonable conundrum for the Jayhawks, who just faced a similar style of play in a double-digit loss to Iowa State during the Big 12 championship.
But here is the dirty little secret that nobody is talking about: Northeastern isn't Iowa State. I know, your mind has been blown.
See, everyone is asking the wrong question. It is not how Kansas is going to handle a four-guard lineup, the real question is how Northeastern will defend a two-big look. This isn't a battle of two evenly-talented teams, this is the Jayhawks going up against a team that didn't even finish first in the Colonial Athletic Association.
KU, the fourth seed in the Midwest region, is the favorite against No. 13 Northeastern. According to Vegas Insider, the Jayhawks are a 6.5-point favorite over the Huskies as of Tuesday night. Northeastern has not advanced past the first round since 1982, while Kansas has also won its last 12 opening-round games.
Sure, this is March Madness and anything can happen. Just last year a No. 16 seed knocked off the No. 1 overall seed in the tournament, which was the first such upset in history. That doesn't mean Kansas can't at least try to dictate the style and tempo of this game, however.
Northeastern might have four starters shooting better than 38.5 percent from deep, as all four guys take an average of 4.2 triples per game. The Huskies might have seven players averaging at least 8.0 points per game, relying on floor spacing to put up points on a nightly basis.
Yet, the Huskies also allow opposing teams to shoot 52.5 percent on 2-point shots (271st in nation) and have yet to face a team like Kansas before. The Jayhawks just showed the ability to get to the rim throughout the Big 12 tournament.
Freshman point guard Devon Dotson had designed sets called for him where he got downhill with his right hand. Sophomore Marcus Garrett, who had been hindered with an ankle injury, netted four layups against West Virginia. Quentin Grimes and Ochai Agbaji can also beat their man off the dribble.
That's all without even mentioning KU's superior post play. Northeastern doesn't have anyone that can bang with 6-foot-10 freshman center David McCormack, who has been playing better as of late. Dedric Lawson averaged 18.8 points and 9.8 rebounds per game in Big 12 play, so it doesn't seem likely that the Huskies will stop him from putting up numbers.
If Northeastern starts out hot and causes problems, then perhaps KU will have to play four guards for much of the afternoon. It is also just as likely that the Huskies don't have an answer inside and the Jayhawks jump out to an early advantage.
At the very least, when you are a blue-blood like Kansas, it should be expected for you to try and determine the style of play against a team that hasn't won a game in the NCAA Tournament in 37 years.