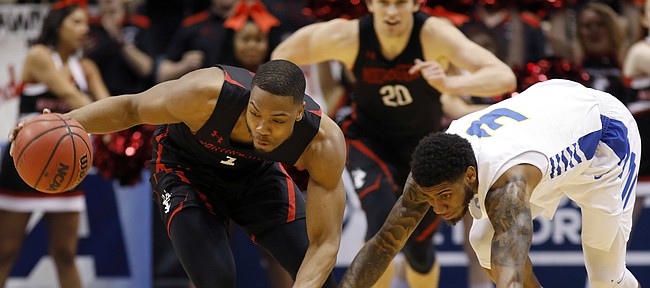 Salt Lake City, Utah — When Northeastern dropped its first game of January and the basketball team's record dipped below .500 for the season, it was unclear which direction the Huskies were headed.
But Bill Coen's team has lost just twice since its 3-point road setback at Hofstra on Jan. 5, and enters its NCAA Tournament first-round matchup with Kansas not only trending way up, but also benefiting from the boost provided by the return of two crucial rotation players.
"We fought some adversity throughout the year," Coen said during a phone interview with the Journal-World earlier this week. "We had some injuries to some of our prominent players, and I think the silver lining through that is we figured out that other guys can contribute, as well. And we can play different styles and different lineups. I think it's increased our depth a little bit. And, you know, you'll need that going into a tournament with so many good teams."
Without question, the eventual Colonial Athletic Association Tournament champions missed guard Shawn Occeus the most. Injuries forced the 6-foot-4 junior out of the lineup twice this season, as he missed 19 games in total.
On the year, Occeus is averaging 10.1 points, 2.7 rebounds, 2.0 assists and a team-leading 1.4 steals.
Northeastern (23-10) also dealt with a shorter-term injury when forward Tomas Murphy missed the final two games of the regular season. But the 6-8 sophomore who averages 8.2 points and 3.5 rebounds rejoined the rotation in time for March Madness, as well.
"I think we're as healthy as we've been," Coen said. "Still got some work to do, but, certainly, in the CAA Tournament, we had Shawn Occeus join us back and he's last year's CAA Defensive Player of the Year and he gave us a huge lift in the tournament."
While the Huskies don't ask Occeus to carry them offensively — nor do they typically need him to with the scoring abilities of veteran guards Vasa Pusica (17.8 points per game, 40.1-percent 3-point shooting) and Jordan Roland (14.7 points, 40.8-percent 3-point shooting) — Northeastern's best defender has helped the team on both ends of the floor since returning from an injury that kept him out of the lineup since Jan. 26.
As the Huskies secured the CAA's automatic bid by winning the league's postseason tournament, Occeus led the team in scoring with 17 points off the bench in a 70-67 semifinal victory over Charleston, his second game back.
It's been a relief for Coen's Huskies to have Occeus on the court again, just in time for them to step onto a gigantic stage.
"One, for what he can bring to the team, physically, but also what he can bring in terms of his mindset and his confidence," Coen said. "He's a very confident player. He's an energetic player and he has a dimension toward teams that we can't really get from anybody else. So it's certainly great timing on his part and couldn't be better for us leading into the NCAA Tournament."
In the meantime, Murphy, who actually leads the Huskies in 3-point percentage (46.2 percent on 12-for-26 shooting) and has made 54.4 percent of his shots overall in 30 games this season, eased back into the swing of things at the CAA Tournament, as well.
Murphy scored 11 points off the bench as the Huskies defeated CAA regular-season champ Hofstra in the championship game.
"Just having those two guys back with our normal group gives us a little bit more fire power," Coen said of his Huskies, who have won 12 of their last 13 games dating back to late January, with their only defeat coming in overtime at Charleston on Feb. 16.
The Midwest's No. 13 seed, Northeaster takes on Kansas (25-9) at 3 p.m. Thursday (TNT) at Vivint Smart Home Arena.