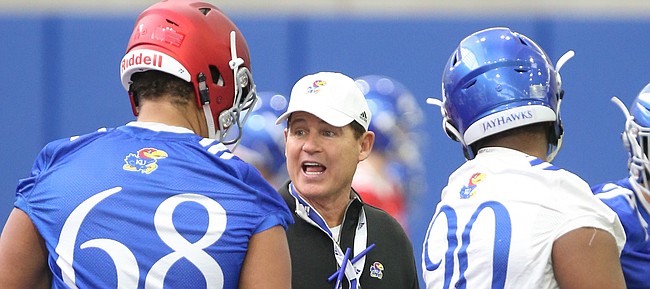 After getting the previous week off for the university's spring break, the Kansas football team got back to its spring practice schedule Tuesday afternoon and, unlike the first two sessions from earlier this month, the Jayhawks got to wear some shells and do some hitting.
"Today was the first day in pads of any kind," Miles told media members in attendance afterward. "We wanted to be physical. We put some physical drills in."
Along those lines, Miles shared, one offense versus defense period involved what he's calling the "Jayhawk drill," a variation of what is known throughout football as the Oklahoma drill.
One member of KU's offense lined up against a defensive player, and each tried to get past the other while the rest of the football team encircled them, coaches and players alike, yelling and rooting on the representative — or combatant — from their side.
"We ran a number of short-yardage plays that are designed to institute some physicality," Miles shared of another important aspect of Tuesday's practice. "It did."
Miles sounded optimistic following his team's third practice of the spring.
"I think they want to be a really good football team. I like how they're performing," Miles said. "Even though there's some rough edges, we can get those rough edges cleaned up. I think we'll do some damage in the fall."
While the Jayhawks, per NCAA rules, have not yet practiced in full pads — their first chance to do so will come on Saturday — and still have 12 more practices to go before they're done with spring football, Miles thinks he has seen some growth from them at this early stage of the offseason.
"I've liked the offensive line, and I think the offensive line will continue to grow. But they've taken steps," Miles said.
The first-year KU coach also expressed his appreciation for one aspect of the defense, as well.
"I think our secondary was pretty good today. They made some mistakes, but I think, by and large, we threw the ball into tight coverage, and I thought we were pretty good," Miles said,
While praising the secondary, the coach also singled out senior safety Bryce Torneden from the group, calling the Lawrence native and Free State High graduate both "a really good leader" and "tough."