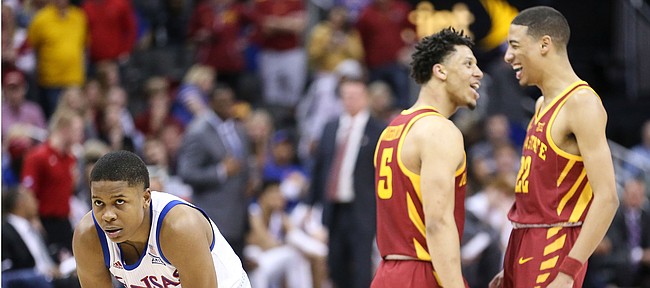 Kansas City, Mo. — If you're looking for black-and-white examples of how Iowa State handed Kansas its latest loss in the Big 12 tournament title game on Saturday night at Sprint Center, look no further than the 78-66 final score and the fact that the Cyclones led for more than 36 minutes of the 40-minute game.
But if you're in search of something more poetic, perhaps a signature moment that perfectly summed up the way the day went for the 3rd-seeded Jayhawks, the easiest place to look came with 1:21 to play and Kansas trailing by nine, when KU junior Dedric Lawson was whistled for a technical foul after slamming the ball down in frustration following yet another positive play for Iowa State.
The game was over long before that. But after competing all night and hoping against hope that something would change for their struggling offense, Lawson's technical was the equivalent of the Jayhawks waving the white flag and finally giving in to an evening full of frustration.
"Dedric getting that technical late, I thought that was great, too, because frustration," an upbeat KU coach Bill Self said after the loss. "That's not a good thing to have happen, but I think it's OK. You've got to show poise at all times, but the game was over. … That was just some frustration of having some guys laying on you all night."
Photo Gallery
Kansas basketball v. Iowa State (Big 12 Tournament championship)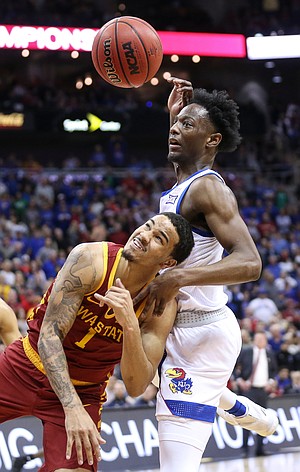 View a photo gallery from Saturday's Big 12 Tournament championship game between the Jayhawks and Cyclones at Sprint Center.
After a season in which he led both Kansas (25-9) and the Big 12 in scoring and dropped more double-doubles than all but six players in the entire country, Lawson finally had one of those off nights that tend to keep players awake at night.
Layups, jump hooks, jumpers in the lane, one-on-one efforts or shots into double teams, Lawson missed them all during Saturday's first half. And by the break, he sat at 2-of-11 from the floor with his team trailing Iowa State by 10.
"It was nothing they did," said Lawson after finishing 8-of-21 for the game for 18 points and 8 rebounds in 37 minutes. "I was just missing shots. They played the same way they did at Iowa State and Allen Fieldhouse, I was just missing shots tonight."
He wasn't the only one. As a team, Kansas opened the game 10-of-31 from the floor and finished only slightly better than that, at 28-of-71 for the game. That included a 3-of-18 clip from 3-point range, where the Jayhawks did not see their first shot from behind the arc fall through until Devon Dotson (17 points in 34 minutes) drained a triple with 11:25 to play in the game.
"Once I started missing, the hole got smaller and smaller for everyone else and it just was contagious for everyone to miss shots," a disappointed Lawson said after the game.
Added Self of his team's off shooting night: "We're streaky. We know we're streaky. We've been streaky all year long. We just need to be streaky on the right nights. But we weren't tonight. It was almost comical to start the game. How many layups did we miss and how many 3s did we miss — open 3s — and how many free throws did we miss, but we look up and (we're only) down six."
Once the Cyclones (23-11) pushed past that point, the closest Kansas came the rest of the way was an eight-point deficit, which came on the opening possession of the second half.
Iowa State, which allowed Kansas to hang around by missing a few shots of its own in the first half — 13-of-31 for 41.9 percent — shot 56.5 percent in the second half, including 4-of-8 from 3-point range, and seemed to have an answer every time the Jayhawks threatened to make a game of it.
Many of those answers came with exclamation marks at the end, either via a Kansas foul or a back-breaking bounce off the rim that propelled the ball to fall through.
"It's definitely deflating," said freshman guard Ochai Agbaji, who finished the three-day tournament 7-of-21 for 16 points, including a 2-of-7 mark on Saturday night. "We were really working on defense, so to see those go in, it was kind of like, 'What else?'"
That question quickly gave way to thoughts and sounds of "what's next?" following Saturday's loss. But Self and the Jayhawks left Sprint Center feeling a lot better about the game and the state of their team than the final score and preceding 40 minutes of basketball might have led the casual observer to believe.
"This is the best I've felt about my team all year long," Self said in the hallway outside the KU locker room, where the sounds of the Iowa State celebration a few doors down soon drowned out the KU coach's words. "They competed and tried real hard and (couldn't) get any baskets to go down. They made the shots we missed and their players were just better at getting the ball in the basket. That's frustrating, but they've got good players. So that happens sometimes."
If it happens again, the 2018-19 Kansas basketball season will be over. But Self said the things he saw from his team during the past three days in Kansas City gave him enough hope that the upcoming NCAA Tournament could be a fun ride.
"I feel good," Self said. "I feel good about them. This was a good weekend for us. We had to grind out a win Thursday. We had to show some toughness (Friday) night. … The bottom line is, we had a good week. Did we win (it all)? No. Are we pissed that we lost? Yes. But I thought we got better and I thought we had some individuals have a better understanding of what it takes to win in March."
Added Dotson, speaking for a locker room full of Jayhawks who wanted to bring home Saturday's Big 12 title as a way to ease the pain of ending the program's regular-season title streak earlier this season: "This is a bad taste in our mouths. We really wanted this one. But it's on to the NCAA Tournament now."