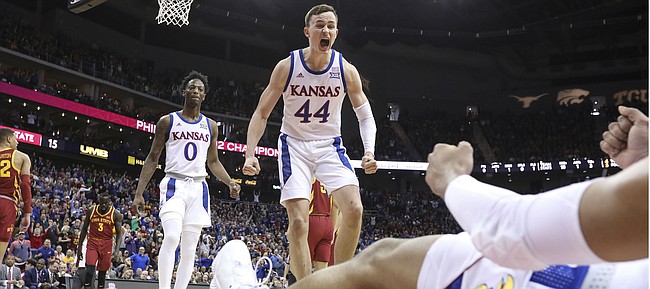 Kansas City, Mo. — All season, whenever the Jayhawks had a bad outing on a Saturday, the quickest they could hope to put it behind them and move forward from their latest loss was two days away.
But now, following the Jayhawks' 78-66 loss to No. 5 seed Iowa State Saturday in the Big 12 tournament title game at Sprint Center, Kansas does not even need 24 hours for the reset button to arrive.
That's because Sunday is Selection Sunday, when the Jayhawks will learn their fate in the NCAA Tournament — who they'll play, where they'll travel and what they'll be seeding in the 68-team bracket that will decide college basketball's next national champion.
"If we would've won, this would've been over with by the end of the night anyway," KU junior Dedric Lawson said after an 8-of-21 shooting night to forget. "So it's a quick turnaround to what's important and the NCAA is more important."
KU point guard Devon Dotson, who was one of the only Jayhawks to find any success on offense in Saturday's loss, agreed and said the mere thought of going through his first Selection Sunday as a college player was enough to cut the disappointment of a tough outcome in a big game.
"It definitely helps," Dotson said. "Because this loss stung, so (now) we have something else to look forward to. … I'm excited. Just going through that whole thing for the first time, Selection Sunday, I'm ready to see who we play and get ready for the next weekend."
Photo Gallery
Kansas basketball v. Iowa State (Big 12 Tournament championship)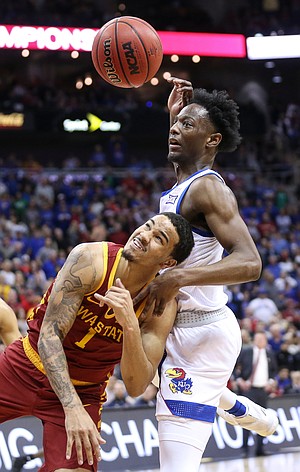 View a photo gallery from Saturday's Big 12 Tournament championship game between the Jayhawks and Cyclones at Sprint Center.
As for any thoughts on where the Jayhawks might be seeded or sent, KU coach Bill Self said he did not think that Saturday's result hurt the Jayhawks in any way.
Five weeks ago, when the NCAA Tournament Selection Committee released its sneak peek at this year's bracket, the Jayhawks were penciled in as a No. 3 seed. Eight wins and three losses later, it remains to be seen where the committee will have the Jayhawks in the final bracket, which will be revealed at 5 p.m. Sunday night.
"I have no idea," Self said. "I can't believe that it hurt us, getting beat in the finals today. I think it could've helped us if we had won. But helping us maybe one line. I don't know. We've played by far the hardest schedule in the country. It's a monster schedule. And we've gone through some crap, but I still think, with this particular team, we're playing our best right now. The league is so middle heavy. It's not as top heavy as it's been in years past, but every time you win, you're beating an NCAA Tournament team, so I think it's been good preparation for everybody."
Bracketologists Joe Lunardi (ESPN) and Jerry Palm (CBS) both had Kansas as a 4 seed on Saturday night, with each having the Jayhawks slated to be sent to different regions and first-round sites.
The updated NCAA Tournament Evaluation Tool (NET) rankings had Kansas at No. 19, which, by math alone, also would put Kansas as the third-best No. 5 seed.
Strength of schedule, Quadrant 1 wins, recent performance and a whole host of other factors will determine the final outcome. But most folks in Kansas City, both at KU and around the Big 12, seemed to believe the Jayhawks would be a 3 or 4 seed in this year's Big Dance.
Regardless of where they wind up, the Jayhawks appear to be determined to move forward with confidence.
"I think we have a big run in us," freshman guard Ochai Agbaji said Saturday. "Honestly, I believe that. This is behind us now and, moving forward, we just have to focus on opponent by opponent, game by game."
Crowd factor
Self said Friday night that he thought Iowa State would have the larger crowd for Saturday's title game by virtue of the ISU fans' good fortune to have their team play first on Friday and scoop up any extra tickets sold off by disappointed Kansas State fans.
From the sound of things, Self was right. The Sprint Center crowd of 19,066 that was noticeably split seemed to favor Iowa State ever so slightly, both in terms of number and volume.
From chants of "Let's Go Jayhawks" that morphed, like a tug of war, into chants of "Let's Go Cyclones," to Kansas fans yelling "Rock Chalk" and Iowa State fans quickly overriding that with screams of "Cy-Clones," Saturday's battle off the floor was just as intense as the one on it.
"They had the majority of the fans, but I don't think it was 70/30," said Self, referencing his prediction from the night before on the percentages for ISU and KU. "I thought our fans hung in there and fought pretty hard. We just didn't give them enough to get excited about. … I thought their crowd was great and, certainly, I thought our crowd tried and did their job."
Marcus the magnificent
Despite playing on a left ankle that is still not quite 100 percent following an early February sprain that forced him to miss five games, KU sophomore Marcus Garrett followed up a strong effort in Friday's semifinal with a monster effort on the glass in Saturday's title game.
Garrett led everyone with a career-high 15 rebounds — 4 on the offensive end — and added 7 points, 4 assists and 1 steal in 35 minutes against Iowa State's guard-heavy attack.
"He's great. He's great," Self said. "Love Marcus. He's tough. He's a winner. And he should be as close to 100 percent as he possibly can going into next week."
All-Tourney Team
Dotson and Lawson joined three Cyclones on this year's Big 12 all-tournament team, announced at the end of Saturday's title game.
ISU guard Lindell Wigginton (17 points and 6 rebounds in 29 minutes vs. Kansas) and Michael Jacobson (14, 5) joined tournament MVP Marial Shayok (15, 4) on the five-man squad.
"I guess it's cool," said Lawson after combining for 58 points and 19 rebounds on 23-of-49 shooting for the tournament. "It's something to be proud of, I guess. At the end of the day, I still came up short."
Dotson, meanwhile, finished his three-day stretch with 47 points and 13 assists, while playing all but 16 minutes of the three games.
This and that ...
Mitch Lightfoot's nine blocks in the 3-game tournament are tied for fifth-most in the event's history ... Speaking of blocks, Quentin Grimes tied his career high with two blocks on Saturday ... KU's 27.8 percent shooting in the first half was the team's lowest in a half this season ... Iowa State, as the No. 5 seed, is now the lowest-seeded team ever to win the Big 12 tournament title ... KU is 11-3 all-time in Big 12 tournament title games, including a 3-3 mark against the Cyclones ... Kansas now leads the all-time series with Iowa State, 182-66, including a 1-2 mark in head-to-head meetings with ISU this season.