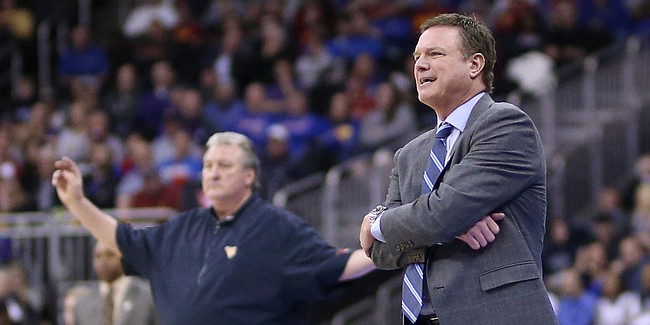 Kansas City, Mo. — The stage is set for the 2019 Big 12 tournament title game and it's No. 3 Kansas vs. No. 5 Iowa State for the hardware and confetti.
But Kansas coach Bill Self is not exactly planning on his team having the home-court advantage in today's 5 p.m. final like the Jayhawks are accustomed to inside Sprint Center.
"I would say that it will be the first time in a long time that we probably won't have a comparable home court is what I predict," Self said Friday night.
Self's Jayhawks, of course, reached the title game with an 88-74 victory over No. 10 seed West Virginia in Friday's semifinal at Sprint Center.
Dedric Lawson led the Jayhawks with 24 points and Quentin Grimes rekindled the kind of hot shooting that he introduced himself with back in KU's season opener against Michigan State to lead Kansas into its 14th Big 12 title game in program history.
And fifth-seeded Iowa State reached the final round by knocking off No. 4 Baylor in the quarterfinals and No. 1 Kansas State on Friday in the other semi.
Today's matchup will give one team a chance to win the season series outright. But Self said the timing of KU's victory, compared to Iowa State's, which ended more than two hours earlier, could have a huge impact on the division of the Sprint Center crowd for the title game.
"I hope our fans are creative," Self said after Friday's 14-point win. "But I bet you Iowa State has 70 percent of the building. The reason I say that is because, when you play that first game and you win, now you're able to hustle the tickets off the team that didn't win. And (the Iowa State fans) are pros at hustling tickets in Kansas City."
Regardless of which side has how many fans, Self said he thought Saturday's championship "should be a fun day."
Photo Gallery
Kansas basketball v. West Virginia (Big 12 Tournament)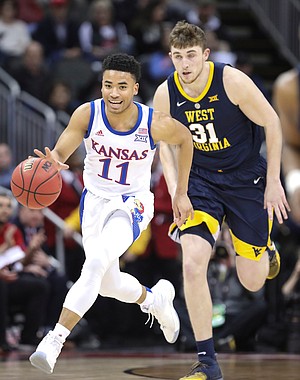 View a photo gallery from Friday's semifinal game between the Jayhawks and Mountaineers at Sprint Center in Kansas City.
"Our people show up and they'll compete just like we will tomorrow," he said. "It should be a fun day and certainly a game in which I think will be a fun game to play."
As for the early breakdown of the matchup, the Jayhawks themselves were hoping that the down-to-the-wire battle the Cyclones (22-11) endured against Kansas State would have Iowa State a little more tired than Kansas. And if that's the case, they know they have to execute well enough to take advantage.
"Definitely trying to slow them down and make them play bad because they kind of had a rough game against K-State and they might be a little tired," freshman guard Quentin Grimes said of the Cyclones after scoring 18 points in KU's victory over WVU. "So hopefully we can get out and kind of wear them down and make the play bad."
While a win today would not erase the fact that Kansas finished third in the regular season standings and saw its streak of 14 consecutive Big 12 titles come to an end, just about every Jayhawk in the locker room on Friday night already had his mind focused on finishing the job this time around and salvaging something out of the pre-NCAA Tournament portion of their season.
"Just knowing that we let the streak slip on our hands, we don't want that hanging on us," Grimes said. "We don't want to look back at another Big 12 championship that we could've had. So we definitely want to go out there and get a win."
Added point guard Devon Dotson of the scope of Saturday's title game: "It's very big because we let the regular season slip away from us and we're just trying to win a Big 12 tournament championship and that would be a big thing for the program and for us."