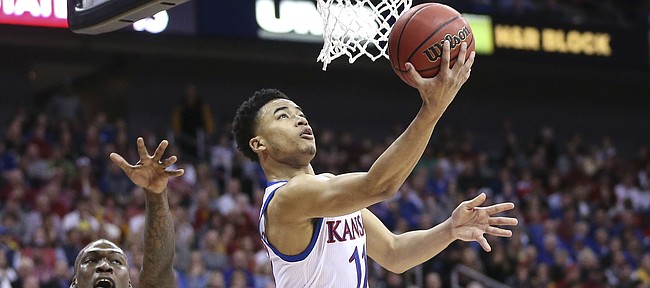 Kansas City, Mo. — Over the course of the past few weeks, David McCormack morphed from being a large freshman who plays minutes here and there for Kansas into an effective and, at times, overpowering producer in the paint.
The Jayhawks entered Saturday night's Big 12 tournament title game playing two bigs and doing so effectively because of McCormack's timely emergence and how well he and Dedric Lawson began complementing each other.
The Cyclones, however, rendered that tandem unplayable with four offensive-minded guards — Marial Shayok, Nick Weiler-Babb,Tyrese Haliburton and Lindell Wigginton — giving KU's two-big lineup more headaches than Bill Self could tolerate.
ISU forced the Jayhawks out of their typical style of play and won the conference tournament championship, 78-66.
Time to panic, right?
If the Jayhawks aren't the ones forcing their opponent to adjust to them, that's a bad sign entering the NCAA Tournament, correct?
Photo Gallery
Kansas basketball v. Iowa State (Big 12 Tournament championship)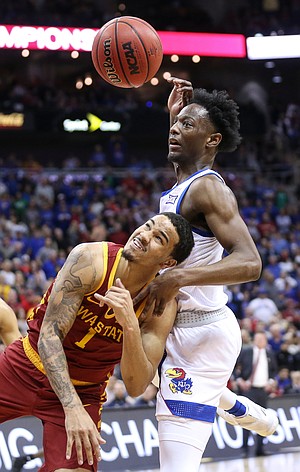 View a photo gallery from Saturday's Big 12 Tournament championship game between the Jayhawks and Cyclones at Sprint Center.
Shouldn't KU have figured out a way to thrive once the matchups made more sense, with McCormack off the floor and Marcus Garrett in his place in the second half?
Somewhat stunningly, none of the Jayhawks seemed too concerned about how the lineup adaptation never totally clicked versus ISU, which won the league's postseason tournament for the fourth time in the past seven years.
McCormack played just 8 minutes in the loss — 1 in the second half.
"If you're going to play big with that team," Self said during his postgame press conference, "you've got to score inside. Because they put you at such a disadvantage if you're going to play man-to-man. We knew that going in, and we didn't score inside. I thought the best way — and it was the best way — was to spread it and drive it."
The adjustment wasn't as much about McCormack or anything he did wrong. It's just that, as Self explained, when McCormack was on the floor, Lawson had to defend one of ISU's guards when Talen Horton-Tucker wasn't out there to stick Lawson on.
"That's not good matchups for us," Self said. "So I made a decision that we're going to play small and try to drive it. We scored the ball so much better in the second half, and had the chance to score it so much better if we could've converted some open looks from 3."
Self stressed that McCormack's lack of involvement this night didn't mean KU was about to go away from the powerful young 6-foot-10 forward.
"David's still a starter and that stuff," the coach reiterated. "They're a hard team for us to match up with when Dedric has to guard a little guard."
All of this made sense. Still, it remained surprising that Self wasn't down at all about what KU got out of its four-guard look after making the modification.
There was no outrage or disdain. If anything, Self seemed happy with how the Jayhawks (25-9) played in the loss after ISU shot 48.1 percent from the field.
If you were expecting accounts of Self lighting up his players in the postgame locker room, you came to the wrong place.
"He wasn't really mad at us throughout the game," Lawson related, saying that the coach carried that same demeanor during his postgame message. "He was always encouraging and things like that. I wasn't expecting him to be mad, and you've got to give those guys (ISU) credit. They played great tonight. They made shots, they made plays they needed to."
Mostly, Garrett said after the final, the Jayhawks left feeling good about how they executed defensively.
"That's what we kept saying during the game. 'We just can't get anything to fall.' Layups weren't going, shots weren't going. But I felt like we were defending," Garrett said. "If we would have got a couple of shots to fall, layups to fall, that lead would've been cut."
Freshman Devon Dotson agreed that the switch-up to four guards should have made KU more effective defensively.
"Yeah, I would think so. I don't think it translated necessarily in the second half. They made some tough shots. I'll give them that," Dotson said. "Difficult shots, they were getting some calls at the end that we didn't get. You know, it was just our shots weren't falling and they were hitting some shots, really."
That seemed to be the message Self wanted them to absorb and it definitely worked.
Given how the regular season played out, the coach probably doesn't want his players dwelling on the negative now, because they don't have the margin for error that most KU teams do and the next loss they suffer will put an end to their 2018-19 season.
"He said this is the most excited he's been about us all year," Dotson said, "because he liked the way we competed and showed fight, because we really wanted this game. We just couldn't pull it off. You know, it hurts. But we've got to focus on next weekend."
In what city and on what seed line KU will open the NCAA Tournament won't be known until the brackets are unveiled Sunday evening.
In the meantime, Garrett said the Jayhawks head into the Big Dance feeling optimistic about what's to come, and confident they can make a four-guard lineup work for them if a matchup requires them to do so again.
"We've got four guards that can play, too," Garrett said. "I just felt like (the Cyclones) were making every shot at the end of the clock, and they were getting the fouls."
Maybe it's for the best that Self didn't blast his players for coming up short. It's possible they wouldn't have handled it well. It's far better to massage their psyches than tear them down at this juncture.
The result certainly can't be viewed as a positive one, considering KU beat the Big 12's Nos. 6 and 10 seeds the previous two days and then, at times, looked overmatched by the 5 seed in the final.
But the vibe from Self during the postgame and the players in the locker room was, without question, a positive one.
"Of course," Garrett said. "I felt like we got better this tournament. And that's what we needed this tournament for, just to get better going into the NCAA Tournament."