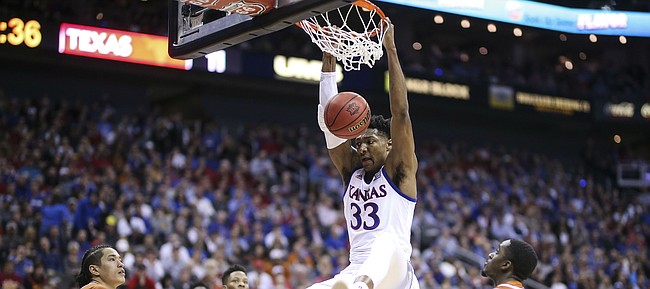 Kansas City, Mo. — Bigger was better for the 17th-ranked Kansas men's basketball team in the quarterfinal round of the 2019 Big 12 tournament.
In addition to playing with a bigger seed than they had in a decade, the third-seeded Jayhawks got a major lift from freshman big man David McCormack to power past 6th-seeded Texas, 65-57, Thursday night at Sprint Center.
In the week leading up to the matchup, Kansas coach Bill Self said he hoped that KU's recent move back to two big men, instead of four guards, would help frustrate, contain and confuse Texas' big and athletic front line.
That hope came true in a big way, and the pro-KU crowd needed to watch just one possession to see it come to life.
On KU's first possession of the game, Ochai Agbaji made sure to give McCormack a touch in the post against UT big man Jaxson Hayes.
Catch. Turn left. Drop step and finish through contact. 2-0 Kansas.
"You've got to throw him in that water," KU junior Dedric Lawson said after Thursday's victory. "I told him in the locker room, I'm throwing the ball to you on the first play, make a move and, hit or miss, have confidence in what you do."
Added Kansas coach Bill Self: "If you've followed us at all for the last 20 years, we love throwing the ball inside early in the game. That's how we've always played. He's the beneficiary of that usually. But we did want to give their bigs something to guard."
Photo Gallery
Kansas basketball v. Texas (Big 12 Tournament)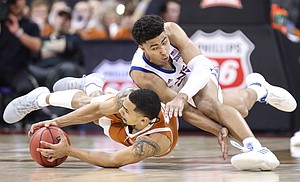 View a gallery of images from the Jayhawks' Big 12 Tournament opener against Texas on Thursday at Sprint Center.
On its next offensive possession — after a Dotson steal and layup — KU went back to the big man and McCormack again finished over Hayes, through contact, this time drawing a foul from the officials and smiles and praise from his teammates.
"Let's go," a fiercely determined McCormack yelled after the ball fell through the hoop.
Rather than joining in the 6-foot-10 freshman forward's laser-sharp stare of concentration and intimidation, McCormack's teammates instead chose to laugh and smile while high-fiving and slapping his chest as he walked to the free-throw line.
"He has fun, that's just his whole demeanor," Lawson joked. "He hates to smile. I don't even think he smiles in pictures. He wants to have that mean guy look, I guess."
Added KU freshman Quentin Grimes, who offered his share of help with 12 points (7-of-8 from the free throw line), 4 rebounds and 3 assists: "He's been a monster the past couple games and in practice. I just have the utmost confidence that if he gets the ball in the post he's going to score every time."
As for Grimes' take on the McCormack celebration after the early and-one?
"I think that's his version of him being locked in, getting and-ones, getting pumped up," Grimes said. "When he's pumped up it gets us pumped up." "
That spurt, which also featured a missed 16-foot jumper from the KU big man — had it fallen, the shades-of-Silvio-De-Sousa talk no doubt would have run rampant — helped stake Kansas to an 11-4 lead in the game's first 5 minutes.
But Texas didn't blink, responding to that deficit with a 7-0 run to pull even by the 13:34 mark of the first half.
Twelve of KU's first 15 points came in the paint, where Texas had held the advantage in the first two meetings between the Jayhawks and Longhorns.
For the game, Kansas finished with 34 points in the lane, compared to 20 by the Longhorns.
McCormack's presence in the paint became even more important at the 8:07 mark of the first half, when junior forward Dedric Lawson (16 points, 6 rebounds on 6-of-15 shooting in 34 minutes) was whistled for his second foul.
After a few minutes on the bench and a few missed shots from his teammates, McCormack got back into the act with a tough post move at the 7-minute mark that gave Kansas a 17-16 lead after the Longhorns had climbed on top with two free throws from Kerwin Roach Jr., on the previous possession.
McCormack followed that up with a hustle play that took him into the Texas bench for a save and left him gassed. His 13 first-half minutes were not a career high, but the effort he expended was. While several Jayhawks appeared to play with added effort and intensity throughout Thursday's first half — the kind needed to survive and advance in the postseason — none of them matched what McCormack gave.
McCormack actually outperformed Lawson in the game's first 20 minutes, tying his all-Big 12 teammate in points, with 9, outrebounding him 4-1, and committing two fewer fouls and two fewer turnovers in two less minutes.
His two missed free throws with 2.7 seconds to play in the first half sent the teams to the locker room deadlocked at 29.
McCormack wasn't the only KU big man who played big for KU on Thursday night, but junior forward Mitch Lightfoot did it in a much different way.
Sure Lightfoot grabbed three rebounds, blocked three shots and helped keep McCormack and Lawson fresh. But he also flashed the ability to slide his feet and stay in front of two different Texas guards, which helped force two UT shot-clock violations in the first half.
"They were great," Lawson said of his front court mates. "Mitch played great and Dave played great and that's something we need going forward."
While McCormack's first-half totals of 9 points and 4 rebounds would have been solid totals for the game, the Norfolk, Va., native who made his ninth consecutive start for the Jayhawks, wasn't done there.
His presence early in the second half helped the Jayhawks (24-8) build a big enough lead to push past Texas. He finished with 13 points and 9 rebounds on 6-of-7 shooting in 29 minutes.
After a back-and-forth 20 minutes of game action spanning both halves, McCormack's cleanup of a Devon Dotson miss put Kansas up four, at 39-35. Seconds later, after another Texas turnover — UT logged 8 for the game — Dotson (17 points on 6-of-11 shooting) buried a 3-pointer from the corner in front of the KU bench that put the Jayhawks up seven (42-35) and forced Texas to call timeout with 15:58 to play.
Moments later, after ripping down back-to-back offensive and defensive rebounds, McCormack put Kansas up by nine on an offensive putback and roared his way back down to the other end of the floor.
"The more time you play, the better experience you get," McCormack said in the locker room after the win. "And my confidence just keeps going up and I'm just enjoying it."
Seven minutes later, Kansas built a lead of as many as 11 (54-43) and the Jayhawks never led by fewer than four the rest of the way.
"It was great, just knowing it was a one-and-done type of atmosphere, you've got to play hard, make sure you stick to the game plan and I felt like we did that tonight," Grimes said. "We made some free throws, everybody made big plays down the stretch and that's what carried us."
In addition to taking the season series from the Longhorns, 2-1, the Jayhawks now lead UT 33-9 in the all-time series between the two programs, with five of those victories coming in the Big 12 tournament.
KU is now 45-11 all-time in the Big 12 tournament, 40-9 all-time at Sprint Center and 226-83 all-time in games played in Kansas City.
The Jayhawks will look for their 227th win at approximately 8 p.m. tonight, when they face 10th-seeded West Virginia in the semifinals.
The Longhorns (16-16), meanwhile, will await their fate on Selection Sunday, when they'll hope to be the rare team to make the NCAA Tournament field with a .500 record.
Top-seeded Kansas State and No. 5 seed Iowa State will square off in today's other Big 12 semifinal.
Asked for the key to success in Friday's semifinal, Lawson said it was simple.
"Just staying focused and just knowing that what we did tonight isn't going to (carry) over to tomorrow," he said.